News
Top 5 Mobile Games of the Week (July 12 – July 18)
We get reacquainted with an iconic longue lizard, and escape a fast-paced bullet hell…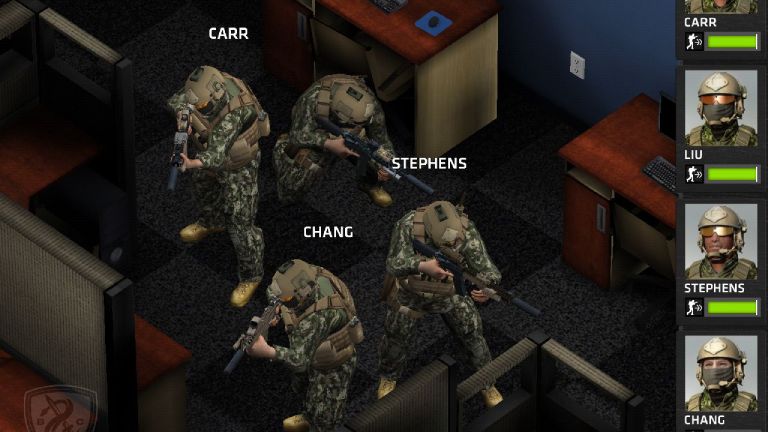 If I had to pick one common theme to be applied to all of this week's best new releases in mobile gaming, it would have to be a theme of flight, and trying not to get hit by all of the dangerous hazards and obstacles always zipping around to disrupt your air voyages. From a cartoony endless flier made by a developer who worked on Portal 2 and Team Fortress 2, to a bright and blocky minimalist take on the basic Starfox formula, this week will have you soaring over every inch of your loyal touchscreen devices. And that's without even mentioning the full mobile release of a bullet hell console game! So get yourself ready for takeoff, because here are Den of Geek's Top 5 picks in mobile gaming for the week of July 12 – July 18: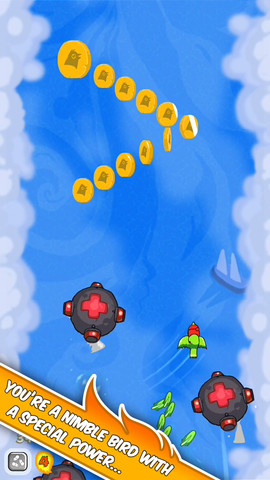 5. Flyro
Developer: Brute Farce | Platform: iOS | Price: $0.99
In this colorful and cartoony top-down endless flyer, you'll play as a carefree birds named Flyro, who is suddenly left with no choice but to don a fearsome aviator helmet, and track down the menacing Moustermind after the fiendish villain freezes your loving home of Birdtown. But despite the cute and simple presence, Flyro is certainly nothing to shake a feathered foot at: mostly because the game was made by an ex-Valve developer, who had a personal hand in such gems as Portal 2, Team Fortress 2, and Left 4 Dead. So with a roster of past experience that's as impressive as that, you already know that Flyro has got to seriously bring on the gameplay. Now even though the essence of Flyro is probably more along the lines of your typical endless runner that we know and love today, the difference here is that everything about this one screams a "bullet-hell" type of experience, with dozens of deadly hazards and obstacles to dodge always cluttering the screen within a mere instance. There is also no "pay-to-win" mechanic of any kind to be found in the game, which is not only something of a rare commodity these days, but something I think a lot of gamers have grown to appreciate and respect.
Download Flyro on the iOS App Store
4. Futuridium EP
Developer: Mixedbag Srl | Platform: iOS | Price: $1.99
At first glance, Futuridium EP might very well seem like an acid trip in the 80's gone wrong. It's bright, and almost hypnotizing colors and blocky landscapes do wonders to throw you into the game's engrossingly fast-paced world, as you pilot your lone starship fighter around the screen with simple one-touch controls and shoot down everything around you. But in a weird way, the fantastic quality in both gameplay and presentation of Futuridium EP almost reminds me of a minimalist version of Star Fox 64: just the feeling of the visuals, and the crucial ability to fully maneuver your ship in 180 degrees. And of course, there's no damn Slippy Toad telling me to do a barrel roll every five seconds, so I guess there's really only going up from there. But what's really cool about Futuridium EP, and what gives the game its impressive sense of challenge, is that there is virtually no bonuses or special powers to be found in the game. Each of Futuridium EP's 13 brisk levels will squarely rely on your ability to fly and maneuver through the different level layouts, and shoot down your foes with your handy dandy lasers. Maybe an acid trip from the 80's wouldn't have been such a bad thing after all if it was anything like this awesome game!
Download Futuridium EP on the iOS App Store
3. Sine Mora
Developer: Digital Reality Software | Platform: iOS | Price: $5.99
In keeping up with the new weekly tradition of releasing a full console title onto mobile devices, Sine Mora from Digital Reality Software is next in line, and it brings an absolutely gorgeous, but insanely challenging and mind-numbingly difficult bullet-hell adventure to your touchscreen. The game was originally released on Xbox 360, PlayStation 3, and Steam in the spring of 2012 to much critical acclaim, and its 2.5D presentation translates perfectly well now onto smartphone and tablet hardware. The cool thing about Sine Mora is that the game doesn't feature any sort of head's up display in regards to your health, so you don't exactly ever DIE at any point in the game. However, that's certainly not to say you won't be seeing that infuriating "Game Over" screen more times than you can count in this fast-paced arcade title. For you see, every time you take a hit in the game, the countdown timer speeds up to terrifying levels, and when it boils down to zero, well then you can pretty much guess what's going to happen next. While it still retains the same basic mechanic of a health bar, I think the timer dependency adds a much-welcomed sense of franticness and urgency to an already exhilarating and difficult ride.
Download Sine Mora on the iOS App Store
2. Leisure Suit Larry: Reloaded
Developer: Replay Games | Platform: iOS | Price: $4.99
For every kid who was playing those whimsical point-and-click adventure games like The Secret of Monkey Island back in the day, there was a weary grown-up playing the adult version of the genre, in Leisure Suit Larry. In case you've never heard of the franchise before, Leisure Suit Larry: Reloaded is a full and updated remake of the very first game in the Leisure Suit Larry series, which finds the greasy lounge lizard (and 40-something-year-old virgin; I can kind of see why, judging from the way he dresses) Larry Laffer, quite simply, trying to pick up women in all sorts of dank bars and sketchy places around town. The game has become iconic in a way, for its extreme sexual nature in content and rude and crude humor, and all of that is wonderfully retained here in the iOS remake. What's more, the developers have even gone above and beyond to add a brand new love interest into the game, as well as provide a full voice-acted narrator for many of the events that occur in Larry's ongoing quest to find some sleazy kind of love for the night. If anything, this is simply just one of those titles that you're going to want to play, just so you can say you've at least had the Larry Laffer experience at least once in your life.
Download Leisure Suit Larry: Reloaded on the iOS App Store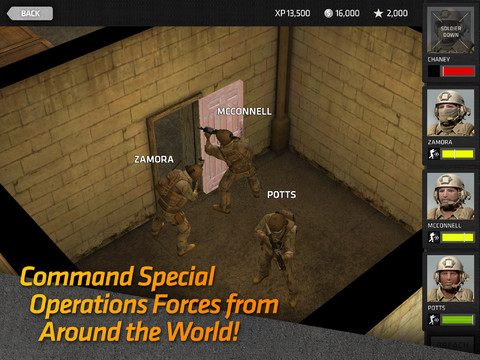 1. Breach & Clear
Developer: Gun Media | Platform: iOS | Price: $1.99
Our number one pick this week in mobile gaming is an extremely gorgeous, and extremely action-packed, high-octane turn-based military strategy game called Breach & Clear. Was that enough hyphenated words and adjectives for you there? I didn't think so. In Breach & Clear, players will get to choose from commanding a number of real-world military factions, such as the U.S. Army Rangers and the U.S. Navy Seals, as they guide them into a number of cramped and claustrophobic battles set in exhilarating tactical indoor areas. The gameplay itself mostly resembles the turn-based tactical action that we've seen in such games as XCOM: Enemy Unknown and Omerta: City of Gangsters, where both the player and the computer take turns in moving each one of the squad members into position before firing on all fronts. While the game is certainly heavy on the action and the strategy, Breach & Clear is also just as in-depth on the customization front as well, with thousands of different possible gun combinations to really spruce up your arsenal. And if you act now and download Breach & Clear before the developers introduce the game's first title update, then you'll be able to snag an exclusive "Day One Gold M4" for full use in the game.