News
Top 5 Mobile Games of the Week (Jan 4 – Jan 10)
Top 5 Android and iOS games of the week (January 4th -January 10th). GREAT week for mobile games...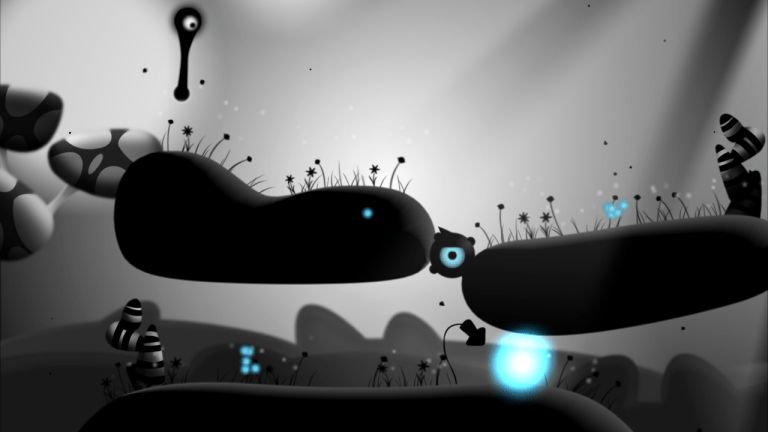 Top 5 Mobile Games of the Week (Jan 4 – Jan 10)
As our favorite developers are still getting back in the swing of their weekly mobile game releases in 2013, it's been yet another awesome week to be an Android or iOS gamer. There were a lot of great titles to choose from this week, but it seems that the last few days have been the physics racer's real moment to shine. In addition to that, we also saw some strong game debuts about sleeping cats and murderous golfers. Yes, you read that right. Don't believe me? Then keep on reading to see my top five picks from this week in mobile gaming:5. Death Golf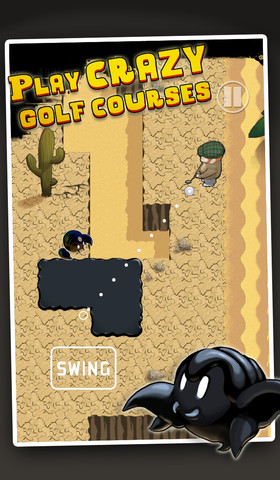 Platform: iOS | Price: $0.99
I don't think any mobile game has brought together two polar extremes in quite the way that Ayopa Games' Death Golf has. In fact, it was a strong contender for my weekly mobile games list based on its ridiculously awesome title and remarkable premise alone. However, the smooth mix of golfing and platform-adventure gameplay rightfully earns Death Golf a spot in our Top 5, as it absolutely lives up to the head-turning name. Death Golf basically plays out like this: you take your shot on the golf course and then on your way to where your ball landed, you must do some platform jumping and ward off aggravated creatures like scorpions and ducks by beating them to death with your golf club. Yes, the game is that tremendous and you'll be kicking yourself the whole time you play because you didn't think of it first. The top-down golfing perspective may take a little getting used to, but it works perfectly for the more, um, violent segments of the game (which I think will be the bigger selling point for most gamers anyway).
Download Death Golf on the iOS App Store
4. Contre Jour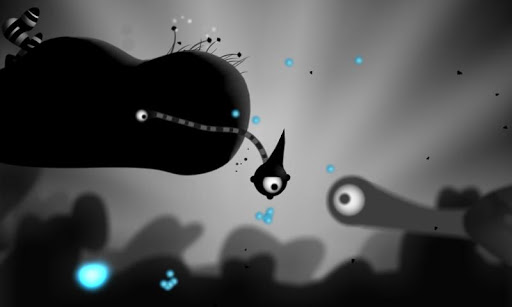 Platform: Android | Price: $1.99
If Limbo and World of Goo got together and made a mobile game baby, that shadowy bundle of joy would be Contre Jour. I missed out on Contre Jour when the game was released for iOS in 2011, but now that the moody physics puzzler has come to Android devices this week, I finally got around to giving it a try: and boy, have I been missing out! A French term meaning "against daylight," Contre Jour is dark, moving and mysterious, with the simple and inviting touch-based gameplay of some of the best casual games on the market. In almost every way, Contre Jour is a direct product of its atmosphere, with a deep color scheme that rarely traverses beyond black and dark purples and blues. After all, any game that advises you to listen through headphones for the most engrossing experience is a real gaming work of art in my book. You play the game by manipulating the ground around a peculiar one-eyed creature, and making him slide or swing to reach the goal in each mesmerizing level. This is one of those games you really need to play for yourself in order to fully appreciate it, so go appreciate it already!
3. Wake the Cat
Platform: iOS | Price: $0.99
Chillingo's Wake the Cat is the latest in a line of mobile games with imperative names: Cut the Rope; Catch the Ark; Co-Sign the Home Equity Loan with the Walrus; etc. But Wake the Cat is a great physics puzzler with a cool top-down design that's really brought to life by dreamy home environments and sleepy 3D visuals. Seriously, after a while you'll want to stop flicking that ball of yarn around to wake up the cat and just curl up with your iPad to join him for a nap. The game uses the tried and true formula of short single-screen levels, and the slingshot-based system of Angry Birds fame. In Wake the Cat, you drag your finger on the screen to strategically line up your shot,and then launch a ball of yarn so that it bounces off slippers and other household obstacles to land in front of the cat, thus rousing him from slumber. As you progress in the game and gradually disrupt your cat's sleep patterns more and more, new mechanics like moveable toy trains and stationary fans are introduced to keep the gameplay interesting and to keep your cat sleep deprived.
Download Wake the Cat on the iOS App Store
2. Noble Nutlings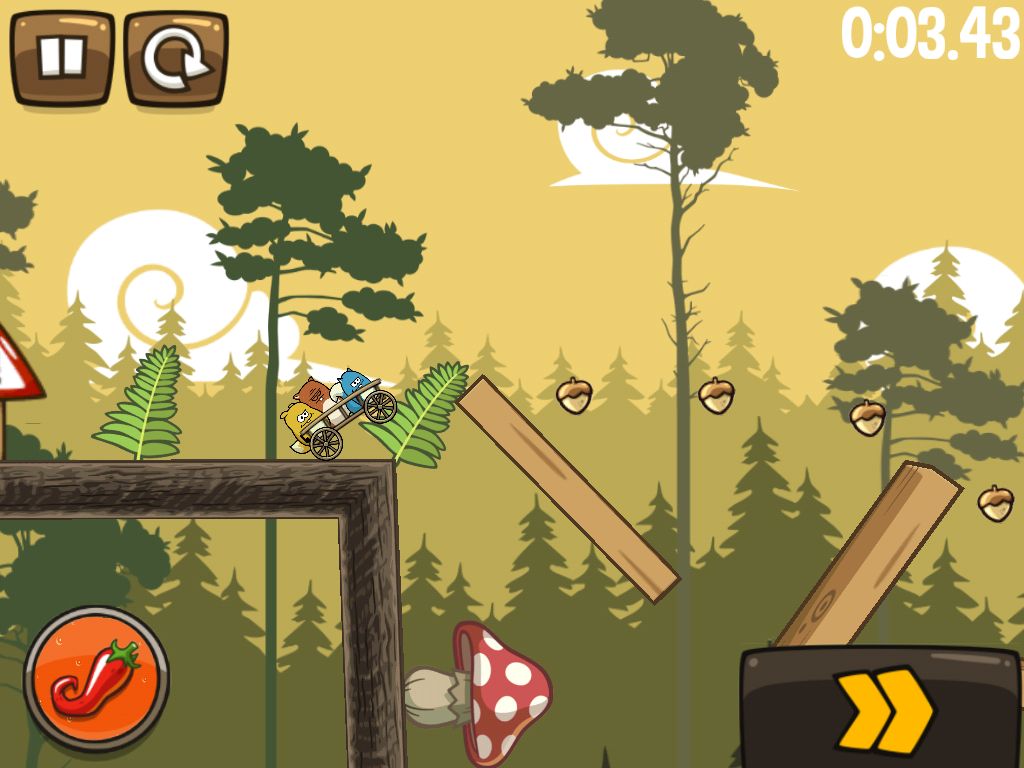 Platform: iOS | Price: Free
The first game from a team of ex-Rovio members, there is no doubt in my mind that Noble Nutlings will be the next big thing to take the app store by storm. The game plays like a cross between Bad Piggies and Bike Baron, and has the polished graphics and quirky sense of humor of the Angry Birds series. As you can imagine, with comparisons like that, Noble Nutlings easily stands among the other giants of mobile gaming, even though the main characters are only a few inches tall. In Noble Nutlings, you guide a team of three disgruntled squirrels on 36 rowdy racing routes through a colorful forest, collecting acorns and launching many death-defying jumps along the way. There's also a great vehicle customization aspect to the game that lets you give your ride some style by replacing the wheels with things like oranges and bowling balls. The game may look fun and adorable at first, but Noble Nutlings is no joke and it brings a serious challenge to anyone daring enough to accept it. Earning three stars on every level will take some serious time and some truly nutty dedication.
Download Noble Nutlings on the iOS App Store
1. Joe Danger Touch!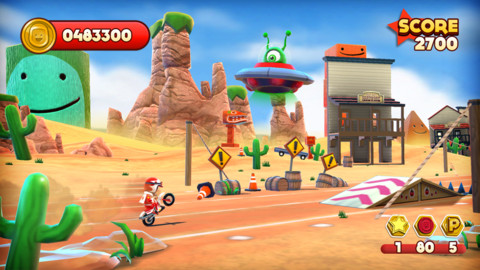 Platform: iOS | Price: $2.99
Goofy motorcycle daredevil Joe Danger first made his explosive debut back in 2010 on the PlayStation Network, and has since been ported to Xbox LIVE and spawned a 2012 multiplatform sequel called Joe Danger 2: The Movie. Now with Joe Danger Touch! mobile gamers can finally see what all the fuss is about. At its core, Joe Danger reminds me a little bit of Excitebike back on the NES, if Excitebike had gorgeous 3D graphics and a smooth touch-based system of performing bunny hops and mid-air stunt flips. But the most innovative thing about Joe Danger Touch! is that the game doesn't really feel all that much like a full-fledged racer, as Joe drives his motorcycle all by himself. Your job, then, is to make Joe jump, duck, spin and perform a whole slew of other maneuvers: all while tapping on floating coins and hidden collectables to earn those 100% pro finishes. It can be a lot to take in, as the game throws so much at you so fast, but there's tons of stuff to do and so much replay value here that Joe Danger Touch! is a no-brain purchase for every Apple user.