News
Top 5 Mobile Games of the Week (Jan 25 – Feb 2)
Little Inferno set fire to the App Store this week, along with an awesome micro-racer from the Wipeout crew, and an explosive new look at the game of Stratego…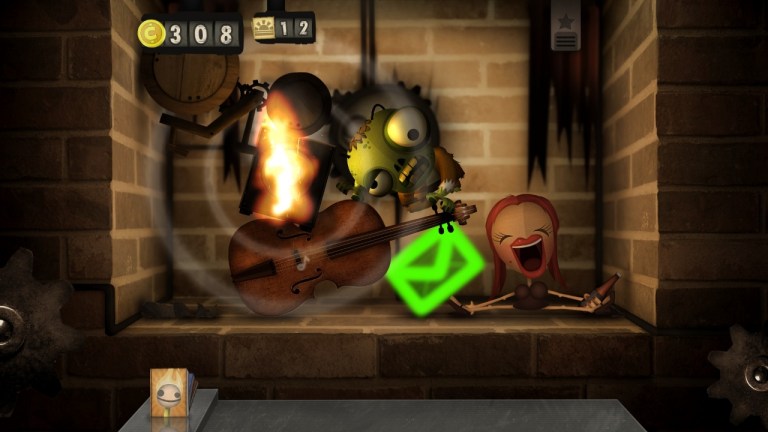 The end of January has brought some strange tidings to the world of mobile games this week: but mostly for the surprisingly underwhelming amount of new games to hit the App Store. However, the good thing about this overall lack of games is that it really leaves room for the few good new releases to shine in the mobile spotlight. From a cool reimagining of a classic board game, to a fun-sized tabletop racer, to the perfect adventure for pyromaniacs on the go, there's something for everyone to enjoy here in this collection. But be warned though: most of the games worth playing this week are fairly expensive (well, expensive in terms of mobile gaming that is), so get your wallets ready, because here are Den of Geek's top 5 picks from January 25 to February 2 in mobile gaming:
5. Pixel People
Platform: iOS | Price: Free
I'm not all that big on simulation games, but the Alchemy-inspired gameplay of Chillingo's Pixel People just sounded too good to pass up on this week. In Pixel People, players will populate their 8-bit utopia by splicing the genes of their tiny inhabitants, and creating clones to uncover a total of 150 unique occupations. By combining the different properties of your Pixel People residents, you'll be able to unlock quirky characters like Athlete Stanley Cupp, Judge Judy Schuss, and even Buccaneer Yoho Howe! And if that last sentence wasn't any indication, this game has a fantastic sense of humor amidst all the frantic city-building gameplay. The more types of people you unlock, the more jobs that get created, and the more money you'll ultimately get to put in your bank. But that's not even all yet! Pixel People also features 80 hidden animals to find through secret combinations and other sorts of bonuses, as well as special buildings that you can construct to unveil some other fun enhancements. The emphasis on pixelated graphics is the perfect fit to the game's overall concept, and you'll actually be surprised in how much personality is imbued in each little visitor who comes to your town.
Download Pixel People on the iOS App Store
4. Dungeon Quest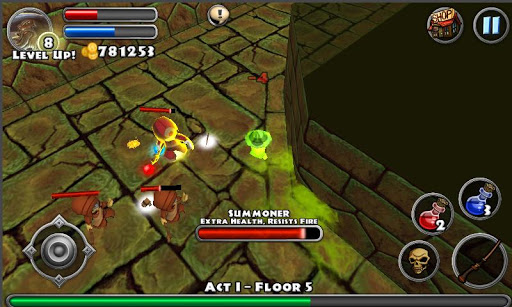 Platform: Android | Price: Free
Despite its bland and somewhat forgettable name, Dungeon Quest was a mighty force to be reckoned with this week on Android mobile platforms: especially for a game that's only in its beta release! A free-to-play action RPG with a mystical background, Dungeon Quest first caught our eye with its brilliant gameplay, beautiful design, and rewardingly deep looting system. The beta release means you can only play as the Wizard class right now, but even so, Dungeon Quest still offers hours of endless entertainment with randomized dungeons and loot, and a legendary boss at the end of each act. The loot you find can also be upgraded through an innovative Enchanting and Stat Rerolling system, as you make your way through the game's 100 revolving dungeons. It almost reminds me of a weird combination of Borderlands and The Binding of Isaac in a way, but with a nice mythological and spellbinding twist. We'll be sure to keep an eye out for this one when the final release of Dungeon Quest hits the Google Play Marketplace at some point within the next two months.
Download Dungeon Quest on the Google Play Marketplace
3. Stratego
Platform: iOS | Price: $6.99
As a restless boy growing up in the suburbs, Stratego was one of my favorite board games to play when I was a kid. And what's not for a boy to love, with secret military spies, cleverly placing your flag in the midst of a bomb field, and luring your friends into a devious and explosive trap? The iOS version of Stratego takes everything that made the classic board game so great, and reinvents it with smooth touchscreen controls and a vivid presentation that features some seriously awesome 3D effects. Stratego is highly customizable, and old school fans of the game will be able to change the artwork of their pieces to better resemble the look and feel of the original. In addition to a heated multiplayer mode, where you can challenge your friends to find out who the best commander is, Stratego also features an offline component, with quick 10-piece matches, or full confrontations with all 40 total pieces. With turn-based battlefield strategy being such a hot topic in the gaming world today, the only real question is why it took Stratego this long to make the jump to mobile!
Download Stratego on the iOS App Store
2. Table Top Racing
Platform: iOS | Price: $2.99
Who said big things never come in small packages? This week we have an unexpected surprise in Table Top Racing, a fun-sized karting game in the vein of Micro Machines. But the most surprising thing about it is that Table Top Racing is made by the same people who brought us Wipeout, the blistering PlayStation racing series with the notorious difficulty. While the game's household setting is certainly a departure from the fast-paced, futuristic racetracks that SCE Studio Liverpool is known for, how cool is it to curve around a giant watermelon on a kitchen countertop? The game features 8 tracks, 10 upgradable vehicles (including a little van with an ice cream cone stuck on the roof), 4 fierce championships, and over 30 special events across 6 gameplay modes. You'll also have a handful of weapons and power-ups to use at your disposal like bombs and homing rockets, that give the game a really cool combat karting feel as you play. And of course, in true mobile fashion, you'll be able to earn 3-stars in each stage depending on how well you race. The game's household environments are all so incredibly fun to race through, and I love being able to look at these tabletop items in a whole different (and much bigger) light!
Download Table Top Racing on the iOS App Store
1. Little Inferno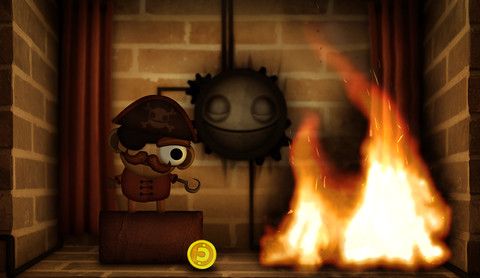 Platform: iOS | Price: $4.99
Our number one pick in mobile gaming this week comes from the guys who brought us the critically acclaimed and fan-favorite World of Goo, so you know you're in for something special already with this one. First released last November on PC and Wii U, Little Inferno is a simple game about setting things on fire. You'll get to literally burn almost everything you can think of in the game, from logs, to screaming robots, to credit cards, to batteries, to exploding fish, to unstable nuclear devices, and everything else in between. Starting with a friendly reminder of not to REALLY play with fire, Little Inferno sets you loose in a marvelous fireplace playground, where you'll be free to stack up piles of burning objects and watch them all melt to your little heart's content. Its quirky graphics and soothing soundtrack are strangely calming in a way, and the gameplay has an almost hypnotic effect for all you gentler pyromaniacs out there. But in the end, I think Little Inferno is just one of those rare games that can be a little difficult to describe using mere words alone, and one that you'll need to experience for yourself in order to fully appreciate its wonder. I highly recommend you do though, because once you see what this little game is capable of, you'll understand why Little Inferno is absolutely magical.