News
Top 5 Mobile Games of the Week (Jan 18 – Jan 24)
We saw a Donkey Kong-inspired runner and took the game of tennis to a violent new extreme in this fantastic week of mobile gaming…
Another week, another top 5 mobile games list: and this one might have the most peculiar batch of titles that Den of Geek has seen thus far in 2013. In addition to an impressive dystopian kart racer and an Android port of a new frenzied classic, we saved the world with a tennis racket in hand; ran away from a mountain of toppling bananas; and dangled a crane to pick up some slumbering Dingles. See? I told you we were in for a weird one! Weirdness aside, there's no denying how much fun we had embracing the oddity, so here are Den of Geek's top 5 picks from this week in mobile gaming:
5. Cracking Sands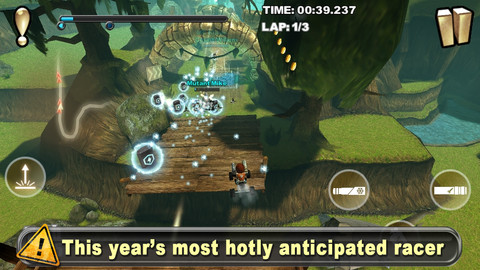 Platform: iOS | Price: $4.99
Kicking off our mobile games list this week is Cracking Sands, an exciting new combat karting title from Polarbit that is just as dark and aggressive as it is fun to get into. Usually karting games tend to be hit or miss on mobile devices, but I'm already having such a blast in the short time I've spent with the game, that there's really no question for me that this one hits the nail on the head. Cracking Sands also has a really cool concept for a racing game. The world has been ravaged by global warfare and with humankind now reduced to a primitive and tribal state, the only way to determine and individual's rank and social standing is by participating in death races. It almost reminds me of a dark combination of Twisted Metal and Mario Kart, if you can believe that! Add in the fact that Crackling Sands supports character and vehicle customization, as well as six different single player game modes and a frenzied online multiplayer component and you get a pretty good idea of how much sheer content is packed into this one.
Download Cracking Sands on the iOS App Store
4. Tennis in the Face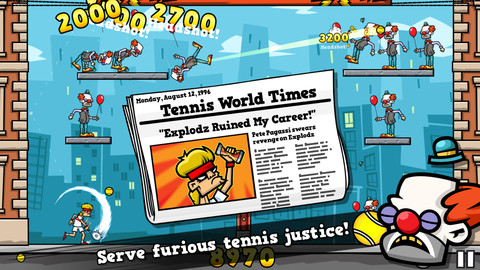 Platform: iOS | Price: $0.99
Man, mobile games are just getting more and more direct in their titles these days! Tennis in the Face is the perfect game for Angry Birds fans who also love playing tennis or who really just hate beady-eyed circus clowns. You play as Pete Pagassi, an ex-tennis superstar who swears his revenge on the "Explodz" energy drink Pete claims was responsible for ruining his career and sending him off to the loony bin. Your quest to save the world from Explodz involves taking out Explodz Inc. Clowns and other Explodz-addicted citizens along the way. How will you accomplish this, you might ask? Why, by slamming tennis balls in everyone's faces of course! You line up your shots with the same Angry Birds slingshot controls and your tennis ball's bounciness will make for some pretty intense ricochet action and extreme tennis trick shots. But I think the best thing I've discovered about the game so far is that when your tennis ball smacks an Explodz S.W.A.T. officer, they will immediately puke up donuts all over the place. Tennis in the Face is just a really fun and funny game, with great cartoon visuals and an equally awesome name.
Download Tennis in the Face on the iOS App Store
3. Super Hexagon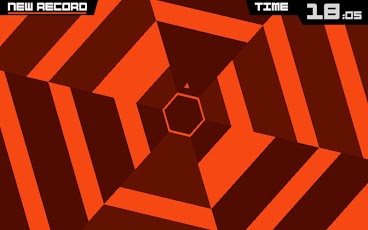 Platform: Android | Price: $0.99 (on sale)
The blistering Super Hexagon left many players in a state of shock with its simple, yet fast-paced style of action gameplay when it was first released on iOS and Steam at the end of last year. Now Android users have a reason to make their heads spin too as, earlier this week, Super Hexagon finally saw its much-anticipated release on the Google Marketplace. Developed by Terry Cavanagh, the man who brought us the equally challenging and acclaimed VVVVVV, Super Hexagon is all about maneuvering a tiny triangle around the inside of a hexagon, while avoiding the many walls that are quickly put in your way. It sounds easy, but once you see how fast this little game can move and all the seizure-inducing colors it flashes right before your eyes, you'll learn why this indie gem has become notorious for being an infuriating little ball (or hexagon) of fun. The game also has a really cool underlying musical aspect to the gameplay, with a soundtrack that directly corresponds to the rhythm of the game. If you're an Android user who is thinking of picking this one up, I suggest you act now, as Super Hexagon is currently on sale in the Google Play marketplace at an introductory price of $0.99!
Download Super Hexagon on the Google Play Marketplace
2. Dingle Dangle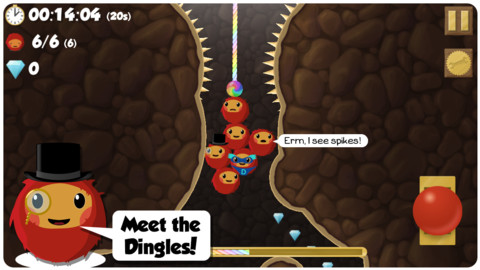 Platform: iOS | Price: $0.99
It seems that every week Chillingo earns at least one spot on Den of Geek's top mobile games lists. What can I say? These guys and gals just know what makes an awesome iOS game! This week is no different, as the adorably odd Dingle Dangle is pulled up from the ground and dangled over the app store. In Dingle Dangle, you hop on board a floating pirate ship and must lower a crane into giant holes in the ground, to fish out little fuzzball creatures called "Dingles." The Dingles will become attached to one another at the end of your crane, so you can retrieve more than one at a time; but this gets a bit tricky as spiked walls and other hazards are gradually introduced. The little guys will also spout random phrases as you scoop them up with the crane, like "Somebody loves me!" and "Let's rock!" The gameplay is as simple as flipping a switch up and down to maneuver the crane and you'll unlock a number of cool gadgets to help you on your quest towards getting all the Dingles to dangle perfectly into the ship. (Never thought I'd type a sentence like that in my life!)
Download Dingle Dangle on the iOS App Store
1. Banana Kong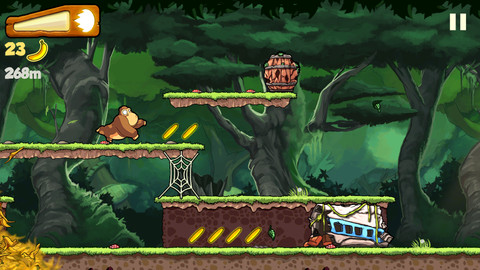 Platform: iOS | Price: $0.99
Call me a sucker for anything that slightly resembles the old Donkey Kong Country games on Super Nintendo, but Banana Kong has won my top accolades this week for being a brilliant, new, endless runner with a whole lot of heart that also packs in a ton of fun. Even though, by now, it's common knowledge that every gorilla loves a banana or two, players will catch on pretty quickly that too many bananas is actually a bad thing: especially when a giant avalanche of them is hot on your trail and determined to crush you under its mountainous weight of thousands of peels! My favorite part of Banana Kong is the different environments you'll find yourself running through, in addition to the lush jungle canopy that serves as the starting point of the game. But burst through a boarded up cave entrance and you'll find yourself dodging hot lava in an underground cavern. Gain some extra air with the help of a feathered friend and you'll be grabbing at bananas from high above the clouds. Everything about this game is polished to near perfection and I would still recommend trying it out even if you're not all that fond of bananas (just don't tell Banana Kong!).
Download Banana Kong on the iOS App Store                     
Like us on Facebook and follow us on Twitter for all news updates related to the world of geek.