Features
Top 5 Mobile Games of the Week (Feb 22 – Feb 28)
We pull Buzz Lightyear out of the toy box for some physics-based puzzling; burn rubber in a hyper realistic racer and shoot animals out of our faces in this week's Top 5 picks in mobile gaming…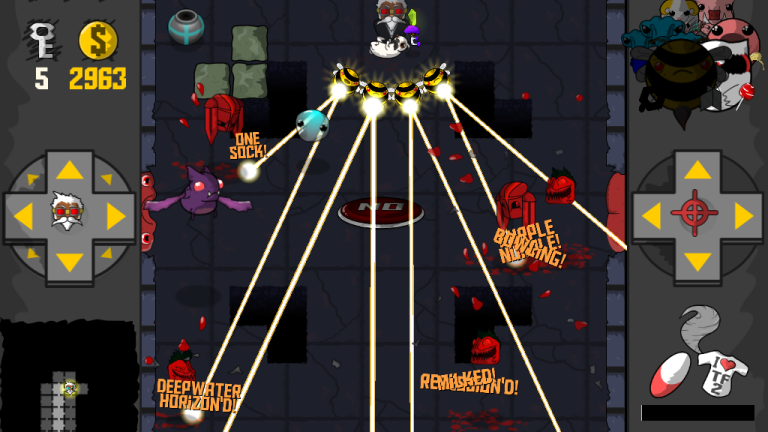 Well we're heading into March and things on the mobile front have really started to heat up. A lot of great games wound up not making the cut this week, because there was just so much to choose from! And let me tell you, we've got all sorts of new games and genres at the App Store this week: from cutesy physics puzzlers with Bubble Bobble and Toy Story themes; to the most realistic looking racer we've ever seen speed onto the App Store; and an atmospheric puzzle-platformer that could give Braid and Limbo a ride for their money. And that's without even mentioning the awesomely hectic animal-based hybrid of The Binding of Isaac and The Legend of Zelda. So what are you still doing reading this introduction? Keep scrolling down to see all of the fantastic new games in Den of Geek's Top 5 mobile picks for the week of February 22 – February 28:
5. Up in Flames
Platform: iOS | Price: $0.99
This week's obligatory puzzler from Chillingo is called Up in Flames and it's a pretty interesting take on the Angry Birds-style of slingshot gameplay, with cutesy cartoon graphics and a real fiery attitude. In the game, you play as a little green dragon named Baff, who looks suspiciously similar to our friends Bub and Bob from the Bubble Bobble series. I think "Baff" is the sound he must make when he hacks up deadly balls of fire. But you'll need to use your natural-born fire breath to save the rest of your dragon clan from some big bad wolves, which have scooped up your friends and stuck them in wooden crates and boxes. Bad move, wolves. Because you see, anything you light on fire will conveniently catch all adjacent wood-based objects on fire right along with it, which leads to some pretty awesome and scintillating combos. The game has a great personality and 75 levels of puzzling action to complete across a number of diverse locations: "from mountainous regions, to shark-infested beaches, to chilly tundra." You'll also get to dress Baff up in a number of fun outfits to assume the identities of cowboys and super heroes, because what fun is having a pet dragon if you don't get to play dress up with him?
Download Up in Flames on the iOS App Store
4. Real Racing 3
Platform: iOS and Android | Price: Free
EA's Real Racing 3 has already been the subject of much scrutiny in the gaming community at large in the weeks leading up to its release, after EA announced that the hardcore racing series would be getting the free-to-play treatment. Initial impressions of the game's free-to-play model were a little rough and I've already seen a number of articles pop up on the internet that give you the best roadmap for how to play the game without having to pay up or wait around after every race. And I'll admit, the in app purchases ARE expensive and they do tend to pop up way more often than they probably should. But while I certainly have my qualms about the increasing abuse of the freemium model by mobile game developers these days, there's still no denying how jaw-dropping gorgeous the visuals are. No joke, this thing looks like a full-blown console release here and the smooth controls and depth of gameplay are really unmatched by many other games in the App Store today. The game also takes its "Real" moniker pretty seriously, with real tracks like the Mazda Raceway Laguna Seca and the Circuit de Spa-Francorchamps and 22 real cars like the Porsche, Audi and Lamborghini.
Download Real Racing 3 on the iOS App Store | Download Real Racing 3 on the Google Play Marketplace
3. Toy Story: Smash It!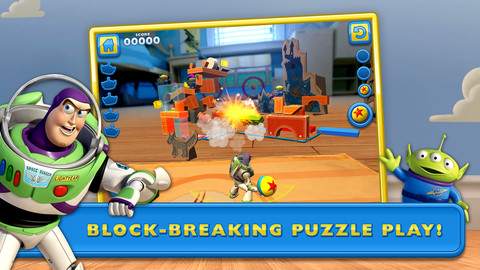 Platform: iOS and Android | Price: $0.99
I still cry from time to time about the heartbreaking masterpiece that was Pixar's Toy Story 3, so it was a little hard for me at first to give this new mobile game based on the Toy Story universe a try without getting all misty eyed. But now I'm sure glad that I did, because I fully predict this 3D puzzler will reign on the top of the iTunes charts for many weeks to come. The Boom Blox-inspired game was developed by Disney Mobile, who brought us the App Store essentials Where's My Water? and Where's My Perry? so you know the quality here is of the highest caliber. In the game you play as Buzz Lightyear and have to throw bouncy toy balls at wooden block setups to knock down the little green Toy Story aliens. Similar to Angry Birds, you'll earn three stars in each stage by using the least amount of throws and picking up some cleverly placed high score boosters. But the best part about the game is that in most stages, you'll actually get to run back and forth around the different bedroom environments to set up the best shots. As you can imagine, this makes the later stages incredibly complex, but it also offers an immense challenge for all you physics-based puzzle fans out there.
Download Toy Story: Smash It! on the iOS App Store | Download Toy Story: Smash It! on the Google Play Marketplace
2. Penumbear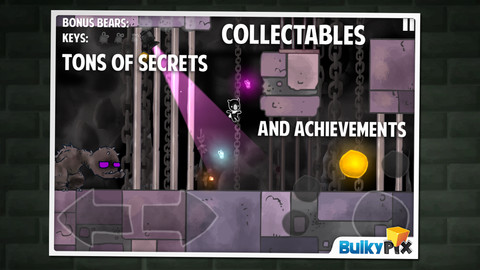 Platform: iOS | Price: $1.99
Maybe it's just me, but a lot of promising-looking mobile indie adventures end up feeling short and shallow once I actually start to play them: as if they've been restricted by the mobile platform itself. Thankfully, that's not the case with BulkyPix's atmospheric adventure game Penumbear, which proves to be one of the deepest and most immersive adventures we've seen on the App Store in quite some time. You start the game as Penumbear, who wakes up in a dark castle basement, cold and alone, except for a mysterious purple firefly by his side. Advertised as a "classic platformer," Penumbear features a 100-level campaign that deals with a really neat light and shadow mechanic. You'll actually get to traverse areas of shadow by walking on top of beams of light, and switching back and forth between the light and shadows will open up new areas that were previously unreachable. This game's visuals are drop-dead gorgeous and call to mind such artsy indie juggernauts as Limbo and Braid, with a calming, yet hauntingly mesmerizing allure. The massive adventure puts a big emphasis on exploration, as there are countless hidden exits and other secrets to find along your quest to save the other bears and I can see this one being a smash success on any PC or home video game console.
Download Penumbear on the iOS App Store
1. Towelfight 2: The Monocle of Destiny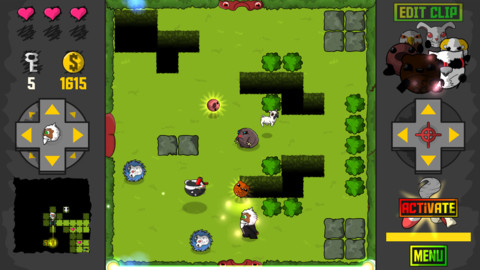 Platform: iOS and Android| Price: $0.99
 I've never played the first Towelfight game by Butterscotch Shenanigans, let alone heard of it, but this insane dungeon shooter that invites you to "Shoot animals out of your face" and "Play with your pug" in the same breath, easily wins our top accolades for this week in mobile gaming. In fact, after doing some deep and thorough internet research, there doesn't seem to have been a commercially released Towelfight 1. Whatever, we'll just roll with it. The game plays like a mix of Edmund McMillen's The Binding of Isaac and The Legend of Zelda, with great dual joystick controls that have you firing cutesy animals literally out of your face as ammunition and taking on a hoarde of Animal Kingdom enemies like "laser-blasting bees, speed-boosting unicorns, spiraling praying mantises, whales in heat and ultra-defensive turtles." With over 40 different animal weapons, 5 unique (and squishy) environments and 10 bosses that are "so personable you will shed a single, manly tear after defeating each one," I don't think I really need to explain why Towelfight 2: The Monocle of Destiny is just all sorts of hardcore and awesome. Now if you'll excuse me, it's time I go outside and play with my pug.
Download Towelfight 2: The Monocle of Destiny on the iOS App Store | Download Towelfight 2: The Monocle of Destiny on the Google Play Marketplace
Like us on Facebook and follow us on Twitter for all news updates related to the world of geek.