Features
Top 5 Mobile Games of the Week (Feb 15 – Feb 21)
We fend off packs of hungry wolves with a vomiting sheep, enact vengeance on the Gods of Ancient Chinese lore, and More!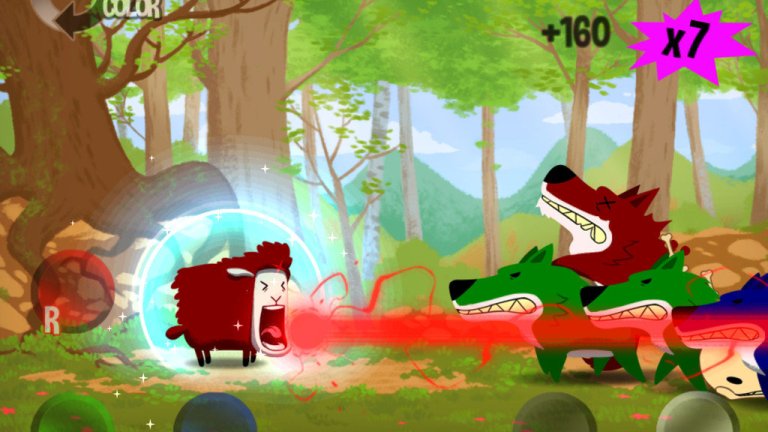 Well it's another week down and another great batch of new releases for us mobile gamers. We cover all walks of life this week, from Ancient Chinese mythology, to a rowdy romp through Hell. We also saw some unlikely heroes emerge on the App Store as well, like a rainbow-vomiting sheep, and a blue microorganism that suffers from amnesia. And of course, we have an impressive Number 1 pick that could easily pop up on many end-of-year games lists for 2013. Sadly, no love for Android users again this week, but that doesn't mean you can strap in and enjoy Den of Geek's explosive Top 5 picks in mobile gaming for the week of February 15 – February 21:
5. Color Sheep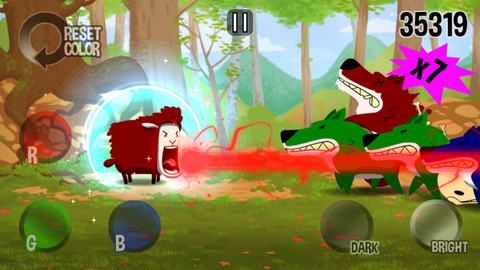 Platform: iOS | Price: $0.99
When you've been playing mobile games for as long as I have, there comes a point when you're not even fazed anymore by whatever strange and downright bizarre adventures you'll find on the App Store from week to week. Case in point: Color Sheep. Color Sheep is a weird little time waster that pack a serious punch. In the game, you play as a determined sheep named Sir Woolson, who must save the world from darkness when a hoard of vicious wolves is unleashed upon the land. Luckily, Woolson has a magic color-changing fleece, which allows him to vomit multicolored lasers at all of his foes. Still with me here? Okay good. You'll have to shoot different colored lasers depending on the colors of the wolves you'll face in order to defeat them. You'll start out with simple red, green, and blue lasers, and a darker shade of each to worry about. But soon enough, you'll be combining red and blue to make purple, and all in all, there's over 20 total color combinations in the game to master. This might not seem like a lot, but when you have ruthless packs of sneering wolves bum-rushing you at every moment, good luck trying to keep them all straight! Download Color Sheep on the iOS App Store
4. Hell Yeah! Pocket Inferno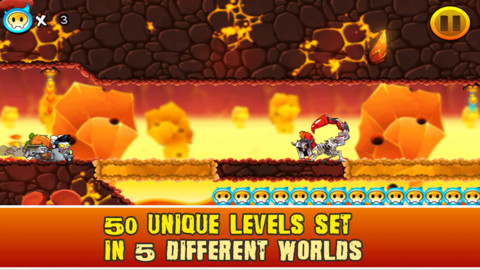 Platform: iOS | Price: $0.99
Following in the detachable footsteps of Rayman Origins and the console game's universally adored mobile spin-off Rayman Jungle Run, SEGA has surprised Hell Yeah! Wrath of the Dead Rabbit fans this week with its own portable take on the revered indie platformer. You play as Ash, the devil rabbit prince of Hell, on a fiery warpath through the throes of the Underworld. You'll avoid spikes and other obstacles, wear a bunch of creepy masks, and unlock secret areas by collecting a special Doom Token that's hidden in each stage. Like Rayman Jungle Run, Hell Yeah! Pocket Inferno borrows from the endless runner genre to make for a brisk sidescrolling adventure that's segmented into 50 platforming levels that span across 5 different areas of Hell. The game's simple two-touch controls allow you to hover in your awesome jetpack driller, and shoot deadly fireballs at an onslaught of Underworld baddies, like pointy dinosaur skeletons and spooky little grim reapers. But if you're still not sold on Hell Yeah! Pocket Inferno even after all of that, let me just mention the seriously awesome and ass-kicking boss fights you'll encounter amidst all the flames that will put Ash and his jetpack driller to the ultimate infernal test! Is it getting hot in here?
Download Hell Yeah! Pocket Inferno on the iOS App Store
3. The Gods: Rebellion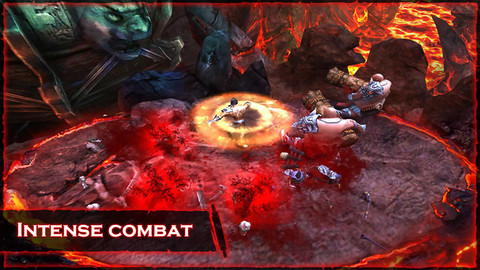 Platform: iOS | Price: $0.99
The Gods: Rebellion is Chillingo's answer to the God of War franchise on mobile devices. Yeah, I'll just let that sink in for a moment. Now granted, you won't get to squish Poseidon's eyes out with your thumbs or engage in everyone's favorite sex-based mini-game, but the visuals in The Gods: Rebellion are still pretty gritty and visceral, and are sure to meet your every epic and vengeful need. The Gods: Rebellion has a surprising amount of depth to it, with devastating action combos, challenging puzzles, and even a few platforming segments thrown in for good measure. In addition to the game's main story, which spans across 7 huge levels and many hours of gameplay, this violent romp through Ancient China mythology also offers an 11-level challenge mode, for all you hardcore heroes out there who really want to test your skills. The game looks great running on the Unreal Engine 3, and the story progression is somewhat nonlinear, which is pretty rare for a mobile game these days. But you know the most mind-blowing thing about it? The fact that The Gods: Rebellion is only $0.99 on the App Store! So what are you waiting for? Those Ancient Chinese Gods aren't going to slay themselves!
Download The Gods: Rebellion on the iOS App Store
2. Cyto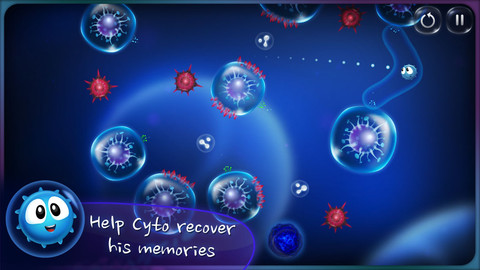 Platform: iOS | Price: $0.99
In this week's cutesy puzzler game from Chillingo, you play as the titular character Cyto, who's this adorable little blue, uh, spiky… organism… thing. I couldn't really tell you. Actually, I'm not really sure what this game's story is about either; but you see, neither does Cyto, because the little guy has lost all his memories and needs your help to get them back! As you set out to recover each one of Cyto's lost memory fragments across the game's 81 challenging puzzles, you'll begin to slowly unlock the secrets of Cyto's irresistible world. The game has a truly mesmerizing art style, with dreamy blue landscapes, and bubbly objects and creatures you might have seen under a microscope in biology class. Cyto sort of plays like a cross between Angry Birds and Contre Jour, where you'll need to fling your little friend through each puzzle using drag-and-release slingshot controls; but with the mysterious wonder and allure of the shadowy Contre Jour. The different game mechanics you'll come across as you progress through the game are also really neat as well, like sticking to these hairy little nucleus-looking things for multipleshots in a level, and picking up those 3 tricky memory fragments in each one. I just want to know what Cyto's deal is!
Download Cyto on the iOS App Store
1. Year Walk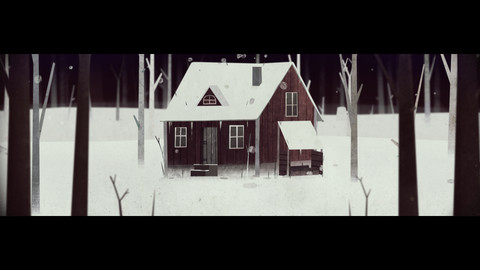 Platform: iOS | Price: $3.99
For those of you who keep up to date with all the latest mobile games releases, it probably comes as no surprise that Simogo's atmospheric first-person adventure, Year Walk, earns Den of Geek's top prize for this week in mobile gaming. Year Walk is a strict departure from Simogo's last game, the cutesy racer Bumpy Road, where the bright and happy colors are traded in for a winter emptiness that chills you down to the bone. I'm honestly hesitant to even say that much about it, as Year Walk is just one of those games you need to experience for yourself, and get fully immersed in the ride. It can easily stand amongst the ranks of Limbo, Braid, and Journey as the highest form of video game art. But here's what I will tell you about the game: you'll roam a dark, snowy woods, solving cryptic puzzles for a chance to gaze into the future. You can even download a free Year Walk Companion app, to get a deeper look into the game's history and lore. It's weird, mysterious, and even haunting at times, and it's one of the best mobile games I've ever had the pleasure to experience. Games like Year Walk only come around every so often, so make sure this one doesn't pass you by.