News
Top 5 Mobile Games of the Week (Feb 1 – Feb 7)
This week in mobile games was all about saving the world from certain demise, and finding true love along the way…
This week might have given us the most eclectic batch of mobile titles that Den of Geek has seen so far in 2013. The overarching theme was definitely robots, and overcoming any kind of adversary to save the world as we know it. We had an iOS port of a fast-paced action arcade classic, a new first-person adventure set in the throes of a dark and lifeless mansion, and even a cutesy iBlast Moki-inspired physics puzzler about finding true love. Our list has something for everyone to enjoy (even you skiers out there!), so stretch your fingers and wipe off your touchscreen, because here is Den of Geek's Top 5 Mobile Games for the week of February 1st – February 7th:
5. Krashlander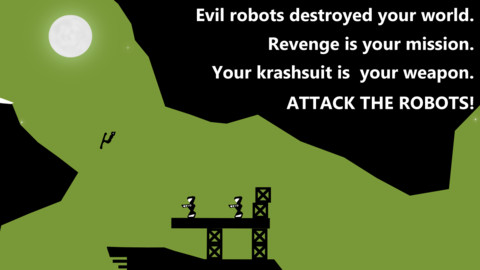 Platform: iOS | Price: $0.99
Whenever it seems like the world has met its match, whether from an alien invasion or a legion of robots gone haywire, we usually turn to the biggest gun-toting action hero we can think of to storm in and save the day in a flurry of grenades and bullet shells. But Krashlander features a different kind of savior: a skier. That's right, a skier. In this refreshingly original title, you'll put on your deadly "krashsuit" and take to the snowy slopes to defeat an army of evil robots that are destroying the world. You'll do this by launching yourself off jumps and literally crashing into the antagonizing androids. Personally, I would have just stabbed the robots with my ski poles, but hey, that's just me. The extreme minimalist graphics, simple colors, and even the complete lack of a soundtrack (the only thing you'll hear is the wind whipping atop the mountainous cliffs) go a long way in creating a very stylized atmosphere, and it's one of the most beautifully fluid games I've seen in a long time. Krashlander is certainly a challenging game, as the controls require the utmost precision to land certain jumps, but once you get going, it's hard to slow down. This certainly isn't the bunny hill at your local ski resort!
Download Krashlander on the iOS App Store
4. Metal Slug 2
Platform: iOS | Price: $3.99
If you've been a gamer for quite some time now, then you've probably heard of SNK's Metal Slug arcade series. The fast-paced run-and-gun shooter stood proudly among the ranks of Contra and Mega Man in terms of difficulty, and spawned a number of sequels to whet the arcade-goer's appetite for war-based destruction. In addition to an arsenal of deadly automatic weapons, you'll also take command of a number of powerful slug vehicles, like the "Slugnoid" tank and the "Slug Flyer" fighter plane. The iOS release of Metal Slug 2 is a seamless port of the original game, and the smooth touchscreen controls make it feel like you're actually playing on an old arcade machine (luckily, you won't have to go through hundreds of quarters every time you get a 'Game Over' screen). You can also join forces with a fellow slug cadet over Bluetooth in the game's trademark CO-OP mode! Even if you've never played a game in the Metal Slug series before, and you're a fan of that golden era of 32-bit Super Nintendo graphics, then I highly recommend you give this one a try. After all, how can you pass up on a game that lets you ride a camel equipped with a Vulcan Cannon? Yeah, I didn't think so.
Download Metal Slug 2 on the iOS App Store
3. Be Together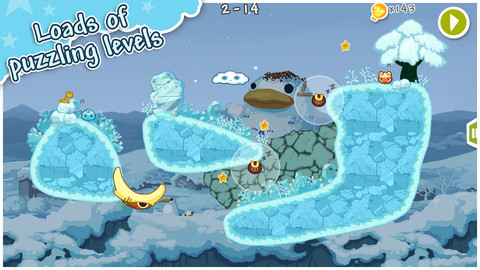 Platform: iOS | Price: $0.99
Love is in the air! And with Valentine's Day right around the corner, why not play the part of Cupid and help reunite two star-crossed lovers? Maya and Ruby are two little, uh, squishy ball creatures, but they are in love. In the deceptively challenging Be Together from Chillingo, you'll need to help Maya roll his way to Ruby in a series of fun physics puzzles. The game uses the same basic mechanics from The Incredible Machine or Amazing Alex, where you'll position environmental objects like clouds or curvy ramps inside the game world; and the sickeningly cute graphics and premise bear a striking resemblance to the iBlast Moki games. There is a lot of trial and error involved in Be Together, as most of the object placements must be incredibly precise for Maya to reach his squishy sweetheart (and especially if you want to pick up three stars in every level). Everything about this one is just so soothing to me, but don't let the game's appearance fool you! Be Together can get pretty tough towards the end, which goes to show that, like most things worth fighting for in life, love doesn't come easy!
Download Be Together on the iOS App Store
2. Cypress Inheritance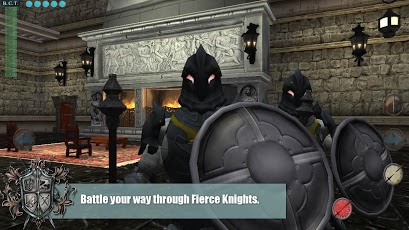 Platform: iOS & Android | Price: $3.99 (iOS) or $2.99 (Android)
In the untimely event of his passing, your grandfather, Alfred Cypress, has left you a sizeable inheritance as part of the Cypress family bloodline. But of course, you can't just HAVE it, now can you? To earn your rightful inheritance, you'll need to traverse the mysterious and trap-laden Cypress Estate, and extract the Seven Priceless Paintings that are hidden within. Turns out that won't be so easy either, as the mansion's artificial intelligence has gone a little cray-cray, and sent a frightening army of robot knights to make sure you never live to claim your legacy. The game is sort of like a cross between Quantum Conundrum and those old PC shooters like Quake and Duke Nukem, with a little hint of Portal's GLaDOS mixed in. But while the graphical detail may be a little 1999, the Android community has been in need of a deep FPS adventure for quite some time now: and in this light, Cypress Inheritance certainly delivers. Billed as the first game of the Cypress Inheritance saga, it's great fun exploring the still and lifeless mansion, and an exhilarating thrill whenever one of the idle knight statues comes to life, and chases you down the hallway with his mighty shield and club!
Download Cypress Inheritance on the iOS App Store | Download Cypress Inheritance on the Google Playmarketplace
1. Robo5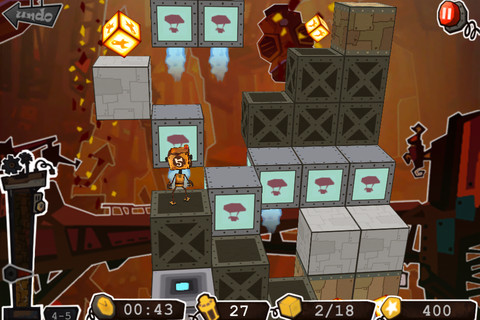 Platform: Android | Price: Free
The fantastic 3D action puzzler Robo5 was released a while back on iOS platforms, but now that Robo has finally made the jump to Android (which is strange, considering that Robo IS an actual android), the game is just too good not to mention at the top of this week's Mobile Games list. Robo5 plays just like the notorious console game Catherine, except without the frustrating, mind-numbing difficulty, and the inherent guilt of cheating on your girlfriend the entire time you play. Yes, while 100% less sexy than Catherine, Robo5 is still 100% FUN. Your goal in each stage is to ascend the top of a tower of boxes, by pushing and pulling them in various ways to open up paths that allow you to climb. The further you progress in the freezing cold laboratory, the more deceptive these little boxes become, with new properties like floating or crumbling underneath Robo's feet. The game's graphics are great, and even though the touch controls can get a little wonky at times, the core gameplay and sharp presentation make this a must have puzzler for any mobile gamer. The only catch is that the Android version of Robo5 is currently exclusive to the Amazon Appstore, with no word yet of when it will climb its way to the Google Play marketplace.