News
Top 5 Mobile Games of the Week (August 9 – August 15)
We bust out our old Game & Watch devices and merrily defend our house once again from the zombies crawling all over our lawn…
Some weeks in mobile gaming, or really the entire gaming industry for that matter, a monumental new game will come out and instantly overshadow everything else on the market that tries to contend. Now even though we have such a similar situation going on this week, with one of the most important and long-awaited sequels in the history of mobile games finally making a downloadable appearance, we've still got you covered, and managed to find some of the other great games that made their way onto the App Store this week. So whether big or small, overlooked or well-known, here are Den of Geek's Top 5 picks in mobile gaming for the week of August 9 – August 15: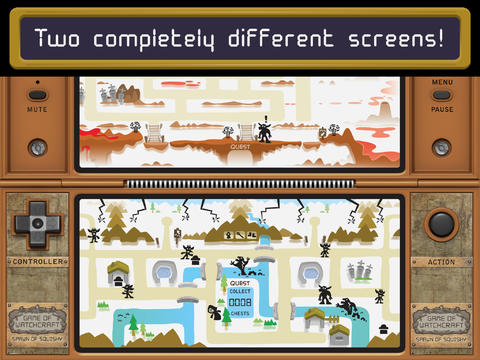 5. Game of Watchcraft: Spawn of Squishy
Developer: eSolution | Platform: iOS | Price: $0.99
Game of Watchcraft: Spawn of Squishy is probably one of the more interesting takes on a mobile game that we've seen in quite some time: mostly because the entire project is meant to emulate those old LCD Game & Watch games they used to make way back in the 1980s. You guys remember those, right? They were the games that only had a single screen, and every predetermined new image that was possible to emerge could faintly be seen in the background if you tilted the device just right. Well here's the catch that makes Game of Watchcraft such a ridiculously awesome premise: the entire thing is supposed to be an LCD representation of World of Warcraft. Yes, THAT World of Warcraft. So right from the start, it's a pretty ambitious feat to take a game that's so universally known for its hundreds of hours of gameplay and location variety, and try to encapsulate the entire experience into a single app that only ever has one, slightly changing game screen. But the even stranger thing is that the game actually works, and it's still pretty cool to see this meshing of incredibly old school with big game franchises of the 2000s and beyond. And if anything, you'll find no finer source of 80s nostalgia this week than with Game of Watchcraft!
Download Game of Watchcraft: Spawn of Squishy on the iOS App Store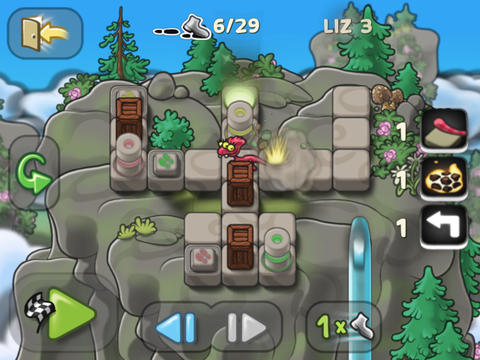 Developer: Headup Games | Platform: iOS | Price: $0.99
In the game, you play as three young heroes who are tasked with finding and restoring the stolen diamonds to the Tree of the Temple of Peace. These heroes are named Rob, Liz, and Egg, and while it's obvious that Egg clearly got the short end of the stick when it came to being born and being given a name, you'll have to work with all three different heroes in order to solve each one of the game's 350+ lighthearted but challenging puzzles. The gameplay itself sort of functions as a top-down tile-based puzzle game, where you'll need to utilize your characters' special abilities against the different layouts of the board, while always keeping mindful of the positions of tricky obstacles in your path. But what's great about this one is that the game just feels so unique: there are tons of hours of interesting puzzling gameplay, and a bright and colorful cartoon world that just never seems to get old no matter how many puzzles you complete.
Download Way to Go! on the iOS App Store
3. Pirate Legends TD
Developer: Super Hippo Studios | Platform: iOS | Price: $3.99
Tower Defense games often seem to be a dime a dozen on the App Store these days, but pirate-themed tower defense games are probably a bit more rare like a shimmering gold doubloon. Pirate Legends TD takes the core tower defense gameplay that you know and love from games like Kingdom Rush and covers the whole thing in a wonderful pirate-esque sheen, with gorgeous island environments, harrowing pirate-filled seas, and even character voiceover work and an awesome soundtrack that'll have you "yo-ho-ho-ing" into the late hours of the night. Because pirates have no sense of time whenever rum and defending treasure-filled towers are concerned! So here are just a few things that you can expect to find in the game, because everyone knows that the only thing that pirates love more than rum and booty is hard cold numbers: you'll get to travel the seven seas with 7 different pirate environments to defend; clash swords in frenzied battles with 28 different enemy types and 4 deadly bosses; and take control of 20 different towers with a wide range of special and devastating attacks (and yes, you'll even be able to unleash the kraken and subsequently squeal UNLEASH THE KRAKEN!). Insert obligatory ARRGH here.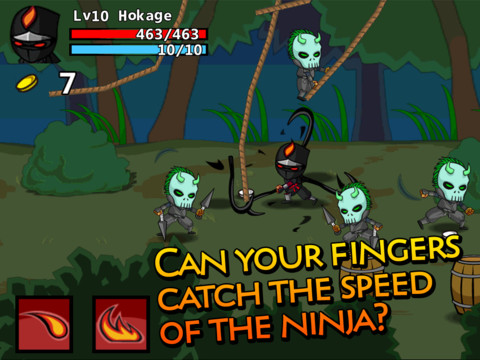 2. Ninjas – Stolen Scrolls
Developer: Daigo Nakamura | Platform: iOS | Price: $0.99
There are a number of reasons why Ninjas – Stolen Scrolls is just all sorts of App Store awesome. For one thing, who doesn't like playing as ninjas, on a quest to take down some other deadly ninjas? Scrolls are also pretty cool, because they usually have tons of important ancient wisdom written all over them. But perhaps the biggest reason we're freaking out about this one is that the game looks and plays like something straight out of The Behemoth's camp, and could probably even be described as Castle Crashers with ninjas. As far as sidescrolling beat-em-up experiences go on a mobile device, I'd have to say that Ninjas – Stolen Scrolls is probably the most like Magick: Wizards of the Square Tablet, which if you recall, fared PRETTY well with us in past Top 5 Mobile Games lists. In fact, different earthly elements will also play a crucial role here in this game as well, with four playable ninjas that have each mastered the powers of such elements as fire, water, thunder, and wind. And just in case you like your ninjas with an extra side of genre variety, be prepared to throw your cartoony ninja stars at everything from zombies and monsters, to demi-humans and even the fearsome ninja dog.
Download Ninjas – Stolen Scrolls on the iOS App Store
1. Plants vs. Zombies 2
Developer: PopCap | Platform: iOS | Price: Free
It was a pretty much no-brainer decision for which game was going to snag the coveted top spot on our list this week, and I'm ecstatic to announce that after years of waiting, and even months of last-minute delays, PopCap's colossal Plants vs. Zombies 2: It's About Time has FINALLY been released exclusively for iOS devices: and the good news is that the game is everything you wanted it to be and more. Now I could spend this entire paragraph talking about all of the awesome new plant and zombie designs, the incredibly cool themed worlds like the Wild West, Pirate Seas, and Ancient Egypt, or just how many damn levels and challenges are packed into this thing, but instead I'd like to give a simple reassurance to any PopCap fans who may have felt an overwhelming sense of dread sweep over them after the announcement of PopCap's acquisition by EA, and the developer's growing shift towards producing strictly freemium content. Well I'm happy to say that PvZ 2's freemium model gives me complete and utter hope for the future of free-to-play games, with only a handful of totally optional plant types requiring an in-app purchase, and the entire game being able to be completed without paying a dime, or waiting hours and days for your theoretical energy stash to refill.