News
Top 5 Mobile Games of the Week (August 23 – August 29)
We craft our way to the clouds in an ever-changing pixelated world, and put on our boxing gloves as we go for the championship belt…
Sports games and open-ended crafting games: the two go hand in hand like peanut butter and jelly, or ketchup and mustard. Okay, so I guess not really. Sports games and open-ended crafting games are pretty much on opposite ends of the gaming spectrum, but both of them will nonetheless come together in this week's top 5 best new mobile games to hit the App Store! One minute you'll be going from kicking field goals and raining down a flurry of left hooks in the boxing ring, to traversing all sorts of magical worlds the next where you can build your way to the stars, or tunnel your way down into the depths. So get ready for this odd, but ultimately awesome pairing of genres, because here are Den of Geek's Top 5 picks in mobile gaming for the week of August 23 – August 27:
5. Link the Slug
Developer: Bulkypix | Platform: iOS | Price: $0.99
The first time I heard the name "Link the Slug," I immediately pictured The Legend of Zelda: Ocarina of Time with a giant green slug named Link in the place of our regular adolescent boy hero. But as it turns out, Bulkypix's Link the Slug is actually about the act of linking slugs together in a number of sizzling and electric strings to clear them from each puzzle game board, and not about a slug in a pointy green hat that goes on a big adventure to save some blonde princess. But that's okay though, because the real Link the Slug game is all sorts of fun, and it proves to be just what we were looking for in a lighthearted and overly cute puzzler this week. The first thing you're likely to notice about the game is that the visuals bear a striking resemblance to most titles in ZeptoLab's catalogue, the chief among them being the recently released Pudding Monsters. But of course, that certainly isn't to say that Link the Slug doesn't have a gameplay style all its own, with 75 fun and challenging puzzle levels, and a silly array of game board items that include everything from toy trains and bombs, to LEGO-like building blocks and moldy wheels of cheese.
Download Link the Slug on the iOS App Store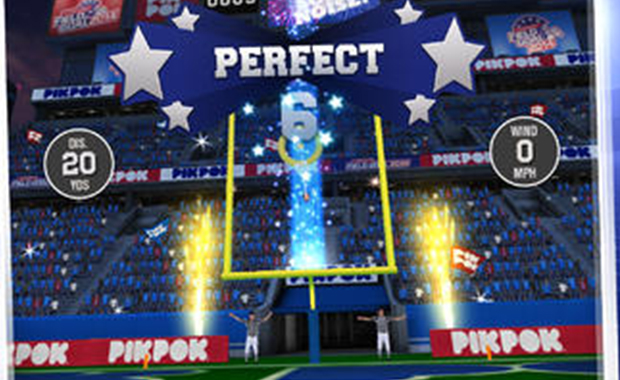 4. Flick Kick Field Goal 2014
Developer: PikPok | Platform: iOS | Price: Free
There once was about a two to three month stretch during one year of high school when all anyone seemed to want to be doing was playing with those little triangular paper "footballs" whenever the teacher turned their back in the middle of class, and flicking field goals at their friends who would put up the goal posts using their fingers. This usually ended up with a lot of the field goal people taking shots directly to the face, and things got so bad at one point that the teachers would start confiscating any paper football they could find on the floor. I tell you this long-lost high school anecdote because the gameplay of PikPok's Flick Kick Field Goal 2014 is surprisingly similar, where players will use that same flicking motion from paper football to now kick a beautifully rendered 3D football through the distant goal posts to a roaring crowd of fans. The big difference here is that, unlike paper football, Flick Kick Field Goal 2014 lets you play as one of over 60 different real life college football teams, with tons of arcade-style goodness to be had as you compete in daily challenges against your friends and rise up those leaderboards. See? It'll be just like you're back in high school all over again (minus the inevitable paper cuts on your face, of course!).
Download Flick Kick Field Goal 2014 on the iOS App Store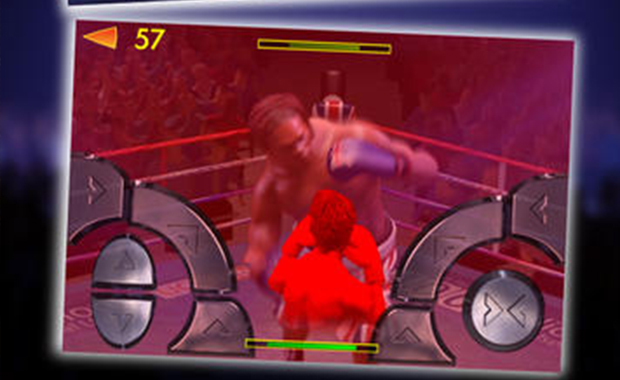 3. International Boxing Champions
Developer: Coeus Creative | Platform: iOS | Price: Free
Do you remember that old boxing game that everyone used to be crazy about playing in all of the dark arcade rooms back in the day? The one with those red or blue grip controls that you'd grab in your hands and just shake them all over the place to pummel the crap out of your virtual opponent? Well International Boxing Champions from Coeus Creative sort of reminds me of what that game might have been like had we had mobile devices and touchscreen controls way back in the 90s. But the coolest (or should I say strangest) thing about the new arcade-style boxer is the artwork and visual stylings of International Boxing Champions, which I have to say is pretty unlike anything I've ever seen before. On one hand, the character designs of the boxers themselves in the game look incredibly realistic, as if you're almost playing with actual live actors akin to games like Mad Dog McCree; but then again at the same time, there's just something ever so slightly "off" about the boxers that I can't put my finger on, almost like they're halfway between being made of wax and claymation. But whatever the case may be, there's no denying that International Boxing Champions is stylish as hell, and that it's sure to get those virtual gloves swinging before the first bell even sounds!
Download International Boxing Champions on the iOS App Store
2. Junk Jack X
Developer: Pixbits SRL | Platform: iOS | Price: $4.99
Something tells me that you're going to be having more than enough of your fill of crafting games over the weekend, especially when you take into account both Junk Jack X and the same-time release of a very similar title that also just so happened to nap our number one spot on the mobile game charts this week (and no cheating by scrolling down to #1 before you finish reading this paragraph! I have my eye on you!). A sequel to the original Junk Jack game, Junk Jack X is here to take the 2D sidescrolling and crafting hybrid to the next customizable level. And in case you didn't know, apparently when you add an "X" to the end of your game title, this becomes universal App Store language which means all sorts of deluxe features and insane amounts of content have been added over that old and totally lame non-X version: and Junk Jack X proves to be no different. Here is just a short list of all the extensive things you'll be able to find in this excellent crafting adventure, including more than 750 crafts that can be built, over 1,600 treasures to find and collect, 350 different placeable items in the game world, and 150 diverse monsters and creatures that you'll have fun slaying.
Download Junk Jack X on the iOS App Store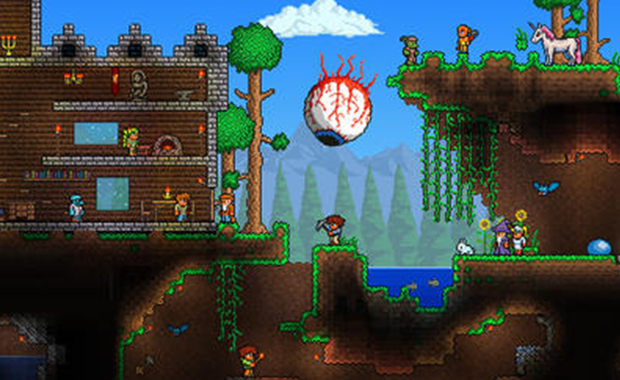 1. Terraria
Developer: 505 Games | Platform: iOS | Price: $4.99
Why yes, you certainly read that right! While we knew it was coming for a few months now, I can finally be the bearer of good news this week in telling you that modern indie hit Terraria has made its way onto the App Store! Now in case you might be unfamiliar with the incredibly endearing, 2D pixelated sandbox crafting game where almost anything is possible, I would only need to refer you to one of the countless glowing reviews about the PC and console versions of the game, which makes it even more exciting that another indie great along the lines of Limbo or Braid can join the ever-growing ranks of quality game experiences on a mobile device. Even though placing blocks in the game world and crafting items and recipes plays a large role in the overall Terraria experience, the game is way more action-oriented than you might initially expect: with over 75 different monsters to find and take out as you construct your home and cultivate the world around you, and 5 massive BOSS FIGHTS that will really put your inherent survival skills to the ultimate test! Terraria is also as randomly-generated of a game that you could ever ask for, with constantly changing weather dynamics and environments that will have you crafting everywhere from floating islands in the sky, to lava-ridden caves deep beneath the surface of the earth.
Download Terraria on the iOS App Store
Like us on Facebook and follow us on Twitter for all news updates related to the world of geek. And Google+, if that's your thing!