News
Top 5 Mobile Games of the Week (August 2 – August 8)
We polish off our pizza cutter for another round of back alley surgery, and strengthen up our knife-wielding hand…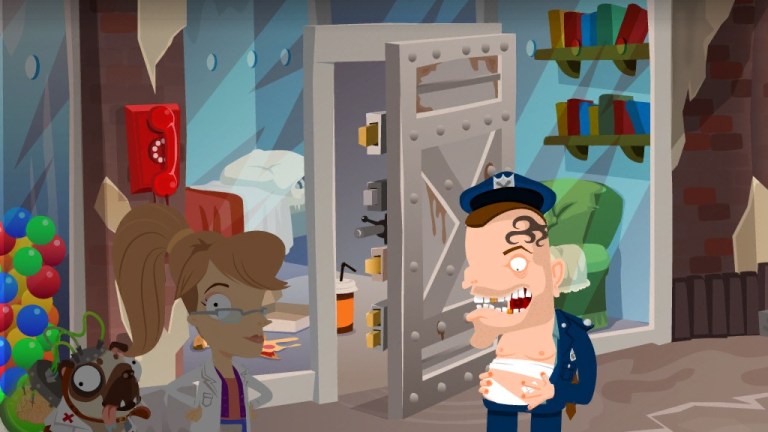 We're no strangers to the ongoing debate about violence in video games these days. But regardless of what your stance is on the matter, it seems like violent video games are just what game developers like to make: especially if this week's latest and greatest mobile offerings are anything to go by. For instance, this week we saw all sorts of fantastic titles where violence was the singular key to victory, from launching a full-scale ballistic attack on a squadron of enemy worms, to cutting open bodies with a questionable variety of sketchy homemade tools, to blatantly just running around and stabbing everyone you meet with a tiny sharp knife. So put away your morals for the time being and partake in some light-hearted cartoon violence, because here are Den of Geek's Top 5 picks in mobile gaming for the week of August 2 – August 8:
5. Abyss Attack
Developer: Chillingo | Platform: iOS | Price: $0.99
 As if I really need to sit here and tell you why a game like Abyss Attack, which neatly falls under the category of bullet-hell shooters akin to Ikaruga, is a violent experience. But aside from all the typical shooting and dodging that you'll be doing throughout the 87 missions that make up the game's sprawling campaign, what really makes Abyss Attack a real gem of a mobile game is its ethereal, almost heavenly art style and graphics. I think a lot of this has to do with the fact that, unlike most bullet-hell games that let you pilot a ship of some kind and maneuver through bullet-filled skies, Abyss Attack instead puts you in the seat of a submarine, with all sorts of beautiful underwater environments to swim through. But don't worry: as it turns out there's a lot of deadly bullets capable of traveling under the surface as well! And of course, this is all without even mentioning the game's neat steampunk vibe and relaxing soundtrack, which is all brought together seamlessly through quite fluid tilting controls. While it may not feature some of the more blatant and uncomfortable instances of violence as some of our other top picks this week, make no mistake that Abyss Attack is still action-packed bullet-hell goodness at its finest.
Download Abyss Attack on the iOS App Store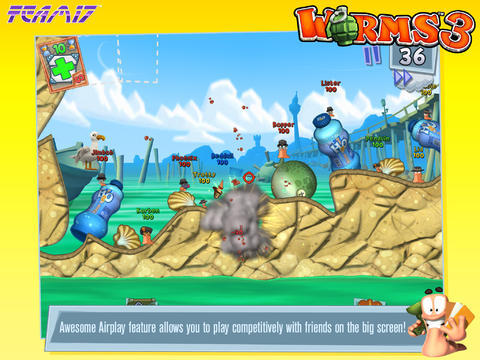 4. Worms 3
Developer: Team17 | Platform: iOS | Price: $4.99
Now in case you might somehow be new to the world of Team17's Worms franchise, it's no secret that these little guys condone violence all too well: in fact, they've got their own small-sized arsenal that packs such a powerful and deviously varied punch, that it could easily rival most real-life global maritime forces on earth today. But these worm cadets are so ruthless that they even go beyond the norms of fighting with things like bazookas, dynamite, and grenades. Nope, these guys are going for the sucker punch kill, with weapons like banana bombs, exploding sheep, and even an old woman, whose devastating and hilarious attack I wouldn't want to spoil here. But just remember, any squadron of soldiers that are capable of commandeering old ladies and turning them into ballistic warfare for their own devilish devices must be a serious force to be reckoned with! Luckily, there are a ton of ways in Worms 3 that enable you to do precisely that. From a challenging campaign mode that's set across four varied environments, to online multiplayer, local battles with up to four teams on the same device via a Pass 'N' Play feature, and even an endless hoard mode, you'll be blowing up enemy worms with old grandmas left and right in every kind of game mode you can shake a stick at (a stick of dynamite that is!).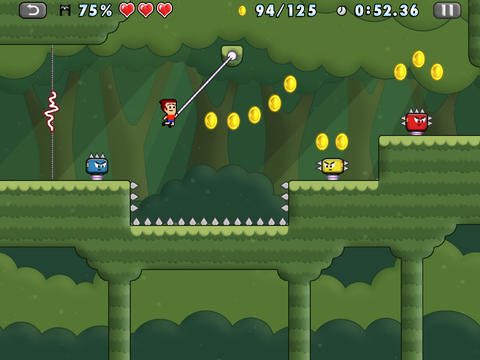 3. Mikey Hooks
Developer: BeaverTap Games | Platform: iOS | Price: $1.99
It's no secret around these parts that I'm a big fan of sidescrolling platform games. I mean, every time I walk down a bustling city street these days, I'll hear countless people calling to me: "Oh hey look, it's Platformer Joe! Let me buy you a sandwich!" Okay, so maybe I made that entire thing up, but what I'm really trying to say here is that I enjoy playing platform games. And when it comes to platform games on a mobile device, BeaverTap Games' Mikey Shorts series tends to be one of the finest examples around. The latest installment in their ongoing take on sheer platforming bliss is called Mikey Hooks, and it introduces one very key component that is set to change the nature of Mikey's platforming ways forever: the grappling hook! Yes, as the name implies, you'll be hooking and swinging all over the place in this game just as much as you'll be jumping from platform to platform. And might I say that the developers really nailed the controls and the swinging mechanics in this regard, as it just feels so undeniably good every time you execute a flawless swing onto the next platform, only to launch your hook again mere seconds later and be off swinging around the world again in no time. On the weekends, I'm more commonly known as Swinging Joe now, although for reasons that are mostly unrelated.
Download Mikey Hooks on the iOS App Store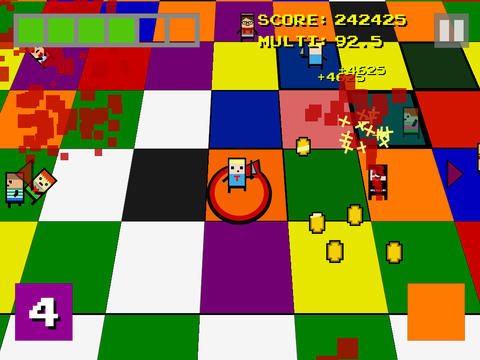 2. Knife That Guy
Developer: Flyover Games | Platform: iOS | Price: $0.99
In keeping up with our wonderfully fun and kid-friendly theme of unnecessary violence this week, Knife That Guy probably would have taken the top prize, had the sole parameters for ranking on this list been whichever game could offer up the most mindless and colorful portrayal of up-close and personal violence that is possibly imaginable. So as you might have guessed from the game's non-discreet title, Knife That Guy puts you in the shoes of a little happy blonde guy named This Guy, who wields a small, but very sharp and effective knife over his tiny square head. Your goal is, of course, to put that knife to good use, by running around all over a multi-colored chessboard and stabbing every one of the Other Guys that happen to cross your path in spouts of fast-paced, and quite brutal explosions of blood. You can even throw knives too in the game, so there's also that, and I might go as far as to call Knife That Guy the world's first "endless killing" video game – quite literally. So is this game basically a video game simulation of a knife-based killing spree? Perhaps. But there's still no denying how much horrible, twisted fun this cartoonish arcade-style take on the concept truly turns out to be. Just remember, kids: killing is wrong, don't do drugs, and stay in school!
Download Knife That Guy on the iOS App Store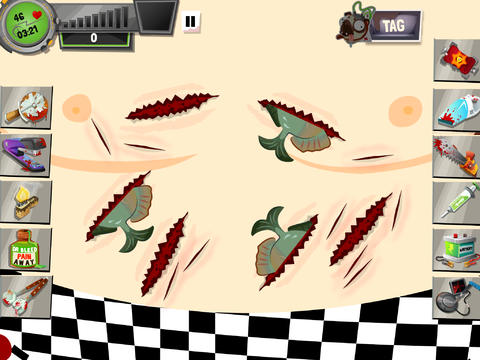 1. Amateur Surgeon 3
Developer: Adult Swim Games | Platform: iOS | Price: Free
Even though the ridiculous and can't-believe-they're-not-in-prison yet surgeons of Adult Swim's Amateur Surgeon series are decidedly that – amateurs in both their skills and the household tools they choose to use for their life-or-death procedures – one thing becomes clear after booting up the third installment in this dark and twisted series: the developers are certainly nothing short of experts in their craft now. This time around, the gameplay mechanics have been refined to near perfection, and every basic action in the surgeries just seems unbelievably slick and smooth, from pulling out impaling objects like toothbrush prison shivs and flopping fish with your trusty tongs, to using your iconic pizza cutter to slice through some bodies and delve down into the deeper problems that are hiding within. As sick as it may sound, there's honestly nothing more satisfying to me that searing some open flesh wounds with my rust-stained lighter, and then rubbing some goopy healing gel all over the burns. Oh yeah, that's the good stuff right there. What's even better this time around is that the game adopts one of the greatest freemium models I've ever had the pleasure of playing (one that actually lets you play the game, if you can believe it!), and the advent of tag-team surgery takes the traditional gameplay into a fun, hilarious, and highly refreshing new direction of back alley surgery.