News
Top 5 Mobile Games of the Week (Apr 12 – Apr 18)
We put on our boxing gloves and pummel some primates and join the Teenage Mutant Ninja Turtles on a run across the city in this week's Top 5 picks in mobile gaming…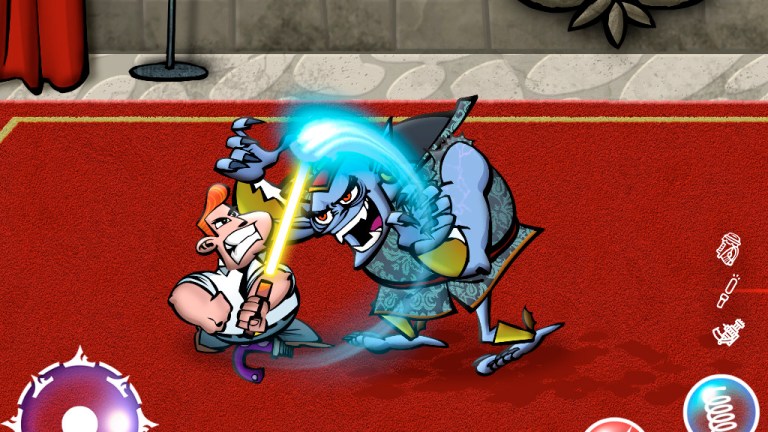 Another week, another slew of new releases in mobile gaming. This week's theme seemed to be all about animals, and the other quirky kinds of creatures that take the center stage in all of our favorite handheld games. We saw some monkeys tap gloves in the middle of a boxing ring, helped a few familiar ninja turtles take to the New York City rooftops, and get reacquainted with a little green alien who loves himself some candy. As far as enemy creatures are concerned, we also saw some vampires get blown to bits, and watched the spooky inhabitants of the underground city of Ark get slashed to pieces by a barely-dressed adventurer. So get ready to make some new four-legged friends, because here are Den of Geek's Top 5 mobile picks for the week of April 12 – April 18:
5. Monkey Boxing
Developer: Crescent Moon Games | Platform: iOS | Price: $2.99
Monkey Boxing from Crescent Moon Games is a 2D-style fighter that's exactly what it sounds like. In the game, you play as a stylish monkey with boxing gloves and beat the crap out of other monkeys in a fast-paced boxing ring. Throughout your 50-level quest towards winning the World Monkey Boxing cup, players will unlock fun props and other items by beating famous Monkey Boxers, and fully customize their own fighters with more than "269 BILLIONS of combinations." That sure seems like a lot, but then again, I'm not completely sure how well monkeys can count, so that number might not be entirely accurate. Monkey Boxing has a wonderful sense of humor, and the two-button control scheme and polished 3D animated characters are actually extremely well done for a mobile game of this nature. What's more, you can even challenge your monkey friends to a rousing bout in the game's same-screen local multiplayer mode. They say that monkeys are the closest descendants to us human beings, so why not have them partake in some of mankind's greatest sports and pastimes as well? I just hope I haven't offended any of them who might be reading this list right now for some fun mobile gaming suggestions. My left jab is still a little rusty.
Download Monkey Boxing on the iOS App Store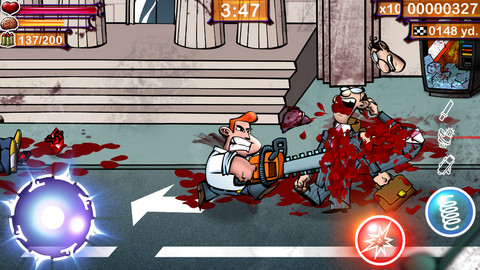 4. Fangz
Developer: Game Whizzes | Platform: iOS and Android | Price: $0.99
Fangz is a 2D-style beat-em-up arcade shooter in the vein of Zombieville USA, where the traditional zombie enemies have been replaced by legions of ruthless vampires, including bloodsucking lawyers and bankers. Frank, the game's protagonist has a blatant vendetta against this 1% of the population (being vampires), and so now it's up to you to help him massacre those purple-skinned and sunglasses-wearing fiends in any way you see fit. The game offers a 10 level campaign mode, 17 different unlockable and devastating weapons like chainsaws and light sabers, and a "riveting Michael Bay-sized story" that all leads up to some truly jaw-dropping boss battles. Games like these always tend to look great in the previews, but when I finally get around to playing them, something about the actual gameplay tends to make my high expectations quickly fizzle out. Well Fangz is a glaring exception, as the gorgeous hand-drawn illustrations by renowned artist Alex Gallego and the insanely bloody animations go hand in hand with the fast-paced sidescrolling gameplay, which makes the game feel more like a full-fledged adventure than a half-baked blitz mode. And besides, who doesn't love killing the occasional vampire or two with a heavy-duty plasma gun? Who doesn't love killing two HUNDRED of them?
Download Fangz on the iOS App Store | Download Fangz on the Google Play Marketplace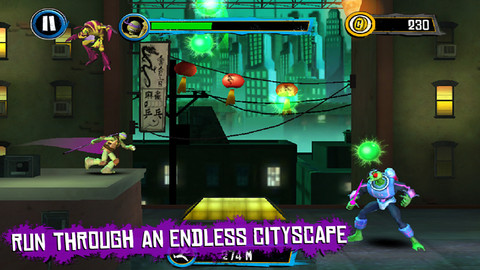 3. Teenage Mutant Ninja Turtles: Rooftop Run
Developer: Nickelodeon | Platform: iOS | Price: $1.99
 Now, I know the first thing you're probably thinking about this one: a TMNT game that's not a sidescrolling beat-em-up like Turtles in Time? No thanks! But hear me out for a second. Even though Teenage Mutant Ninja Turtles: Rooftop Run is an endless runner game, the simplicity of controls and heavy emphasis on combat really work together here to capture the essence and spirit of those age-old TMNT games on the NES and SNES, while bringing something new and exciting to the pizza-infused and shell-shocked universe of everyone's favorite reptilian warriors from the sewers. Based on the reimagined TMNT cartoon series by Nickelodeon in 2012, Rooftop Run has Leo, Donnie, Raph and Mikey racing across the roofs of New York City, and trying to stop a devastating attack by Krang and his dropship full of evil minions. As you play, you'll be able to buy new gear and upgrade your weapons to take on all of those pesky foot soldiers that get in your way, and of course, eat lots and lots of pizza! And just in case you're somehow new to the world of TMNT, just a small word of caution: despite the similarities in appearance, Krang in his mechanical suit is not, in fact, Momma June from Here Comes Honey Boo Boo. BOOYAKASHA!
Download Teenage Mutant Ninja Turtles: Rooftop Run on the iOS App Store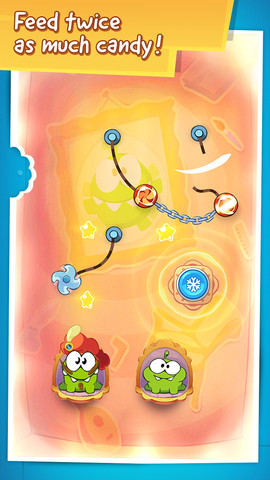 2. Cut the Rope: Time Travel
Developer: Zeptolab | Platform: iOS and Android | Price: Free ($0.99-$1.99 for HD)
Even though I'll always be a hardcore console gamer at heart, I still hold a very special place for casual games which prove that simple graphics and lighthearted puzzle-based gameplay can be just as fun and addicting as scoring chains of headshots in any AAA release. Cut the Rope is easily my favorite series of the "Angry Birds" and "Where's My Water?" trifecta of powerhouse mobile giants, and the latest installment in the physics-based puzzler franchise about feeding candy to aliens does far from disappoint. This time around, we see our alien friend Om Nom traveling through time and sharing a few sweets with some of his quirky green ancestors. The different time periods in the game bring a whole slew of new mechanics to the Cut the Rope universe, like flying candies which mimic the movements of your primary circular treats, and little stone triggers that reveal or obscure Om Nom as he stands on a rotating door. Even though the game can be completed in a relatively short amount of time, Zeptolab has a proven track record of supporting their games with new level packs months and even years after their initial release, so we can surely expect to see more time traveling and candy-munching fun from this fantastic mobile game for some time still to come.
Download Cut the Rope: Time Travel on the iOS App Store | Download Cut the Rope: Time Travel on the Google Play Marketplace
1. Ark of Sinners Advance
Developer: BulkyPix | Platform: iOS | Price: $2.99
For many of us old-school and disillusioned gamers out there, it looks like Ark of Sinners Advance might finally be our answer to a SNES-style Metroid or Castlevania experience on a touchscreen device. The game follows the smart and sexy Celia as she embarks on a harrowing adventure into the mysterious world of Ark, to unearth the city's dark secrets and learn a thing or two about her own past as well. The 2D sidescrolling action-adventure promises tons of exploration across 21 interconnected levels, with lots of secrets to find and epic boss fights to encounter in each. And for all of you bros reading this, Ark of Sinners Advance probably features one of the most scantily-clad heroines to date, and the most overuse of the elusive side-boob that I've ever seen in a mobile game. Seriously, just thinking in terms of her armor and precautions against enemy attacks, there's really no reason to be wearing something like that on a dark descent into a dangerous underground city. I'm not sure if the skeletons and other shadowy demons in the game get turned on by something as provocative as a blatant side-boob, but if Celia's assets manage to distract them in any way to aide her in battle, then I guess all the more power to her!
Download Ark of Sinners Advance on the iOS App Store