News
Tomb Raider 2 Release Date, Director and Everything You Need to Know
A sequel to the Alicia Vikander-starring Tomb Raider movie reboot is officially set to arrive in 2021.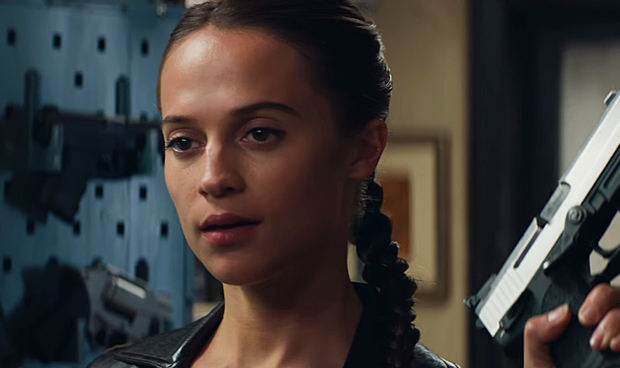 Warning: This article contains spoilers for the ending of 2018's Tomb Raider.
We liked 2018's Tomb Raider more than most, especially its promising ending, which saw Lara Croft (Alicia Vikander) figuring out that her late father's business partner, Ana Miller (Kristin Scott Thomas), is behind the mysterious Trinity organization that is looking to take over the world and is responsible for Richard Croft's death; a game-changing tidbit that opens several sequel possibilities. However, the film didn't exactly wreak havoc on its box office competition, leaving fans to wonder if such a sequel would ever get made.
In the latest news, the Tomb Raider reboot movie sequel now has a director and a release date!
Tomb Raider 2 Director
Ben Wheatley is set as Tomb Raider 2's director, according to Deadline. Wheatley, an Essex-born helmer, was in the director's chair for the 2016 Brie Larson-starring crime-comedy, Free Fire, the 2015 Tom Hiddleston-headlined sci-fi horror film, High-Rise and drama Happy New Year, Colin Burstead, along with episodes of CBS All-Access's Strange Angel and a duo of 2014 (Peter Capaldi era) episodes of The BBC's Doctor Who.
Wheatley's directorial appointment occurs after MGM and Warner Bros. hired screenwriter Amy Jump to pen the sequel script, as the trade reported back in April; a move made at the behest of star Alicia Vikander, who reportedly liked the script. Since Jump is a frequent collaborator with Wheatley, having worked together on things like the aforementioned Free Fire and High Rise, the reunion of this creative team was an inevitability.
Tomb Raider 2 Release Date
Tomb Raider 2 (official title to be revealed) is now set to arrive at theaters on March 19, 2021.
Tomb Raider 2 Details
As mentioned, Tomb Raider effectively laid plenty of the groundwork for franchise expansion. The film ended with Lara having signed Croft Holdings over to Ana, and you can see how this revelation is a bit of a gut punch. It's also an excellent way to leave viewers wanting more, setting Tomb Raider up for a killer sequel, with Thomas as the explicit antagonist and henchman Mr. Yaffe (Derek Jacobi) by her side. Tell me you don't want to see a Tomb Raider 2 movie with Thomas and Jacobi as bad guys facing off against Alicia Vikander's Lara? Yeah, you can't.
While Tomb Raider didn't break box office records, it was hardly a flop. It cost roughly $94 million to make, and more or less met domestic box office expectations, having earned $58.2 million domestic and $216.4 million foreign, grossing $274.6 million globally. Of course, Tomb Raider did have to contend with the monumental momentum of Marvel's Black Panther, to which the reboot placed behind in second place for its opening week.
Pertinently, as Deadline observed in 2018, Tomb Raider needed to make $275 million to break even. Ultimately, thanks to some rounding up, the film did, indeed, make that mark to the very number. The 2018 reboot was a co-production between MGM and Warner Bros., which means the studios will split the risk for the sequel. While this has both its pros and its cons, a prospective Tom Raider 2 would come the table freed from its predecessor's task of exposition, with Vikander's Lara Croft – as a post-credits scene teases – ready manifest in her classic, video-game-evocative dual-pistol-wielding form.
We will keep you updated on Tomb Raider 2 as the project develops!
Kayti Burt is a staff editor covering books, TV, movies, and fan culture at Den of Geek. Read more of her work here or follow her on Twitter @kaytiburt.
Joseph Baxter is a contributor for Den of Geek and Syfy Wire. You can find his work here. Follow him on Twitter @josbaxter.