News
Titanfall 2 Due Out in Late 2016
Mech-based shooter sequel Titanfall 2 is coming out this winter, according to McFarlane Toys...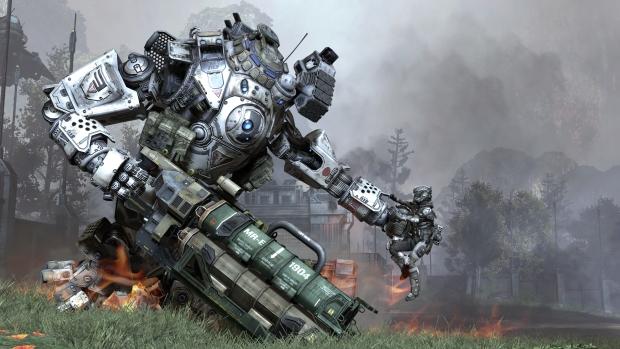 We recently heard that Respawn Entertainment has some major plans in place for its mech shooter sequel Titanfall 2, including an all-new single-player campaign and also the potential for a TV spin-off somewhere down the line.
What has remained vague is Titanfall 2's launch date. Publisher EA has long provided the window of what is now its current financial year—pegging it anywhere between this April and next March. Action figure company McFarlane Toys may have accidentally let slip a more precise ETA, however. According to a press release uncovered by Polygon, Titanfall 2 will launch in winter 2016, along with a range of McFarlane-produced toys.
Fanning the flames on the hype bonfire, the company's boss Todd McFarlane enthuses: "McFarlane was created so I could make cool stuff just like this. Without saying too much about the new game…You're not going to believe where we can take this."
Intriguing stuff. With Titanfall 2 apparently only months away, further details about the game are still in short supply. What we do know, straight from Respawn boss Vince Zampella's mouth in March last year, is that Titanfall 2 will be multi-platform rather than PC and Xbox only, so PlayStation 4 owners will be able to get in on the giant robot-shooting action, too.
More on this as we get it.
Original Story 02.08.16:
Mech-based shooter Titanfall was a sizeable hit for Respawn Entertainment in 2014, with its athletic sci-fi action breathing a bit of fresh air into the Call of Duty multiplayer format. What that game didn't have, however, was a single-player mode, with Respawn concentrating their energies into establishing the new name as a solidly competitive online affair.
All that's set to change with Titanfall 2, which will include a single-player campaign for the first time. This is according to Jesse Stern, the sequel's writer who recently sat down for a chat with posh financial news outlet, Forbes.
"One of the shortcomings fo the first game was we just did not have the mechanism to tell everyone, 'Here's who you are, here's where you are and who's around you,'" Stern said. "We knew all the answers, we just could not deliver it."
As a result, Titanfall 2's campaign will give us a better impression of the game's futuristic backstory, which he describes as a reworking of real historical events – it's essentially the American Civil War in space, he says.
"What inspires us is the junction of technological advancement with the inevitability of conflict and war, and what the next war might look like," the writer continues. "In Titanfall 2 there will be a lot of [scenes] where science meets magic, but keeping it grounded and dirty and human and real."
As part of the new emphasis on story, there's also a suggestion that a Titanfall TV show is in the works – though the lack of specific details suggests that this is just an idea at this point. 
We should be hearing lots more about Titanfall 2 in due course, though. EA has both this sequel and other major games (including a new Battlefield) all scheduled for release before March 2017.