News
This Dark Souls and Cuphead Fan Mashup Video Is Incredible
Oh internet, why must you make things that will never happen look so good?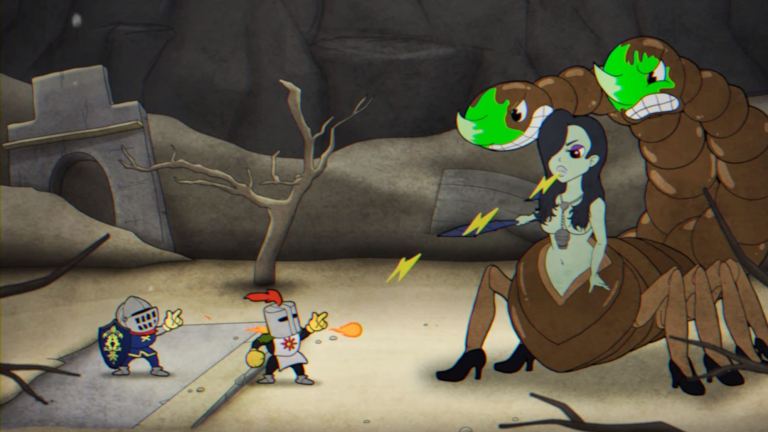 It's become a bit of an unfortunate trend to compare every hard game out there to Dark Souls. Saying that such and such game is the Dark Souls of "insert genre here" has become something of an internet meme. 
The latest game to inspire that comparison, Cuphead, may indeed be quite the challenge, but unlike titles like Hollow Knight or Salt and Sanctuary, it doesn't actually feature any Dark Souls elements. 
Perhaps inspired to lend a little more credence to those comparisons, the YouTube channel 64 Bits recently imagined what a Cuphead and Dark Souls crossover would look like. 
While the team at 64 Bits deserves quite a bit of credit for their design and animation work – this is seriously well-done stuff – we have to admit that these two universes do go together surprisingly well. No, not every aspect of Dark Souls necessarily carries over to the world of Cuphead – and vice-versa – but it's clear that the Cuphead/'30s cartoon animation style is quite capable of conveying the inherent charms of a darker world.
Then again, those who played Cuphead might not be too surprised by that revelation. After all, that game is loaded with subtle dark elements – smoking, gambling, gun violence – that were prevalent in cartoons from that era. It makes sense that a slightly toned down take on Dark Souls wouldn't feel too out of place in that era of animation. 
All the same, the level of detail in this animation is undeniably impressive. From the Gaping Dragon wearing a bib to Sif, the Great Grey Wolf starting off as a cute puppy, the crew at 64 Bits have clearly played through Dark Souls quite a few times and understand what makes its design so appealing. 
Actually, we're starting to feel pretty depressed about the fact that we'll likely never get an official Dark Souls-themed expansion to Cuphead.