News
Thimbleweed Park is an Old-School Adventure Game From the Makers of Maniac Mansion
They don't make them like this anymore. Well...until they do.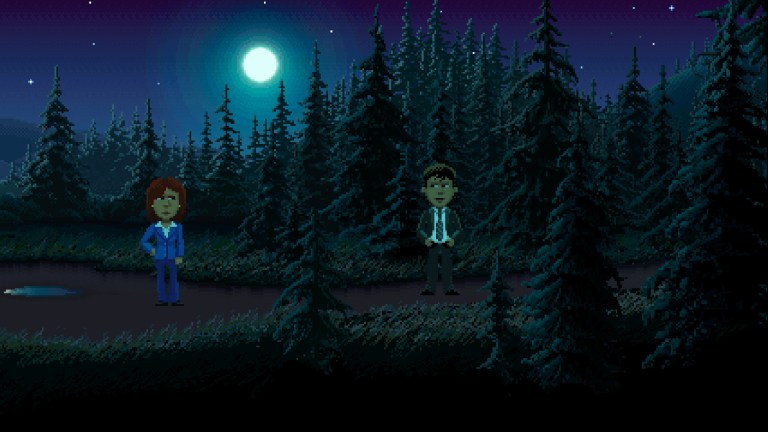 30 years ago, Ron Gilbert and Gary Winnick helped revolutionize the point and click adventure genre with the release of Maniac Mansion; a highly irreverent horror title that helped usher in a new age of comedic adventure games built around challenging puzzles. 
Now, that duo is returning to their roots with the upcoming release of an old-school point and click adventure called Thimbleweed Park. 
Thimbleweed Park is the name of a town run by a rich mad scientist type character who designs artificial intelligence with the help of vacuum tubes. Five strangers are drawn to this town for various reasons – including a dead body who nobody seems to be particularly concerned about – and must find answers within the town's constricted confines. 
It's those characters that make Thimbleweed Park so appealing. They include Agent Ray and Reyes, who are a tribute to the X-Files days of sexually tense federal law enforcement, a ghost named Franklin who is just trying to speak to his daughter again, Ransome the clown who seems to be operating under a gypsy curse, and a game developer called Dolores who gets swept up in it all. 
For those that really love the genre, however, the appeal of Thimbleweed Park is its pedigree. While the point and click genre has retained a loyal fanbase over the years, few modern efforts have ever been able to capture the style that Gilbert and Winnick used to elevate these classic games to a mythical level. Along with that style, you can expect the same form of off-the-wall puzzles that can only be solved by extreme stretches of logic. 
If that sounds appealing to you, Thimbleweed Park is set to release on March 30th for Windows, Mac, Xbox One, Linux, iOS, and Android.