News
The Taito ready reckoner
One of the finest creators of arcade games in history, Taito may no longer be around, but its legacy is oh-so-impressive...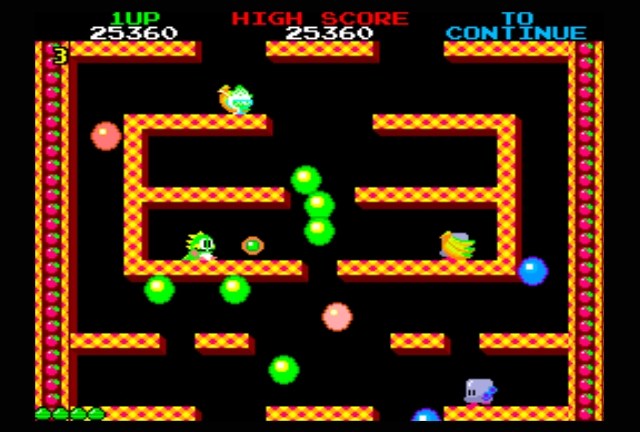 Originally founded in 1953, Taito went on to release some of the most influential and innovative games of the 70s, 80s and 90s – including Space Invaders, still probably one of the most popular games ever.
Sadly, their output declined with the popularity of arcade machines – Taito America and Taito Software closed their doors in 1995, and the whole corporation was bought out by Square 'Final Fantasy' Enix in 2005, and is now a subsidiary, publishing games such as Cooking Mama for the Nintendo DS and Wii.
Here, in chronological order, is a brief rundown of the high and low points of Taito's heyday, starting with the obvious…
Space Invaders (1978)
Probably the most instantly recognisable game of all time, this is still a massively playable game, despite its simplicity.
Qix (1981)
If you don't recognise the title, you've probably played the game – it's been cloned many, many times. You move your marker around the screen, drawing boxes to block out parts of the playing area while avoiding the various enemies. Once a certain percentage of the screen has been filled in, it's on to the next level.
Arkanoid (1986)
A breakout clone but with more colourful graphics and loads of power ups. Fun but fiendishly difficult and very repetitive.
Bubble Bobble (1986)
A superb platform game featuring a pair of bubble blowing dinosaurs, the game was apparently designed to appeal to young couples. Simple but fun to play, this really comes in to its own (and can only be completed) in two player mode. Dinosaurs Bub and Bob reappeared in Puzzle Bobble in 1994.
Darius (1986)
The most memorable thing about
Darius
was the three-screen arcade cabinet – other than that, it's a standard side-scrolling shooter. Popular enough to spawn several sequels, but inferior to Konami's stunning Gradius series. Nice fishy sprites though.
Chase HQ (1987)
A cross between
Outrun
and
Miami Vice
, this driving game saw you at the wheel of a Porche 928 in hot pursuit of a series of criminals in increasingly fast cars. A great game in its day, this was probably the 80s equivalent of
Burnout
.
Operation Wolf (1987)
An on-rails first-person shooter, the arcade machine was instantly recognizable for the thumping great Uzi 9mm mounted on the front. The gun did much to liven up what is really a very simplistic game.
Rainbow Islands (1987)
A sequel to
Bubble Bobble
, this time rainbows are the whimsical weapon of choice instead of bubbles. Excellent, but slightly marred by a high difficulty level.
Rastan Saga (1987)
A scrolling platform game with a heavy
Conan the Barbarian
influence. Imaginative enemy design, but an oddly detached, floaty feel to the gameplay prevent this from being a true classic.
Slap Fight (1987)
A pretty generic
Xevious
clone.
Continental Circus (1988)
One of the best examples of 'Donkey Kong syndrome', Continental Circus should have been called Continental Circuits, but something went awry at the translation stage. Comedy appellations aside, Continental Circus is a standard F1 driving game.The New Zealand Story (1988)
A cute platform game, featuring Tiki the Kiwi. Brilliantly designed graphics, tough but rewarding gameplay (the Megadrive conversion was particularly unforgiving), this is another classic.
Operation Thunderbolt (1988)
Sequel to Operation Wolf, this is more of the same, only with a bit more violence.
Rambo III (1989)
Not an arcade game many talk about these days, but I thought this shooter was great. Fast, varied and very violent gameplay – similar to, but more involving than Operation Wolf (the third person perspective meant you could dodge bullets and punch enemies if they got too close). Also far better than the terrible film.
Insector X (1989)
A derivative and unremarkable side-scrolling shoot-em-up with cartoony insect graphics.
Sonic Blast Man (1990)
An electronic punchbag. Hitting a large pad with the required force (and in the correct place) would shatter the onscreen asteroids before they collided with earth. A novelty game of limited appeal, it nevertheless spawned a sequel and some unrelated console conversions.
Growl (1991)
A not-bad beat-em-up where you beat people up to rescue lots of animals. Also known as Runark.
Super Space Invaders 91 (1991)
With updated graphics and power-ups, this lacks the purity of the original but is still immensely enjoyable – the bonus round where you have to save the Friesian cows from being kidnapped by UFOs is especially good.
Puzzle Bobble (1994)
Bub and Bob return for a classic puzzle game. Many, many sequels and ports followed – this was annoyingly rechristened
Bust-A-Move
in the west.
Puchi Carat (1997)
A
Breakout
clone with two-player competitive play. Archaic gameplay even in '97, this is still reasonable old-school entertainment.
Thoughts? Disagree? Head to the comments box!