News
The Ryan Lambie Column: Smash TV – video games on the box
Remember Gamesmaster? Bad Influence? Thumb Bandits? Ryan does, and therefore says thanks for Charlie Brooker's Gameswipe...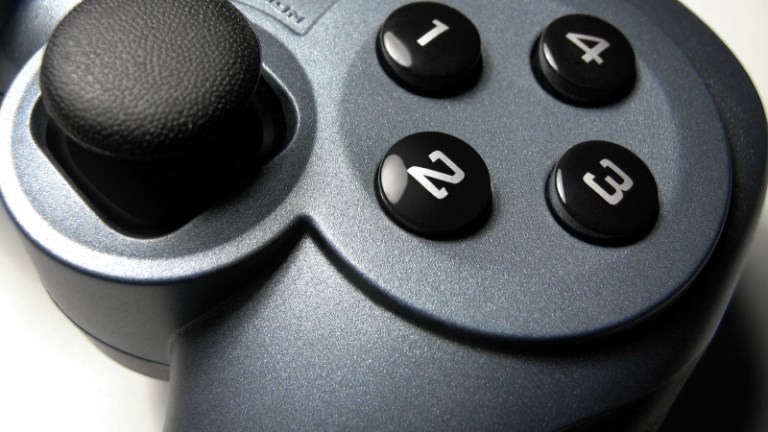 Video games have always endured a  tortured relationship with television, in the UK at least; but for the occasional documentary on the industry or a news item on their corrupting influence, games programmes have largely been relegated to the realms of early nineties kids' entertainment with the likes of Gamesmaster or Bad Influence.
The former, a kind of proto Top Gear presented by Dominic Diamond, rode the crest of Sega's 'cool' marketing of the day, with murky, industrial set design, challenges which roped in awkward-looking Z-list celebrities and plenty of games journalists in ill-fitting bandanas. While Gamesmaster was hardly the zenith of Channel Four's output, it was a work of art when compared with the awful Bad Influence, which for some reason featured Andy Crane.
Attempts to create a more 'adult' type of gaming programme have failed almost without exception; Channel Four dipped their toe back in the water with the horribly smug Thumb Bandits, then hastily withdrew it again, while numerous cable channels have made their own contributions which all failed to take off.
Last night's Gameswipe, tucked away on BBC4 and hosted by acid-tongued Guardian columnist (and one-time PC Zone writer) Charlie Brooker, was the Auntie's belated contribution to the video game phenomenon. Brooker's 45 minute special took a typically withering eye on the medium, providing a brief potted history and a run-down of its most popular genres. These were interspersed with biting reviews of this year's Wolfenstein reboot and 50 Cent's Blood On The Sand, the footage of which almost made me want to wince; shown out of their native context, these games' moments of violence and misogyny appear horribly over-the-top. 
Later, Brooker himself commented on the tasteless portrayal of war depicted in games like Call of Duty 4. Midway through torching an entire platoon of Japanese soldiers, he theatrically paused the game to take a sip of cola before resuming his onscreen massacre. Watched relatively late at night, and without a controller in my hand, I suddenly saw these games as a non-gamer like Anne Diamond must see them: hedonistically, anti-socially violent. Though possibly a lot of fun at the same time.
But perhaps the most insightful comments came from Father Ted writer Graham Linehan, who quite rightly bemoaned the lack of texture and imagination in video game storytelling. This, he surmised, was as a result of game designers watching too many movies and not reading enough books – "Research," he concluded, "does not mean watching Scarface twenty times."
Elsewhere, VideoGaiden presenters Robert Florence and Ryan Macleod spoke entertainingly (and intelligently) about the wonders of retro gaming, though their suggestion that all Japanese games were products of gigantic corporations wasn't entirely correct – Hudsonsoft, for example, started off as a tiny backroom company in the same way many UK eighties software outfits once did, with an early version of their biggest success, Bomberman, even appearing on the ZX Spectrum as Eric And The Floaters.
With Gameswipe, the games industry finally got a television show that presented it in a fair and balanced light; which showcased its diversity and scope while deftly presenting its failures and uglier excesses at the same time. Charlie Brooker's cutting, direct style of presentation also fits perfectly with the medium – simultaneously intelligent and childish, it's a direct reflection of gaming's schizophrenic persona.
Sadly, Gameswipe appeared to be a one-off, a pilot episode for a series that the BBC will probably never make – barely advertised and, like all of Charlie Brooker's excellent Wipe programs, hidden away in the Siberian wastes of the BBC4 late evening schedule, it's unlikely to have received the viewing figures it properly deserved. So head over to BBC iPlayer and watch it. Then write a letter to the BBC begging, no, demanding that they commission a proper series.
Ryan writes his gaming column every week at Den Of Geek. Last week's is here.