News
The Outer Worlds: Release Date, Trailer, and News
Everything you need to know about Obsidian's Outer Worlds including news, trailers, and release date.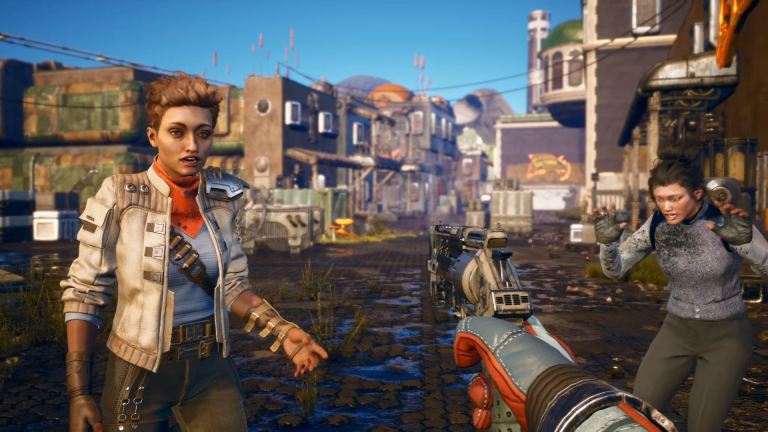 Obsidian Entertainment, developers of Star Wars: Knights of the Old Republic 2, Pillars of Eternity, and Fallout: New Vegas, have revealed their next game. 
The Outer Worlds is billed as a joint venture between the original creators of Fallout (Tim Cain and Leonard Boyarsky) and the makers of Fallout: New Vegas. Based on the game's debut trailer, it seems that you will play a person thawed out of cryofreeze by an unidentified party. Before you can thank him, he explains that he has brought you into a world where we have turned space into the next frontier, but that frontier has been bought and purchased by the various major corporations. 
It seems that he's hoping you might be able to recover some fellow settlers who seem to have scattered across the world. Based on the few screens of gameplay we saw, it seems that your journey will be complemented by some first-person action that appears to lean closer to the Deus Ex side of the genre spectrum. That is to say that it seems that the action will be more methodical and character-driven. 
Here's everything else we know about the game:
The Outer Worlds Release Date
The Outer Worlds is currently scheduled to be released for PC, PlayStation 4, Xbox One, and Nintendo Switch on Oct. 25. It will be available via Xbox Game Pass at launch. 
The Outer Worlds Trailer
Obsidian went to TGS 2019, where it showed off 20 minutes of new gameplay! Watch the footage below:
This Outer Worlds gameplay preview from PlayStation takes us on a tour of the mean streets of Edgewater:
The Outer Worlds is coming to the Nintendo Switch and Obsidian has released a little featurette about it:
The E3 2019 trailer showcases a galaxy dominated by the corporations. Take a look:
Check out 20 minutes of gameplay footage from PAX East 2019:
The Outer Worlds' announcement trailer showcases some truly beautiful worlds, creatures, and some really interesting ideas regarding what happens when the corporations are among the first to settle the furthest reaches of space.
Matthew Byrd is a staff writer for Den of Geek. He spends most of his days trying to pitch deep-dive analytical pieces about Killer Klowns From Outer Space to an increasingly perturbed series of editors. You can read more of his work here or find him on Twitter at @SilverTuna014.