News
The Outer Worlds Developers Talk Fallout: New Vegas Comparisons
The Outer Worlds includes some of Fallout's best features but is poised to be its own adventure.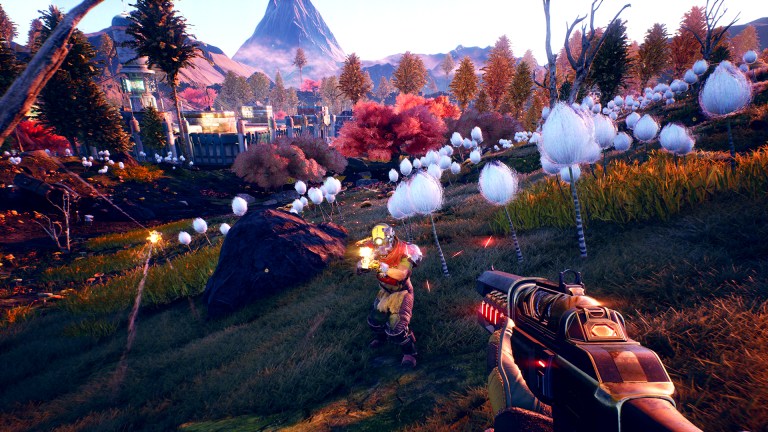 Ever since it was announced, fans have been comparing Obsidian's The Outer Worlds to Fallout. It's not hard to see why. Not only did Obsidian work on the brilliant Fallout: New Vegas, but they revealed Outer Worlds not long after the…err…fallout from Fallout 76. As it turns out, the team also feels those comparisons are natural. 
"First of all it all goes back to Fallout," said The Outer Worlds co-director Leonard Boyarsky during an E3 interview with Eurogamer. "me and Tim [Cain] were part of the team that created that, so there's a lot of our DNA in the very feel of a Fallout game or Fallout: New Vegas, and then it's a first-person RPG so very similar there." 
While Boyarsky doesn't go so far as to say that The Outer Worlds is picking up the ball so to speak in terms of making The Outer Worlds a kind of spiritual successor to Fallout: New Vegas and the Fallout series, he does seem to feel that some of the game's design was obviously inspired by some of the team's work on the Fallout series. 
"I think Bethesda did a fantastic job translating the isometric game to first person, so we're continuing on that path," said Boyarsky. "I think you'd have to ask people who actually worked on [New Vegas], but from my conversations with them, they were trying to really capture the spirit of the original Fallout with New Vegas, so we know a little bit about that.
The ways in which The Outer Worlds distances itself from Fallout are also quite interesting. That's especially true of the game's emphasis on companions. While Obsidian says you'll still be able to play the "lone wanderer" if you want, they also "felt they'd be more interesting characters if they were more involved with the story, if they reacted to what was going on, and they had their own quests that changed who they were as companions."
To be honest, we'd be perfectly happy if it turned out that The Outer Worlds was "only" an unofficial sequel to Fallout: New Vegas. Fallout 76 controversy aside (which there is plenty of), this particular friendly neighborhood writer felt that Fallout 4 also failed to feature the things that made the Fallout franchise so notable in the first place. 
Matthew Byrd is a staff writer for Den of Geek. He spends most of his days trying to pitch deep-dive analytical pieces about Killer Klowns From Outer Space to an increasingly perturbed series of editors. You can read more of his work here or find him on Twitter at @SilverTuna014.