News
The Nintendo 64's Getting an Unreleased Platform Game
After 20 years, the unreleased platformer 40 Winks is getting a physical cartridge release on N64...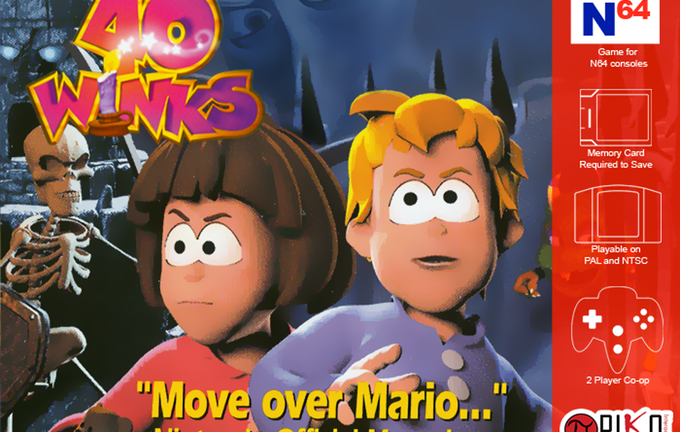 Trapped in limbo for the better part of 20 years, a half-forgotten platformer is finally getting a physical release, thanks to an already successful Kickstarter campaign.
Called 40 Winks, it was a 3D platform adventure in the mode of the classic Super Mario 64 and other games of that era. Set in a dream world, it allowed players to transform into other characters with their own abilities as they traversed a variety of surreal landscapes. Unfortunately, financial difficulties at 40 Winks' publisher, GT Interactive, meant that while the PlayStation version came out in 1999, the N64 version never saw release.
Until now, that is. Piko Interactive's Kickstarter campaign has, within only a day or so, managed to surpass its tiny $20,000 minimum goal – which means that 40 Winks is finally getting a release on a good, old-fashioned cartridge. The cart will come in two packages, depending on which pledge level you choose. The regular version will include a box and manual, while the special edition will add a poster, variant box, and insert, as well as a Pog – one of those collectible circles of cardboard that were sometimes collected in the late '90s and early 2000s. 
40 Winks isn't what you'd necessarily call a lost classic – the PlayStation edition got average reviews 20 years ago – but it'll certainly be of interest to N64 collectors. And if the campaign drums up enough interest, the stretch goals will likely catch the eye of N64 fans, too: one of the perks announced is a 40 Winks-branded N64 controller, which Special Edition backers will get as part of their pledge. To unlock it, the campaign needs to hit $60,000 – so if you like the sound of 40 Winks, you may want to get your pledges in soon.