News
The Last Guardian Release Date, Trailer, & Latest News
Everything you need to know about The Last Guardian, including latest news, release date, trailers, and more!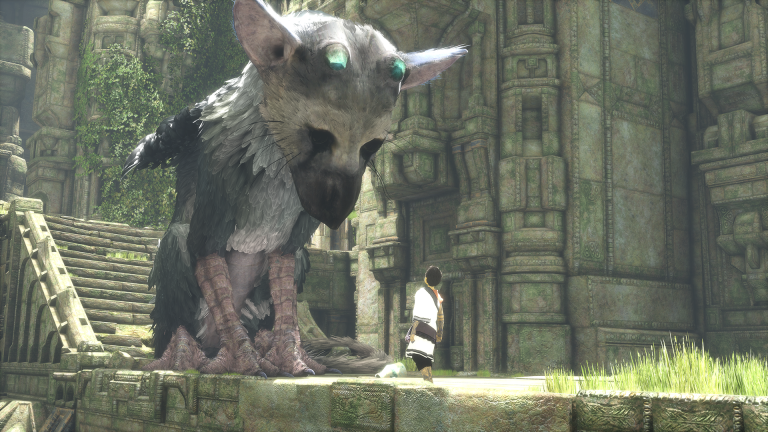 The Last Guardian Latest News
The Last Guardian has a new, lovely cinematic trailer that you can watch below:
In other news, Team Ico creative director Fumito Ueda talked to the PlayStation Blog about the game, including what inspired him to create Trico, the main character's adorable (and giant) companion…
On realizing the full initial vision for The Last Guardian:
"I'm going to be little hard on myself here… but to say I've done everything 100% is not completely true. As a creator, there's always a little more you feel you could have done. When I finished Ico and Shadow of the Colossus, I felt exactly the same way. Having said that, I think the staff from Sony and Gendesign has put everything, every ounce of energy we had, and poured it into the project."
On the personal inspirations behind The Last Guardian:
"Trico is a hybrid of sorts, a mixture of a cat, a dog, a bird, and the like. It might represent a motif. When I was younger, I grew up in a home that had a bunch of animals. My experiences with them are great memories that I still have. In creating Trico, I didn't really have to do any specific research because it's a creature that obviously doesn't exist. But it's really all based on my childhood memories, the way I interacted with the animals, the way they reacted to me."
On comparisons to Ico and Shadow of the Colossus:
"The way I see it, maybe they are from the same world, or the same universe. But anything further than that is really up to the player's imagination. Everyone has a different level of relationship with the two previous titles, so we wouldn't dictate that it is or it isn't. It's up to the player."
On his proudest accomplishment with The Last Guardian:
"I would have to say that it's what we were able to accomplish with the character of Trico. Its behavior, everything about it. We were basically breathing life into a creature that has never been created, a new character, which is very difficult. How does it feel to actually feed Trico? I want players to experience what that feels like."
On other gaming inspirations:
"There are some games that have opened my eyes and influenced me in big ways. Prince of Persia is one, and Another World. This may come as a surprise, but Virtua Fighter is another… What they all have in common is the intricacy of the animation. I'm always curious in finding ways that animation can help breathe new life into characters — that's an element that will always appeal to me."
On expanding the appeal of videogames:
"It's a difficult question to answer, but I think that maybe a lower barrier to entry or skill required. And I'm not saying that games need to be easy or casual or anything like that. But when you think about the origin of video games, arcade games, you put in 100 yen and you got to play for maybe three minutes. There's basically an end, or a restriction, that is placed. Sometimes that can be a little intimidating."
"On console games, there's no need to put a time limit or game over screen — we want people to play longer. But again, whether it's skill requirements, or continuous challenges until you feel like giving up… if they felt slightly more accessible, then maybe more people would enjoy playing video games. Having said that, as long as we define what we do as video games in this business, then the experience needs to be very unique [to that medium]. Striking that balance is not an easy task."
On the long-anticipated launch of The Last Guardian:
"It's quite simple… at the end of playing through the game, if the player feels the existence of Trico, like it's really there, then we have accomplished what we set out to do."
The Last Guardian Release Date
Just when Last Guardian fans thought they had suffered enough, the game that somehow survived a seemingly eternal development hell has once again been delayed. Originally slated for Oct. 25, The Last Guardian will now arrive on December 6, 2016. 
Said Sony in a blog post:
The Last Guardian development team is fast approaching major milestones in production and has made the tough decision to delay the release of The Last Guardian a few weeks. The Last Guardian will launch on December 6, 2016.

Fumito Ueda (gen Design) and Japan Studio have a wonderful vision for The Last Guardian's touching, emotional journey of friendship and trust, and we want to deliver the most polished experience possible for our fans who have supported us for so long. A delay is a difficult decision, particularly with this game, but we have encountered more bugs than anticipated while in the final stages of development. To ensure that The Last Guardian delivers on the experience that the game's creators have envisioned, we need to take the extra time to work on those issues.

Our development continues to push itself to the fullest and we look forward to revealing new content toward launch.

We appreciate your continued support.
The Last Guardian was originally announced at E3 2009 and has been in active development since 2007. After the game failed to arrive after it's intended 2011 release date, The Last Guardian was thought to have been canceled until it was confirmed for 2016 at E3 2015. Let's hope that the extra two months finally give the game the polish it deserves.
The Last Guardian Trailer
Game designer Fumito Ueda's successor to his classic Ico and Shadow of the Colossus has been in the works for what feels like an eternity, and its constant setbacks have led to some concern that the action-adventure may have problems its developers are struggling to fix.
Whether or not The Last Guardian's been worth the years of waiting remains to be seen, of course, but until we can get our hands on it, a new gameplay video (shot by AllGamesBeta and posted by Videogamer) gives us our most in-depth look at what we can expect.
You're a small boy in charge of a huge gryphon-like creature, which will help you solve puzzles if only you can get the huge beast to do as he's told. In terms of lighting and design, it looks as gorgeous as we'd expect, though we must admit that the camera looks more than a little wayward at times.
We're also surprised that there's so much handholding in the controls department, given how Ueda's earlier games let us discover such things for ourselves. Then again, we quite like the narrator, who sounds like a Japanese Christopher Lee.
See what you think for yourself below. The Last Guardian is now set to launch on Dec. 9 for the PlayStation 4. Assuming it isn't delayed again, that is…
Some said it would never happen, but The Last Guardian has finally received a release date of October 25th, 2016. The news was announced at Sony's E3 2016 press conference, putting an end to years of speculation and groaning from fans who have waited a long time for the release of the long-gestating game.
Check out the new trailer below:
This trailer doesn't showcase much of the highly anticipated title, though it does make it clear that the emotion and character that Team Ico is famous for will be found in this game. It also appears that the anime style hinted at in previous trailers is much more pronounced in this version. We can't wait to finally get our hands on this one. 
The Last Guardian was first announced by Team Ico at E3 2009 for the PS3 until the studio switched development to the PS4 in 2012, delaying the game until it was unveiled once again at last year's E3.