News
The Elder Scrolls Online: Wolfhunter Trailer and Release Date
The next Elder Scrolls Online expansion forces us to face an army of werewolves.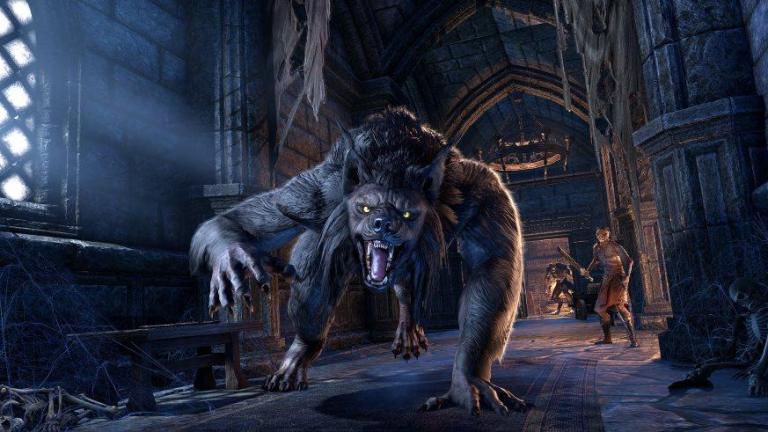 At QuakeCon 2018, Bethesda showcased the latest expansion for The Elder Scrolls Online. Here's the official trailer for The Elder Scrolls Online: Wolfhunter. 
The premise of Wolfhunter is fairly fascinating. It seems that the Daedric Prince Hircine (who some fans may remember as the main enemy in The Elder Scrolls III: Bloodmoon) has once again decided to raise a little hell with the help of the Lycanthropy disease he created. Yes, it seems that the world of The Elder Scrolls Online will soon be invaded by werewolves. 
As you might expect, you will be tasked, in part with hunting down these werewolves, stopping the spread of the disease, and (we imagine) eventually taking on Prince Hircine himself. From what we can tell, it seems that this expansion is intentionally trying to invoke a kind of horror atmosphere. We've seen werewolves in Elder Scrolls games of the past (again, Bloodmoon was basically the werewolf expansion) but the footage of Wolfhunter is one of the first times that we've seen the werewolves used in such an overtly terrifying way. 
Those looking forward to joining the wolf hunt will be able to get their hands on this expansion when it releases on August 13th for PC and August 28th for consoles. 
The other, arguably more intriguing, piece of ESO news that Quakecon 2018 brought us was the announcement of the next ESO expansion, Murkmire. This expansion will finally explore the fascinating world of the Argonians. Game director Matt Firor indicated that one of the major themes of the expansion will be explaining why the Argonians are so very weird. 
In other words, there's quite a bit to look forward too in the world of ESO. In fact, it's starting to sound like the perfect way to curb those cravings for some Elder Scrolls action ahead of the release of The Elder Scrolls VI sometime in the distant future. 
Read the latest Den of Geek Special Edition Magazine Here!