News
The Best PUBG Streams to Watch
No time to get your own chicken dinner? Watch some of Twitch's best streamers play PUBG instead.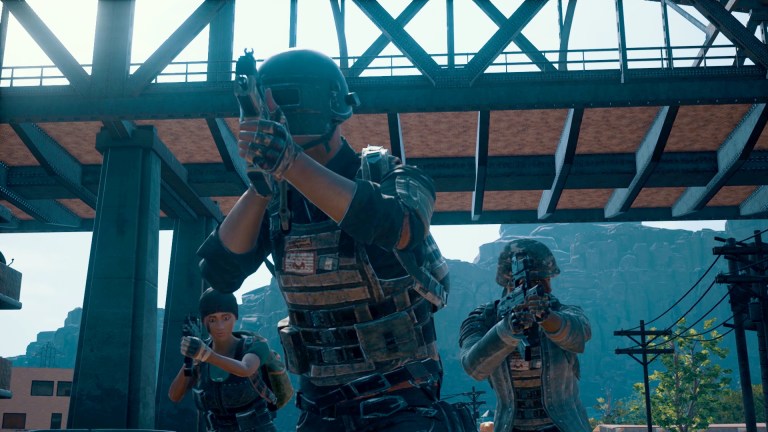 Since it hit early access in 2017, PlayerUnknown's Battlegrounds has become one of the most popular video games to stream. While previous battle royale games have achieved moderate success via streaming services, the refined – well, comparatively refined – gameplay of PlayerUnknown's Battlegrounds combined with the way it generates so many in-game stories makes it the perfect streaming title. 
The success of the game raises a bit of a dilemma. How do you possibly navigate the hundreds of PUBG streamers in order to find the ones that are worth your time? You could just click on every stream until you find one you like, but we're relatively certain that kind of madness is what led to PUBG's apocalyptic world where everyone is battling for supremacy. 
Alternatively, you can just take our word on the matter. While there are many, many great PUBG streamers out there, a few have risen above the pack and distinguished themselves as some of the absolute best. They don't always stream PUBG – there are too many excellent games out there – but when they do, you simply can't miss their playthroughs of one of the most popular games in the world. 
Summit1g
Summit1g – real name Jaryd Lazar – was once one of the best Counter-Strike players in the world. Well…he might still be, but he's mostly retired from competitive play in favor of a streaming career. 
While you can sometimes find Summit playing Counter-Strike, he prefers to stream PUBG these days. Yet, it's Summit's skills from his Counter-Strike days that make him such a great PUBG streamer. While PUBG isn't quite as skill intensive as professional Counter-Strike matches, the battle royale's gunplay does cater to those able to execute perfect shots with a variety of weapons while constantly accounting for enemy position. Summit excels at both of those attributes.
Still, Summit is more of an entertainment streamer than an educational streamer. Watch him if you want to see an exceptional talent, but be aware that he likes to inject quite a bit of his personality into the stream. 
BreaK
Watch live video from BreaK on www.twitch.tv
Considering how hectic and – dare we say? – random PUBG can be, it's hard to identify the absolute best player in the world. However, BreaK may just have a legitimate claim to that title. 
BreaK is certainly an excellent marksman – he has hit calculated 1000m sniper shots in the past – but his skills go well beyond that. BreaK has been playing battle royale games since around the time they were introduced and truly understands how the average player thinks. This gives him the remarkable ability to anticipate enemy presence, movement, and positioning. 
If you want to learn what it takes to play at PUBG's highest levels – without resorting to cheating – watch BreaK do his thing on Twitch. 
Shroud
Watch live video from shroud on www.twitch.tv
Speaking of players who can lay claim to the title "best in the world," we come to Shroud.
Like many of the best PUBG players, Shroud can trace his career back to a successful run through the Counter-Strike: Global Offensive competitive scene. There, he learned to manage the presence of several targets in a given area. Shroud's ability to identify the movement of his targets and quickly dispatch them borders on inhuman. You know how some PUBG players just hide in the bushes and wait to get those last few kills? That's not Shroud. This guy loves to drop into the thick of it. 
Shroud's aggressive nature and incredible skills make him one of the most dominant and impressive PUBG streamers out there. 
TSM_Viss
Part of the problem with learning PUBG is that there isn't really a great way to do it without suffering through quite a few failures. While some people like that style of gameplay, others just want some indication of what works and what doesn't. 
Viss is one of the best streams to tune into if you're looking to learn advanced PUBG play. While he doesn't constantly explain his moves, he is excellent at talking through his decision making and how he interprets the actions of his opponents. He also prefers to focus on the game while streaming – generally speaking – meaning that you don't have to put up with quite as much "personality" while watching him play. 
Viss isn't quite on the same level as some of the other players on this list in terms of overall skillset, but the guy truly is an incredible player and may be able to teach you a thing or two about the game. 
Dr. DisRespect
Watch live video from DrDisRespectLIVE on www.twitch.tv
Dr. DisRespect – real name Guy Beahm – is best described as a WWE heel who decided to stream video games for a living. Beahm once described the DisRespect character as someone who believes they are "the most dominating gaming specimen." He's essentially a parody of the popular perception of hyper-masculine competitive multiplayer gamers. From bragging about his back-to-back Blockbuster Games World Championship wins ("Two time!") to welcoming followers to "The Slick Daddy Club," the doctor really is one of the most brilliant creations in the history of video game streaming.
We highly recommend you watch his stream if you want to watch one of the most inventive and entertaining personalities on Twitch. If you've been trying to get into the streaming scene but find it hard to latch onto a streamer, this is the place to start.