Features
The 20 Greatest Gaming Moments of 2017
A night in a cabin, a bank robbery, voices in your head, and more of the best video game moments of 2017.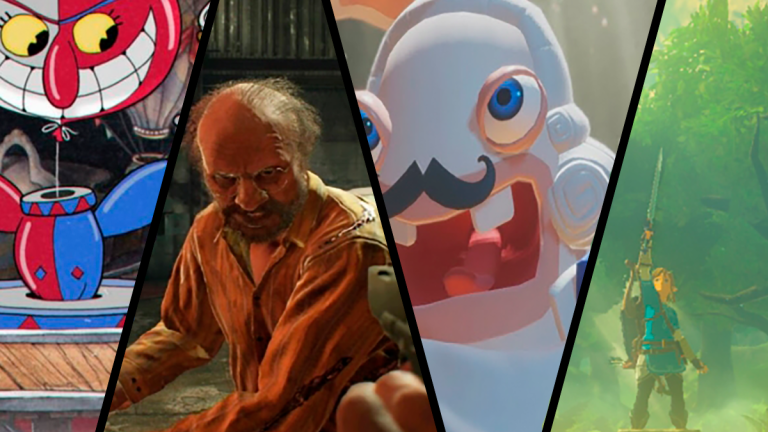 We tend to remember our favorite games by their defining moments: riding across Hyrule Plains in The Legend of Zelda: Ocarina of Time, learning the truth about Darth Revan in Star Wars: Knights of the Old Republic, the boss battle with Psycho Mantis in Metal Gear Solid. These are the moments we point to not only to expel the virtues of those individual titles, but the virtues of gaming as a whole. 
Some video game moments don't immediately register as all-time classics. They're little things that we later learn to appreciate because circumstances made them significant to our lives. Other moments, though, register with us right away and prove to be nearly universal in their appeal. 
Many of the best moments of 2017 find themselves in the latter category. From cartoon boss battles to operas and chopping fish heads, these are the sequences, levels, and scenes we turn to when we're telling someone why they simply must experience the best titles of the year. 
Here are the greatest gaming moments of 2017: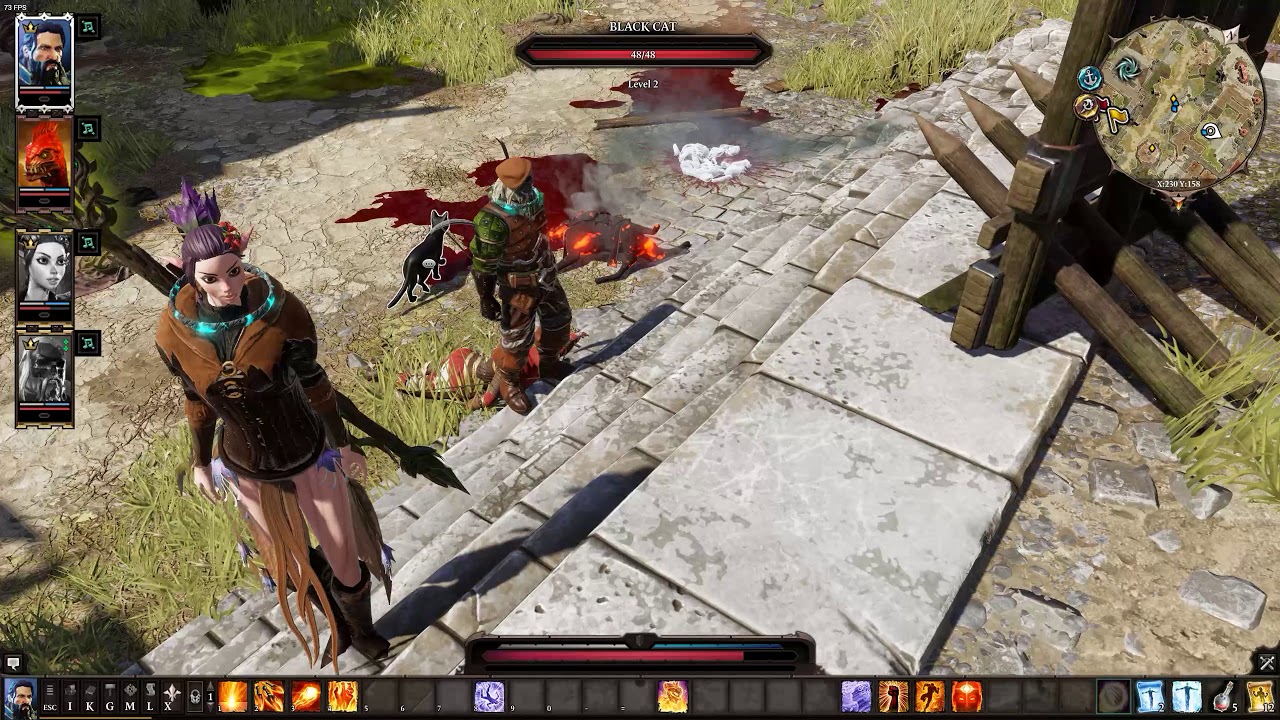 20. Getting Revenge on the Guard Who Killed Your Cat – Divinity: Original Sin II
Larian Studios | Microsoft Windows
There are so many side missions and possibilities in Divinity: Original Sin II that it's hard to identify a single moment from the game that all players will experience. However, we're willing to bet most players got revenge for their murdered cat.
Early into Original Sin II, a stray cat befriends and follows you. Not long after, he is killed by a guard for no good reason. Now, the short strategy is to kill the guard who is probably more powerful than you at that point. The long con is to build up your character to be as strong as possible within this opening area and destroy that guard with the fury of the gods old and new. 
It's what Mr. Muffinfeet would have wanted.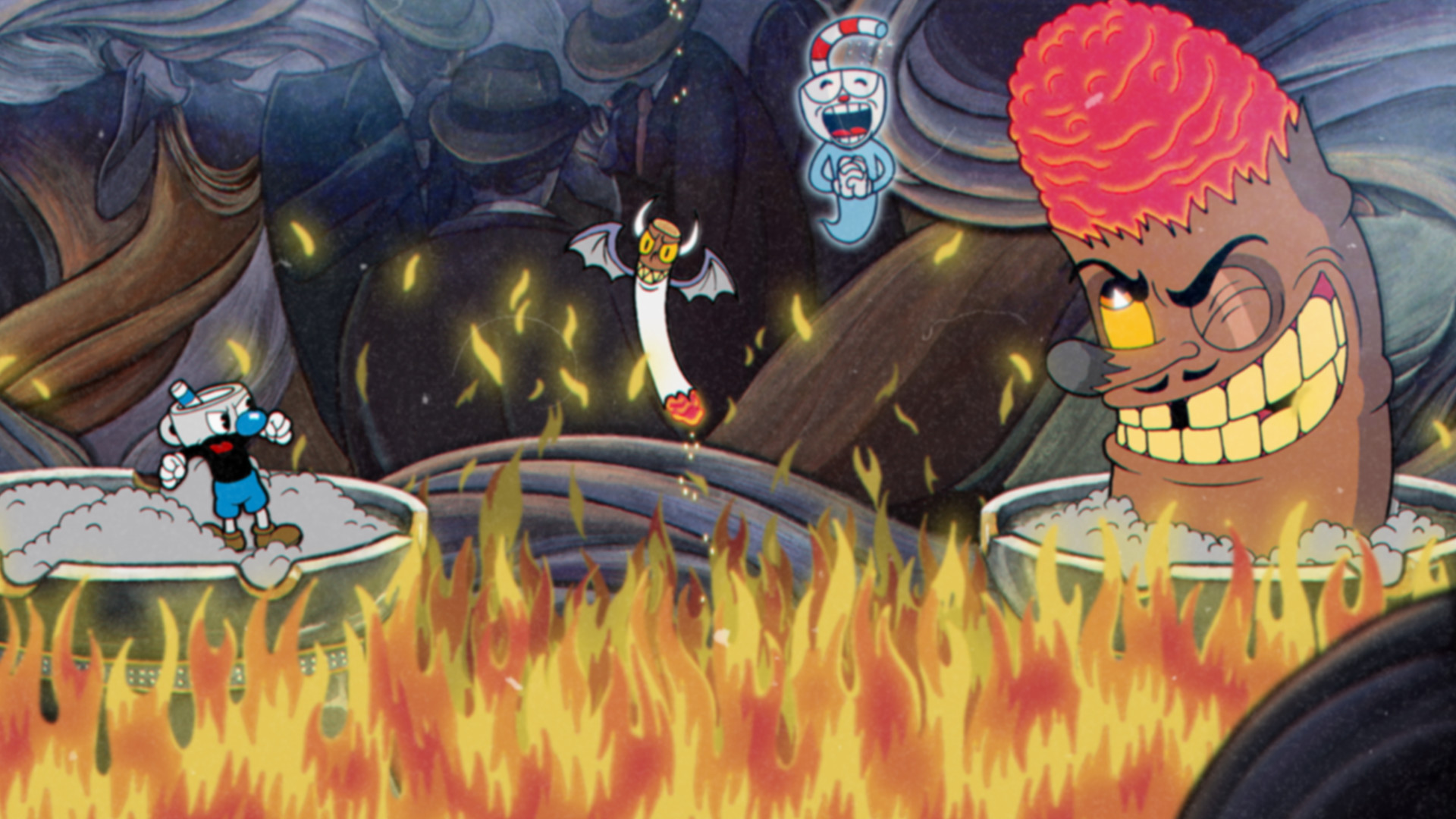 19. Beating Your White Whale Boss – Cuphead
Studio MDHR | Xbox One, Microsoft Windows
While most of Cuphead's bosses are challenging – aside from the earliest encounters – everyone seems to have their own "white whale" of a boss that they just can't best. For some, it's Grim Matchstick and his arena's RNG moving clouds. Others will be eternally stuck trying to beat the devil. Most of us wonder why Dr. Kahl's Robot's first form is so tough.
So this entry goes out to all the white whales of Cuphead's boss lineup. It doesn't matter which boss it is; it just matters that you finally experienced the sheer joy of watching them fall as the perfect combination of skills and luck finally came through for you.

18. Your First Mimic – Prey
Arkane Studios | PlayStation 4, Xbox One, Microsoft Windows
Prey was a flawed game, but it did a few things well that we can't help but feel were overlooked a bit as the number of truly great games released this year grew higher and higher. Few aspects of Prey, though, were quite as great as the game's hidden enemies, the mimics.
Your first encounter with a mimic is special because there's a good chance you haven't realized it is your first encounter with the alien enemy. After all, these fascinating foes can assume the form of nearly any irrelevant object before they reveal themselves and pounce on you.
Once you realize what a mimic is, you begin to fear that any of Prey's many random items could be an enemy in disguise.

17. Liberation – Call of Duty: WWII
Sledgehammer Games, Raven Software | PlayStation 4, Xbox One, Microsoft Windows
Call of Duty: WWII's campaign was a mix of great and forgettable, but there was one mission that rose above the pack and reminded us of the franchise at its very best. The level "Liberation" immediately distinguishes itself from the rest of WWII's campaign by placing you in the shoes of a French Resistance fighter who must go undercover and infiltrate a German headquarters.
This change of pace and purpose does a tremendous job of forcing players to utilize a different set of skills – most notably their memory – to navigate a tense series of obstacles that convey the horrors of war as well as any grand spectacle.
Of course, it doesn't hurt that the mission ends with arguably the most epic action sequence of the game.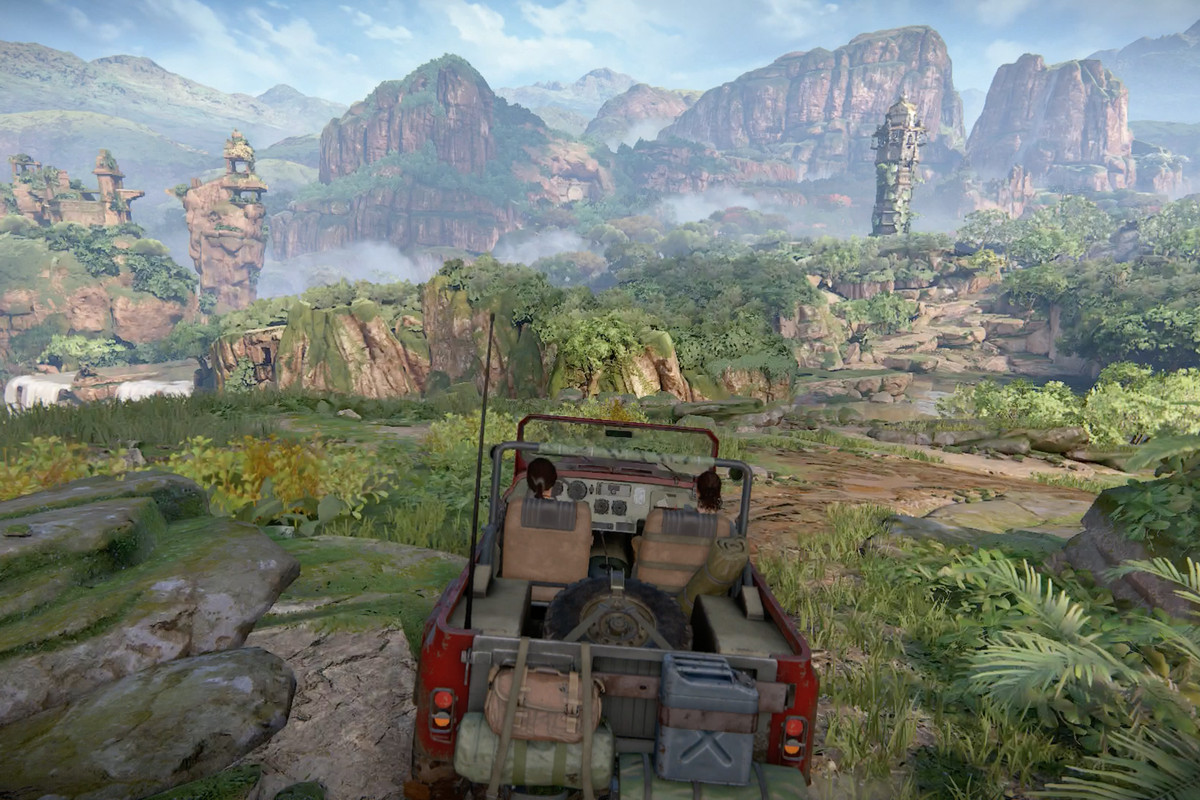 16. The Open World of the Western Ghats – Uncharted: The Lost Legacy
Naughty Dog | PlayStation 4
Uncharted: The Lost Legacy is another game that we weren't particularly enamored with, but that doesn't mean that it was completely devoid of merit. Those merits were on full display in the game's Western Ghats area. That rather sizeable stretch of space turns Uncharted into a kind of open world experience.
While we usually suffer from open world fatigue, this particular section does a brilliant job of ditching Uncharted's linear, cinematic style in favor of a large-scale puzzle that demands a surprising amount of mental fortitude.
If the Uncharted series is going to continue, we'd love to see it embrace more of this open style.

15. The Bank Job – Dishonored II: Death of an Outsider
Arkane Studios | Microsoft Windows, PlayStation 4, Xbox One
Much like Dishonored II, Dishonored II: Death of an Outsider was seemingly ignored by too many people. This DLC expansion essentially served as a showcase for the design team's ability to create incredible levels that take full advantage of the game's mechanics.
No level did this better than "The Bank Job." This mission requires you to master Dishonored's complex stealth system and diverse array of skills in order to make your way into a high-security vault. As exciting as that sounds, the reality is somehow even better.
The Bank Job features a series of gameplay and plot twists so incredible and clever that you can justify the cost of Dishonored II and Death of an Outsider just to experience it.

14. Being Hunted by Jack Baker – Resident Evil 7
Capcom | Microsoft Windows, PlayStation 4, Xbox One
Identifying the best moment of Resident Evil 7 is tough. Is it the opening sequence with Mia? The revelation at the end? That Saw-like puzzle sequence?
In the end, our nod goes to the showdowns with Jack Baker. While your first encounter with Jack is memorable enough – the battle in the garage is certainly the game's best boss fight – what really makes Jack such a great villain is the fact that you're never quite sure when he's going to strike next.
That mechanic harkens back to Resident Evil 3: Nemesis, but we've never seen the idea utilized quite effectively as it is here. This was the section of the game that made us feel like we were experiencing the future of a franchise and a genre.

13. The Proposal – Horizon Zero Dawn
Guerrilla Games | PlayStation 4
You would think that the best moment in Horizon Zero Dawn would be tied to a grand encounter with some incredible mechanical beast, but it's actually a few seemingly simple lines of dialogue.
During your Horizon journey, you encounter a royal named Avad who bluntly proposes to you. At this point, you are presented with three dialogue options (heart, head, and fist) that are really just different ways to reject him by stating that you are not his dead wife.
What makes this moment brilliant is the way that it manages to stay true to Aloy's character while offering the player a reasonable degree of choice. How you choose to reject that person will likely be determined by your interpretation of the game's brilliant lore and your understanding of who Aloy truly is. 

12. Damian Betrays Batman – Injustice 2
NetherRealm Studios | PlayStation 4, Xbox One, Android, iOS, Microsoft Windows
In case you haven't heard, Injustice 2's story is quietly one of the best of the year. It's a deep and twisted examination of the DC mythos that brilliantly works around the game's incredible fighting mechanics.
The arguable highlight of the plot occurs when Damian Wayne betrays Batman and joins Superman. While the moment itself is telegraphed slightly – that Damian Wayne is just never up to any good – Damian and Superman's villainous actions carry a scary amount of weight and dark logic.
Damian mocking Batman for preferring to fight his friends rather than watch a psychopath die feels even more appropriate in the context of this excellent fighter.

11. Your First Night in the Cabin – Darkwood
Acid Wizard Studio | Microsoft Windows, SteamOS
We briefly spoke about Darkwood during our best of 2017 breakdown, but it's difficult to overstate just how brilliant this game's use of isolation and survival really is. Nowhere is the game's brilliance more apparent than during your first night alone.
While most players won't know the exact dangers of being outside of the cabin at night and will subsequently suffer at the hands – claws? – of a magnificent nightmare, even those who wisely lock themselves away in the cabin are in for a rough night.
No video game this year provided anything quite as terrifying as listening to some unseen horror creek and scream just outside of the cabin door while your generator issued a death rattle. The worst part? Your first night in the game is by far the easiest.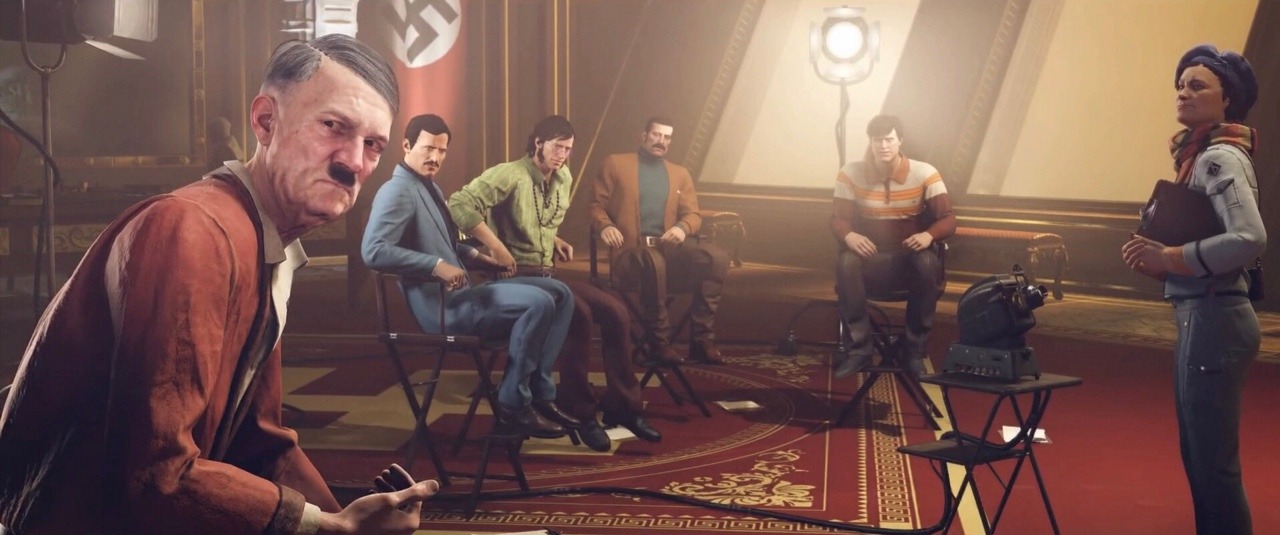 10. Auditioning for Hitler's Film – Wolfenstein II: The New Colossus
MachineGames | Nintendo Switch, PlayStation 4, Xbox One, Microsoft Windows
If Wolfenstein II's story isn't the best in gaming this year, it's certainly the most enjoyable. While the game's plot certainly isn't light, it never fails to amuse. 
The game's most amusing moment is reserved for a trip to Neptune. There, you must convince Adolf Hitler that you're the perfect person to star in his next propaganda movie.
When Hitler isn't urinating in a nearby bucket or declaring how hungry he is, he likes to pass the time by murdering actors that disappoint him (including one who was shot for being from Arizona). This means that you must memorize your dialogue and nail a brief audition in order to make it further into the base.
This brilliant moment does an incredible job of capturing the audacious absurdity that makes the recent Wolfenstein games so special.

9. Satan Kills God to Save Christmas – Persona 5
Atlus, P Studio | PlayStation 4, PlayStation 3
Yes, this really happens in Persona 5. In fact, we're not sure that there's a proper way to put this scene into context. You first need to understand that religious conflicts are at the heart of Persona 5's grand narrative. There's a lot of cultural commentary going on in this game.
The second that the game's version of Satan shows up to stylishly put a bullet in the head of the game's take on God in order to save Christmas (among other things) is one of those story moments that made us feel that Persona 5 was never going to run out of ways to make us say, "What the f*** did I just witness?"

8. A Night at the Diss Track Opera – Mario + Rabbids Kingdom Battle
Ubisoft, Ubisoft Paris, Ubisoft Milan | Nintendo Switch
It's unfair to say that nobody expected Mario + Rabbids Kingdom Battle to be good, but many wondered if Nintendo and Ubisoft knew just how ridiculous this whole project was. As it turns out, they certainly did.
No moment in Mario + Rabbids captures the game's self-awareness better than the epic opera sequence. This scene stars a singing Rabbid performing what we can best describe as an opera diss track designed to take Mario down a peg.
The song's lyrics are brilliant – and include several inside jokes related to the Mario franchise – but what really seals this scene's infamy is the way it perfectly captures the mix of "Huh?" and "Wow!" that makes this game so great.

7. Making it to the Final Ten – PlayerUnknown's Battlegrounds
Bluehole Studio Inc., PUBG Corporation | Microsoft Windows, Xbox One
While winning your first PUBG game is certainly a good feeling, the multiplayer battle royale game's best moments aren't tied to winning at all. No, what makes this game great is the way every match results in a new story of survival.
Many of the best PUBG stories come when you manage to make it to the top 10 of a given match. The tension during this final section is greater than all but the most well-constructed of video game narratives can offer. Every inch you move and sound you hear weighs on your mind.
PUBG may have its problems, but few other games this year matched the experience of making it to the end of a match and then telling everyone the details of your victory or failure.

6. The River of Voices – Hellblade: Senua's Sacrifice
Ninja Theory | PlayStation 4, Microsoft Windows
Hellblade is another game that offers an unusual amount of great moments, but we can't help but feel that the one that will live in infamy is the river voyage that opens the game. 
During this elaborate credits sequence, you learn that your character's head is occupied by a variety of voices. Brilliantly, these voices are delivered to your headphones via a binaural audio system that makes it feel like your mind has really been invaded by the fears and doubts of Hellblade's protagonist.
This is quite honestly one of the best and most effective uses of audio that we've ever heard in a video game. Given the scope of that category, that's quite the accomplishment.

5. B.J.'s Beheading – Wolfenstein II
MachineGames | Nintendo Switch, PlayStation 4, Xbox One, Microsoft Windows
Wolfenstein II is the only game that has two entries on this list, and its brilliant narrative could have easily been the source of a few more. However, B.J. Blazkowicz's decapitation is clearly the defining moment of this amazing story.
Watching Blazkowicz get his head chopped off by the Nazis is shocking enough, but seeing his friends manage to use this alternate history world's advanced technology to transfer his head over to a new and improved robotic body really makes you appreciate the way developer MachineGames was able to turn the most outlandish moments into pure gold.
We don't know if we'll be treated to another Wolfenstein game, but we have a hard time believing another game could possibly top the audacity of this scene.

4. Pulling the Master Sword – The Legend of Zelda: Breath of the Wild
Nintendo | Nintendo Switch, Wii U
It's always difficult to identify the best moment in great open world games. After all, said moments are almost always reserved for a player's unique encounter out in the wide world.
However, there is something undeniably special about pulling the Master Sword in Breath of the Wild. First off, it's entirely possible that you'll make it through Breath of the Wild without ever even finding the Master Sword. Even those that do may balk at the notion of acquiring 13 heart containers just to pull it.
That's what's so incredible about this moment, though. Breath of the Wild makes you feel like you've truly earned the honor or wielding this legendary weapon.

3. The New Donk City Festival – Super Mario Odyssey
Nintendo | Nintendo Switch
While Mario Odyssey is the spiritual successor to Mario 64, it often plays like a love letter to the very idea of Mario games. Nowhere is that more evident than when you're celebrating the New Donk City Festival.
As Pauline belts out a big band jazz number dedicated to the Mario franchise that is far more emotional than it has any right to be, you navigate a retro Donkey Kong/Mario course that is brilliantly integrated into the outstanding New Donk City skyline.
Few other video game moments in 2017 captured the sheer joy of gaming quite like this one. That's why Super Mario Odyssey is also our 2017 Game of the Year!

2. Deleting Your Save Data to Help Someone Else – Nier: Automota
Platinum Games | PlayStation 4, Microsoft Windows
During one of Nier: Automata's various endings, you are tasked with fighting ships modeled after the game's credits in an old-school shooter sequence. At some point, you will likely become overwhelmed.
In your moment of weakness, you will receive help from another player whose A.I. ship joins your own in the battle. Should you complete this fight, you will discover that this assistance came from another player wh agreed to delete their own save data in order to lend a hand to other players. You are then offered the chance to make this same decision yourself.
Wow. That moment would be impactful enough on its own, but Nier's musings regarding humanity and machines really make you question whether or not you value digital data over providing the same feeling of victory you've just experienced to another player.

1. Lewis Finch's Day Dream – What Remains of Edith Finch
Giant Sparrow | PlayStation 4, Xbox One, Microsoft Windows, Mac
It begins with chopping off fish heads.
As Lewis Finch, you are tasked with taking a fish, moving it over to the right side of the screen to have its head chopped off, and then shoving it on a conveyor belt. At some point, Lewis begins to daydream about a world in which he is a mythical adventurer. You are in control of both this daydream and the fish chopping.
Over time, the daydream and the fish chopping begin to merge in strange ways. For instance, you'll need to chop a fish in real life to slay the fish that blocks the bridge in your dream. As the dream goes on, though, you are consumed by your fantasies and the real world disappears entirely.
We're big fans of story sequences that feel like they could have only been told via gameplay, and this is arguably the prime example of that concept. Completing Lewis' day job as his fantasy overwhelms him is a brilliant piece of commentary on modern society, gaming, and gamers all told through an interactive sequence that captures the full meaning of this moment better than any other medium possibly could have.