News
Telltale Batman Season 2 Episode 5 Release Date, Trailer, News, and More
Telltale's most ambitious episode yet will end Batman's incredible second season.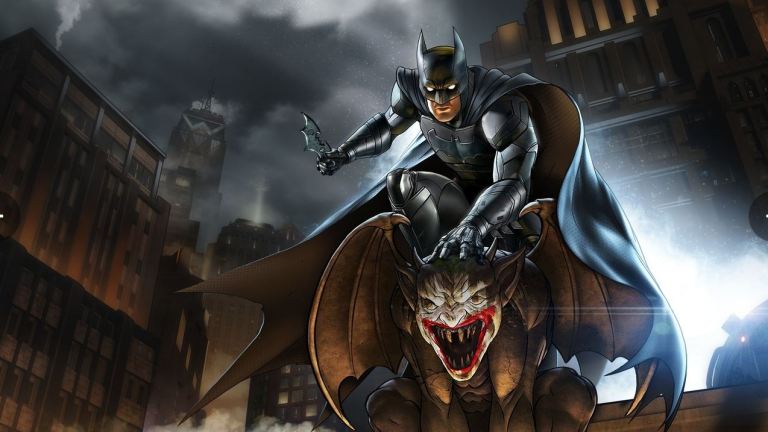 The first season of Telltale's Batman adventure proved to be one of the studio's most exciting adaptations yet. It told an unexpected, but welcome, version of the classic Batman mythology which saw Bruce Wayne come to terms with the fact that his father wasn't exactly the bastion of decency that he was led to believe he was. Instead, Thomas Wayne's ties to the mob and other dark doings have come back to haunt him.
This latest season of Telltale's Batman adventure continues to warp everything we know about Batman. From the introduction of the very Joker-like John Doe to the arrival of Amanda Waller, this new season of Batman deals with what happens when Bruce Wayne is expected to determine just who he is and how Batman fits into a world that he no longer seems to understand. So far, he's not doing the greatest job of it. Of course, that might have something to do with the fact that most of his important decisions are determined by the player. 
Here's everything we know about Telltale's Batman Season 2: The Enemy Within…
Telltale's Batman Season 2: Episode 5 Trailer
Telltale has released two trailers for the final episode of Batman Season 2; one for each possible version of the finale. 
The first, titled Villain, gives us a look at what might happen if the player's actions led to The Joker becoming a villain. 
The second, titled Vigilante, offers a glimpse at the Joker's possible life as a vigilante. 
Telltale's Batman Season 2: Episode 5 Release Date
The finale of Telltale's Batman Season 2 will be released on Tuesday, March 27th for Xbox One, PlayStation 4, PC, Mac, and mobile devices. 
Telltale's Batman Season 2: Episode 5 Description
The final episode of Batman Season 2, called Same Stitch, will actually play out completely differently based on the choices of the player. 
"What would you choose: a friend whose unhinged approach to justice turns your allies against you, or a sworn enemy who will stop at nothing to see you suffer as your city burns?" reads the official description. "Based on the relationship you've built with John Doe, you'll see one of two very different stories play out. So what'll it be, Bruce: friend…or foe?"
It seems that the game will register the choices that players have made thus far in order to determine which version of the finale they actually play. Telltale boasts that the finale will run over three hours and will only feature a few overlapping scenes that players of both versions will experience. They go so far as to state that it's their "branchiest" episode ever and that the script for this episode is larger than Christopher Nolan's entire Dark Knight trilogy. 
Batman's second season has been absolutely incredible thus far, so it's great to hear that the season finale is such an ambitious attempt to provide an experience that feels unique to the choices that players have made throughout their adventures. Telltale is keeping the full details of each version of the finale close to the chest, but here are a couple of teaser shots from episode five that should give you an idea of what is coming: