News
Tekken 7: Season 2 Roster Fully Revealed
Not only do we get to see the full list of DLC characters for Tekken 7's second season pass, but we also have footage of Negan in action!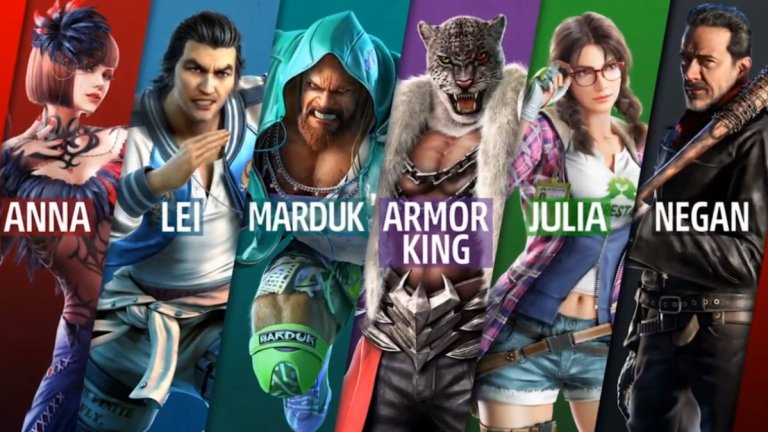 Back in August, Bandai-Namco announced the second season of DLC for Tekken 7. Not only did it show off series mainstays Anna Williams and Lei Wulong, but it made it known that the final spot would go to Negan from The Walking Dead. In this game alone, he would join Street Fighter's Akuma, Fatal Fury's Geese Howard, and Final Fantasy XV's Noctis Lucis Caelum as guest characters.
We still didn't know about the other three names in the second season of DLC. There was also question about what Negan would even look like in the Tekken engine. Now we have our answers.
The next two names have been released and are now available to download. First up is Craig Marduk.
Marduk was introduced in Tekken 4 as an antagonist to King. A disgraced Val Tudo fighter who went down a dark path, it was King's resilience and compassion that saved Marduk in the end. The two have since become great friends and tag-team partners, washing their hands of the past.
But then there's Armor King.
The concept of Armor King was introduced in the first game, but in Marduk's Tekken 4 storyline, it was made apparent that Marduk killed him in a bar fight. Regardless, Armor King returned in Tekken 5: Dark Resurrection with a real hate-on for King and Marduk. It was later revealed that this was the brother of the original Armor King and was so filled with anger that unlike King, he could never forgive Marduk for his past.
further reading: Tekken: Ranking All the Characters
With these announcements comes our first real Negan trailer, mixing his iconic Lucille slaughter scene from Walking Dead with the cast of Tekken 7. Not only do we see him fighting against various characters from the game, but we also see his sweet new background.
In the cracks of these trailers is the reveal that the other DLC character for this season is Julia Chang. A staple in the series since Tekken 3, Julia is the adopted daughter of Michelle Chang from the original game. She's mostly focused on protecting the environment and being the object of affection for overweight martial artists. Hopefully they bring back her Jaycee luchadora persona from Tekken Tag Tournament 2.
Gavin Jasper writes for Den of Geek and has his fingers crossed for the guy from Samurai Cop to be the next guest DLC. Read his other articles here and follow him on Twitter @Gavin4L