News
Tekken 7: Final Fantasy's XV's Noctis Joins the Roster
You'll soon be able have Akuma and Noctis face off in a Tekken game. It's been a crazy year.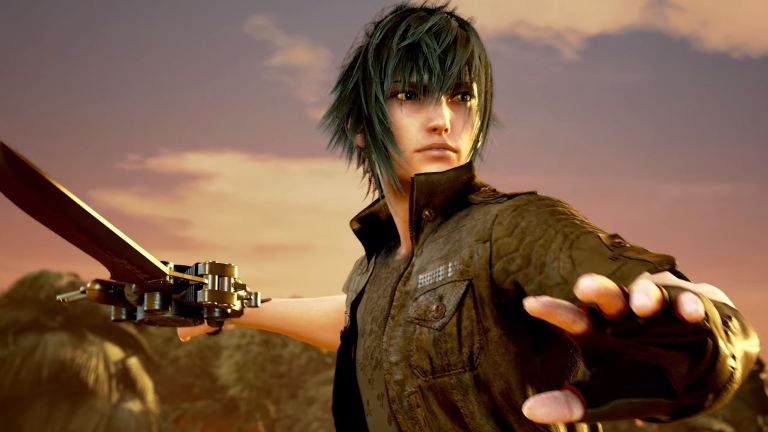 While it seems less and less likely that we're going to get that The Jetsons Meet the Flinstones-style holiday crossover between Tekken and Final Fantasy – despite our many letters requesting that such a thing occur – we have recently learned that Final Fantasy XV's Noctis is going to be joining Tekken 7's ever-growing roster of fighters. 
Bandai Namco confirmed that the beloved Final Fantasy hero will be added to Tekken 7 as part of the game's scheduled spring 2018 DLC pack. It seems that same DLC pack will also feature at least one new Final Fantasy-themed stage as the Noctis trailer shows him doing battle at the Final Fantasy XV desert gas station. 
Noctis will be bringing his iconic Engine Blade to the Tekken arena, but it doesn't seem like his fighting style is entirely based on the old "hit 'em with something sharp" fighting tactic. In the trailer above, we see Noctis utilize fire and lightning in order to add a little "oomph" to his punches, kicks, and leg sweeps. That same footage seems to suggest that Noctis that will not necessarily be the hardest hitter but will instead rely on a combination of abilities to keep his opponents off-guard. 
He will also have access to a cell phone, but we're currently working under the assumption that the device won't actually factor into the combat in any way. 
There is no confirmed release date available for this DLC pack beyond that spring 2018 window. It's also not entirely clear whether or not this pack will contain any additional content beyond Noctis and the influx of a new arena. 
The biggest story here isn't necessarily the addition of Noctis – though he is certainly welcome – but rather that Noctis is not the first character from another franchise to join the Tekken roster. Already, we've seen Street Fighter's Akuma and Fatal Fury's Geese Howard step into the fray and get in on the fight. If you didn't know better, you'd think that someone is trying to turn Tekken 7 into a slightly more somber version of Super Smash Bros. 
While that's likely not the case, it is nice to see that the old digital property borders aren't keeping developers from coming together and letting famous characters punch each other in the face for our amusement.