News
Tamarin: Trailer for Retro Platformer Designed by Former Rare Employees
Tamarin aims to recapture the glory days of 3D platformers with the help of some of Rare veterans.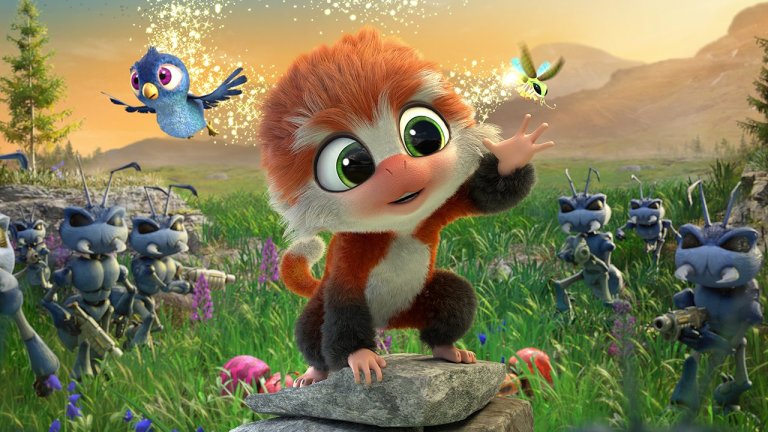 Some of the Rare employees responsible for the studio's N64 golden age titles are getting the band back together to work on a new platformer called Tamarin. 
Truth be told, we don't know much about Tamarin at this point. The trailer hints at a mostly cutesy platformer that looks remarkably similar to recent 3D platformer throwback title, Yooka-Laylee. We see our hero watch his village be brunt to the ground, which (naturally) inspires him to go on a globe-trotting quest. Along the way, he encounters what appear to be industrial villains bent on destroying the game's lush and natural world. 
While that adventure appears to include the all of the puzzle solving and collecting we've come to associate with 3D platformers made during the N64 era, we're a little surprised to see the cute main character wield a gun. While all the action looks appropriately cartoony, the classic Rare platformers of old were never really about action. At the same time, this mechanic does look like a fairly interesting way to liven up the old formula for these titles. 
The detail that really matters, though, is who is working on this game. Tamarin is being developed and designed by Donkey Kong 64 artist Richard Vaucher, composer David Wise (who worked on Donkey Kong Country and other Rare classics), Graeme Norgate (whose sound work includes GoldenEye 007, Blast Corps, and Perfect Dark), and what we assume will be a small team of additional developers. 
Maybe it's a bit optimistic to be able to expect these guys to recapture the old "Rare magic," but there's always the hope that they might. While recent Rare games like Sea of Thieves are fairly good, there was a time when Rare was known as one of the best studios in the business (due partially to their incredible 3D platformers for the N64). Many would like to see Rare return to the 3D platformer genre, but since that looks like it might not happen in the near future, Tamarin might be as close as we get. 
Tamarin is set to release this summer for PC and PS4.
Matthew Byrd is a staff writer for Den of Geek. He spends most of his days trying to pitch deep-dive analytical pieces about Killer Klowns From Outer Space to an increasingly perturbed series of editors. You can read more of his work here or find him on Twitter at @SilverTuna014.