News
Super Retro Boy is an All-In-One Game Boy Emulator
All the Game Boy goodness you can possibly handle.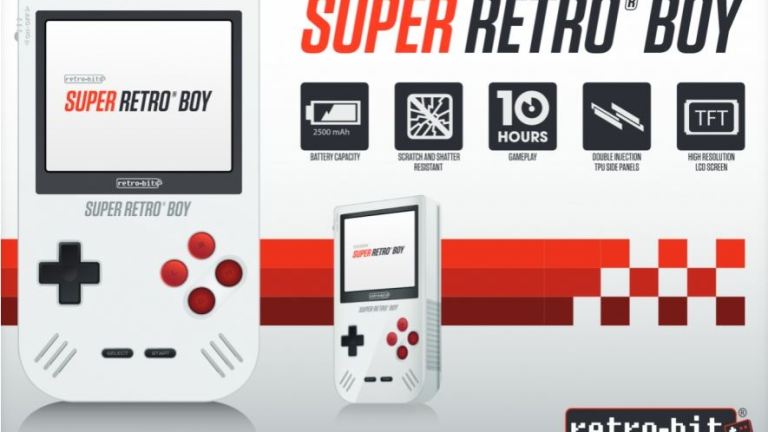 If it weren't for the fact that lugging around a Game Boy and Game Boy Advance has become such a burden, there's a good chance that many of those who once proudly played two of Nintendo's greatest mobile systems would continue to do so today. 
It's a logistical burden that arguably ranks among the greatest issues of our time. Luckily, manufacturer Retro Bits has found a solution. 
As noted on the company's Facebook page, Retro Bits unveiled a device known as the Super Retro Boy at CES. Design-wise, the Super Retro Boy resembles the classic original Game Boy we all know and love, albeit with a few modern day improvements such as 10-hour battery life and a shatter resistant screen. 
Where the Super Retro Boy truly sets itself apart from that classic contraption is in its functionality. As you probably expect, this handheld is able to play every original Game Boy game ever made. However, it can also play every Game Boy Color game and every Game Boy Advance title. It even lets you play all of those games with a slightly better resolution thanks to the device's enhanced LED screen. 
This convenient design does come with a couple of catches, though. As you may notice, the Retro Boy doesn't have any shoulder buttons which the Game Boy Advance did. Instead, all shoulder button functionality has been shifted to the additional face buttons. While this design change shouldn't affect the majority of GBA games, it could prove to be a slight burden in the case of certain action titles that require quick shoulder button inputs. 
The other feature worth noting is the fact that the Super Retro Boy will require you to actually use original Game Boy, Game Boy Color, and Game Boy Advance cartridges. This functionality is pretty common amongst Retro Bits products but is worth noting nonetheless. 
If all that sounds appealing, you should be able to purchase the Super Retro Boy starting in August when it is expected to release for $79.99.