News
Super Mario Maker 2 Update Lets You Play as Zelda's Link
Super Mario Maker 2 meets The Legend of Zelda in this incredible new update.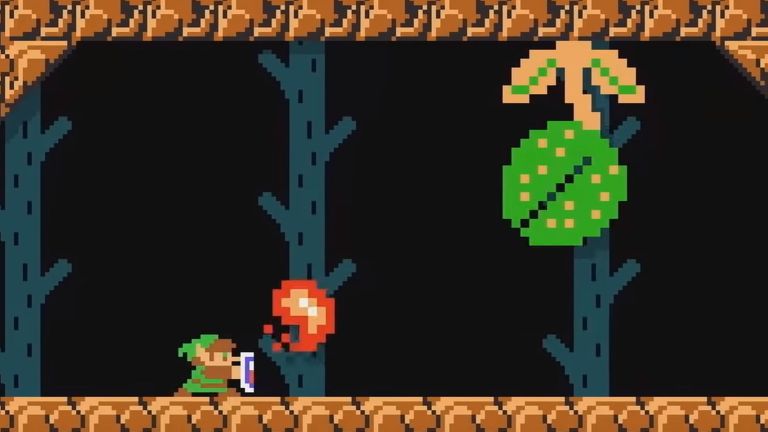 You'll soon be able to play as Link in Super Mario Maker 2. Well…kind of. 
On December 5, Super Mario Maker 2 will receive a Zelda-themed update that adds a Master Sword power-up to the game. The Master Sword has been re-designed to adhere to the classic Mario art style and will turn the player into Link (or a close approximation of the classic hero) when it is picked up. Naturally, you'll be able to add the sword to any custom maps you create. 
Interestingly, this power-up offers more than a mere cosmetic transformation. Essentially, it allows you to play as Link with all that entails. That means you'll have access to a sword as well as a shield that will allow you to block attacks and projectiles, as well as bows and bombs for additional attack power and to get past certain obstacles. You even gain access to a dash ability and a thrust maneuver that allows you to drop to the ground much more quickly. 
A brief demo of this power-up offers a glimpse of the possibilities that these new abilities offer, but we have a feeling that Super Mario Maker 2's most creative map makers are going to come up with some deviously creative stuff that will demand that you truly master the possibilities of Link's items and moves. We're also interested to see if Nintendo adds additional power-ups to the game that turn you into other famous Nintendo characters. We'd be especially interested to see Samus and her creative Metroid moveset make a cameo in this excellent Switch title. 
This update will also Spike and Pokey to the game's roster of enemies as well as a frozen coin, a dash block, and a P block item that many of you will no doubt remember from classic Mario games gone by. Finally, it will feature a series of speedrun courses known as Ninji Speedruns that were created by Nintendo and allow you to race against the ghosts of others who have completed the course.
Super Mario Maker 2 has certainly proven to be one of the gems of 2019 and we're excited to get a chance to play as Link again ahead of the presumably far away release date of The Legend of Zelda: Breath of the Wild 2. 
Matthew Byrd is a staff writer for Den of Geek. He spends most of his days trying to pitch deep-dive analytical pieces about Killer Klowns From Outer Space to an increasingly perturbed series of editors. You can read more of his work here or find him on Twitter at @SilverTuna014.