News
Super Mario 64 Online Returns After Nintendo Takedown
This new version of the Super Mario 64 Online concept still lets up to 24 people play Mario together.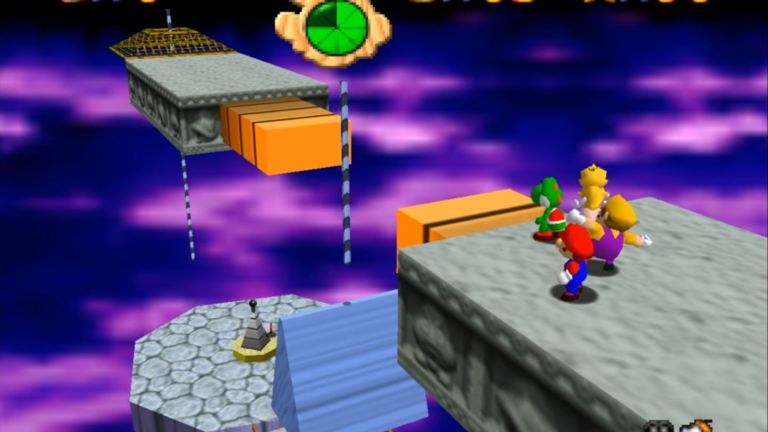 After Nintendo removed download links, videos, and accounts associated with Super Mario 64 Online, an online multiplayer version of the classic N64 game, work on the project has been revitalized thanks to the efforts of a community of fans who are trying to carry on the concept in a slightly new form. 
Now titled Net64 2.0, this new version of Super Mario 64 Online is spiritually similar to the previous. That is to say that it still lets groups of up to 24 players hop into the world of Super Mario 64 and explore the possibilities that emerge when that many players hop into a game clearly not designed to support such a crowd. In other words, it's a riot of an experience that often devolves into insanity.
However, Net64 2.0 does include a few features not found in the original. The highlight of those features is the ability to play as both Sonic and Knuckles, but the project's new Capture the Flag mode also looks like a brilliant use of this concept. This new version also lets you search for open servers to join and boasts a few new minor additions – such as additional characters and areas – spread throughout. 
Tarnadas, the programmer who helped to develop Net64 2.0'snetworking code, notes that he had to rewrite much of the code used for the original version of Super Mario 64 Online. His work can be found in the official version of Net64 2.0 that is currently available to download. A ROM hacker known as Kaze Emanuar is also credited for the original project's assembly code which is used in emulators. 
Unfortunately, this new project has the same problem that the old version of Super Mario 64 Online had. In an e-mail to Kotaku, Emanuar admitted that he's unsure whether or not Nintendo will come after Net64 and attempt to remove it and content associated with it like they did with Super Mario 64 Online. However, he hopes that the fact that the release of this version of the concept is far removed from the release of an official new Mario game means that it will last a bit longer than Online did. 
That remains to be seen, but as is the case with all Nintendo-related fan projects, we recommend that you check this game out as soon as possible while it's still available. Otherwise, you may soon find that it's gone the way of that exceptional Metroid 2 fan remake. 
*Correction: The original version of this article credited Tarnadas with reaching out to Kotaku instead of Kaze Emanuar. We have since corrected that error and have clarified information that was included in the original report of this story to better reflect the information given to us by Tarnadas. We thank Tarnadas for providing clarifications and apologize for the errors.