News
Super Bomberman R Opening Cinematic Revealed
There's a chance Bomberman's story may be more cohesive than Metal Gear Solid's.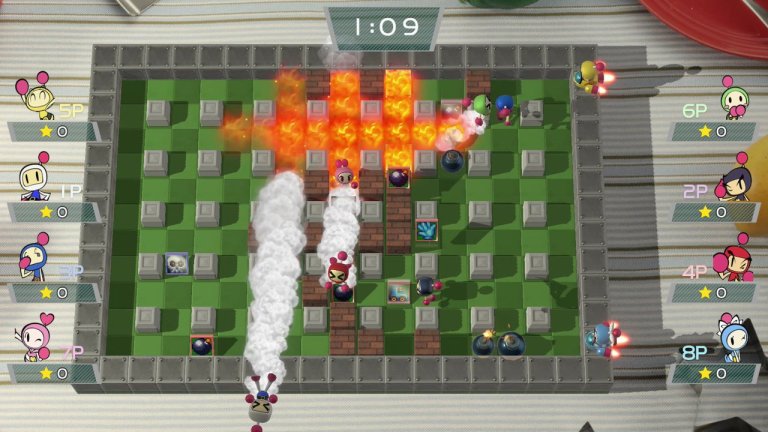 Those hoping that the Nintendo Switch reveal event would mean the return of such dormant franchises as F-Zero and Metroid may be feeling a little disappointed, but those who held out hope that we'd get a Bomberman game worthy of a new generation may just be in luck. 
Super Bomberman R isn't just notable because it's a Konami game that isn't an elaborate slot machine. This latest entrant into the long-running Bomberman franchise looks to continue the series' classic local multiplayer gameplay in a big way. Along with allowing players to compete and cooperate within the taxing Bomberman levels across the various forms the Switch can take, this game will also support up to eight different players in various modes. 
While Super Bomberman R's trailer makes it clear that the series is getting a much-welcome visual overhaul for its Switch debut, the most exciting aspect of the game thus far has much more to do with how little has changed. Super Bomberman R is going to include some later additions to the franchise such as an expanded story mode and elaborate boss battles, but that irreplaceable joy known simply as Bomberman competitive multiplayer looks to be thankfully unaltered. 
What has been altered slightly is the game's sense of humor. If this lovably corny opening cinematic is any indication, Super Bomberman R is going to sport a Saturday morning cartoon/anime feel that will at least try to explain what the hell is going on in these games.
If this is part of Konami's plan to make people forgive them for…well…pretty much everything that's happened in recent years, we have to say that it's a pretty admirable start to their apology. Super Bomberman R should launch alongside the Switch on March 3rd.