News
Sundered Combines Hand-Drawn Visuals and Lovecraftian Horror
Now might be the time to start keeping an eye on this stylish experience.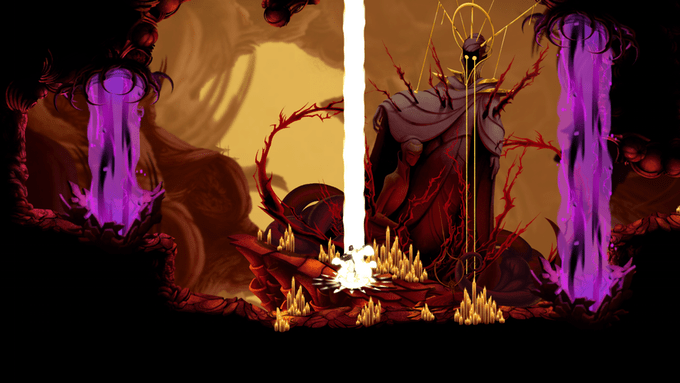 Tell us you're making a Lovecraftian-themed Metroidvania game with roguelike aspects that encourages you to play it over and over again, and you have our curiosity. Accompany that description with the following trailer showing that game in action, and you have our attention:
Thunder Lotus Games, developers of the stunningly beautiful Jotun, announced that they were working on a stylish Metroidvania title called Sundered in 2016, but were coy as it pertains to the details of the project. They recently announced that they were taking the game to Kickstarter in order to raise the remainder of their budget, during which time they revealed some of the first substantial details of the game. 
The results were so impressive that Sundered achieved its $19,135 funding goal in less than 24 hours. Actually, it's currently up to $42,764 raised with 29 days left to go. 
So what is it that has the project's 1,800+ backers so excited? Well, much like Jotun, Sundered is a visual masterpiece. The hand-drawn art style featured in the game is one that we don't see enough of, especially when that style is used to create an inherently dark and evil world such as the one Sundered plays out in. 
However, it's the gameplay that seems to be generating most of the buzz. Like many roguelike games, you can expect to die a lot in Sundered. However, death in this game is more of a tool for advancement than it is a deterrent. Each time you die in the game, you will be able to upgrade your character with skill points earned during your last run. This aspect, combined with the game's ability-based progression system, means that you'll need to use a combination of reaction-based skills and brains in order to proceed. 
Currently, Sundered is expected to launch in July for the PC and PlayStation 4.