News
Street Fighter 5: Mayor Cody Travers Revealed as New Fighter
Cody has cleaned himself up and takes the office in Metro City in this new Street Fighter V gameplay trailer featuring NJPW's Kenny Omega.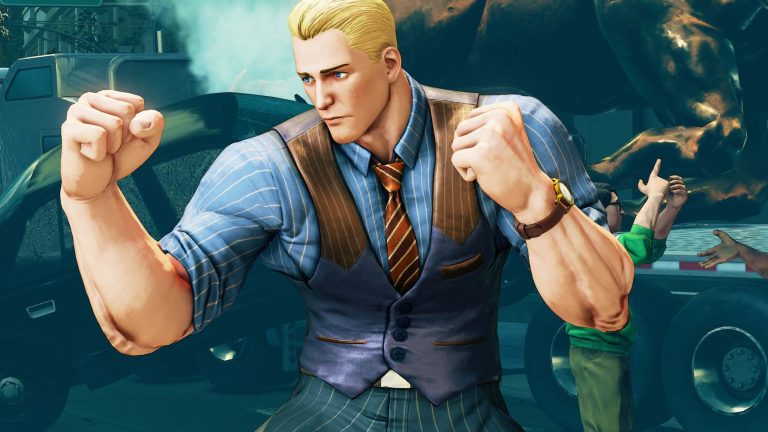 Before we had Jesse Ventura running Minnesota, there was wrestler-turned-mayor Mike Haggar running Metro City in the Final Fight series. Now, we have Haggar's old ally running the place and he's depicted in live-action by wrestler Kenny Omega. Wrestlers and Metro City mayors are like peas and carrots is what I'm saying.
Season 3 of Street Fighter V's DLC is chugging along and we're at the halfway point. with Sakura, Blanka, and Falke already released. Up next is Cody Travers. Once the savior of Metro City, he fell to his own vices, and is now being reinvented with his own little redemption arc.
Anyway, Combo Breaker debuted this new trailer. It not only features New Japan Pro Wrestling's Kenny Omega as Cody, but also has WWE's Xavier Woods as the voice on the phone. Both are notable fighting game fans and Omega once delivered a Zangief Final Atomic Buster to a blow-up doll during a match.
Cody Travers first appeared in the side-scrolling beat 'em up Final Fight, fighting the Mad Gear Gang alongside Mayor Mike Haggar and Cody's ninja friend, Guy. After rescuing his girlfriend, Jessica, Cody took a powder as the other Final Fight sequels featured Haggar teaming up with other vigilantes. Cody made his first true Street Fighter appearance in Street Fighter Alpha 3 with the explanation thatm after the Final Fight situation, Cody couldn't stop fighting and fell into a downward spiral of kicking ass on the streets to the point that Jessica left him and he ended up in prison.
Jailbird Cody has been his status quo ever since. He's appeared in other Street Fighter sequels, obscure fighter Final Fight Revenge, best-forgotten Final Fight: Streetwise, and a Game Boy Advance port called Final Fight One, which allowed a time-traveling Cody to relive the plot of the first game while reflecting on what he's become. He also appeared on the Street Fighter animated series where he had kind of a raging redneck thing going on.
In Street Fighter V: Arcade Edition, Cody's V-Skill allows him to do the room-clearing Double Kick that served him so well in his Final Fight days. His V-Triggers include Sidearm, which allows him to wield a knife as projectiles and for slashing combos, and Dirty Coach, where he gets to beat people with a metal pipe. His Critical Art is the Criminal Punisher, a massive tornado created from the force of his uppercut.
Cody Travers will be available on June 26, along with his various costumes. They include his default, Mike Haggar cosplay, a white tuxedo, his prison uniform, and his old Final Fight duds. The two remaining characters to be released are new character G and old standby Sagat.
Gavin Jasper digs the red, white, and blue ink flourish. Follow him on Twitter!