News
Stormdivers: Trailer for Sci-Fi Battle Royale From Developers of Resogun
Stormdivers is a speedy sci-fi take on the battle royale genre. Check out its debut trailer!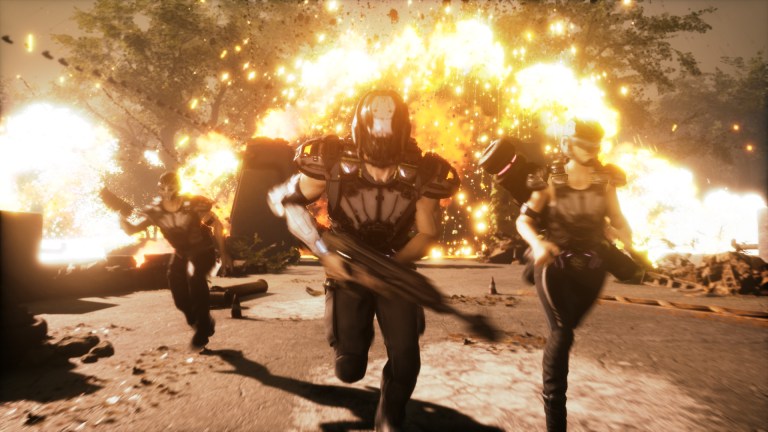 Developer Housemarque, the studio behind the excellent PS4 shooter, Resogun, have revealed a new kind of battle royale game called Stormdivers. 
Like every other battle royale game out there, Stormdivers sees you battle against a host of other players in order to be the last one standing. You can either drop into the game's large map by yourself or as part of a squad. In this instance, you're outrunning a storm of nanobots that reduces the size of the map as it spreads. 
However, Stormdivers does add a few complications to the formula that make it a significantly more interesting game than the majority of modern battle royale experiences. First off, the game leans heavily on sci-fi tropes. While it doesn't appear to take place in a significantly distant future, Stormdivers does utilize quite a bit of advanced technology. Based on the debut trailer, we can see that some of that technology includes deployable shields, cloaking devices, and jetpacks alongside more conventional weaponry. 
Unlike Fortnite, it appears that Stormdivers will emphasize vehicular combat (or at least vehicles as transportation). While we only clearly see a couple of vehicles during the trailer, snippets of footage that show massive explosions and large conflicts suggest that you may have a hard time winning the battle unless you utilize a vehicle at some point. 
What's less clear at this time is whether or not Stormdivers will feature character abilities or whether the special abilities we see in the trailer come courtesy fo some kinds of gadgets that anyone can pick up. From what we're hearing, players will be able to augment their suits with special items that they find throughout the environment. These items will seemingly grant them the abilities that we see in the trailer. Whether or not there will be any unique abilities specific to each character doesn't seem to have been confirmed. 
We understand if you're feeling a little battle royale fatigue, but we must say that the speed and design of this game suggest that Housemarque is trying to inject a little flavor and creativity into the popular genre. We'll know for sure when Stormdivers releases for PC sometime in 2019. 
Matthew Byrd is a staff writer for Den of Geek. He spends most of his days trying to pitch deep-dive analytical pieces about Killer Klowns From Outer Space to an increasingly perturbed series of editors. You can read more of his work here or find him on Twitter at @SilverTuna014. 
Read the latest Den of Geek Special Edition Magazine Here!