News
Steam: Valve Reveals Game Library Redesign
Your Steam library is about to look much better and be far more useful thanks to this redesign.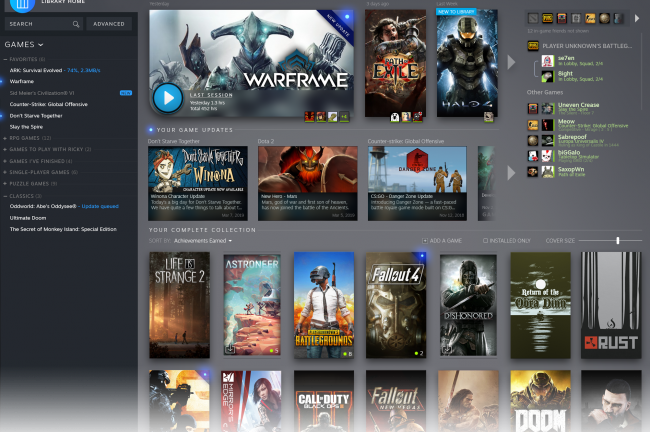 Valve has announced that they are finally updating the design of your Steam library page after the page remained relatively stagnant for quite some time.
As revealed during GDC, this new Steam design accomplishes quite a few things. First and foremost, it makes your Steam library much more visually appealing. That might not sound like a big deal, but we've just seen screenshots of the new Steam design, and it's already hard to look at the previous version. The new Steam is vibrant, much easier to read, and generally looks more "modern."
It's not all just looks, though. This redesign offers quite a few new features. For instance, choosing a game in your library will soon bring up much more information about the game itself. That information varies based on the game, but along with any updates the game has recently received, this section will display enhanced live stream info and relevant friend activity related to the title. Overall, this section feels like it realizes the potential of the old design's somewhat barren information section. 
On top of that, you'll now have much more control over how games in your library are organized. This is partially due to the new categorization features which let you group your library based on the genre of the title and other classifications. Furthermore, your library will automatically put your most-played games on the top of your page. This should cut down on having to search your collection for those installed titles.
It's probably not a coincidence that this redesign is being confirmed now. Epic is gaining quite a bit of momentum within the industry due to the Epic Game Store's developer-friendly revenue model (which allows them to secure more exclusives), but the store has come under fire for its aggressiveness and lack of user-friendly features (such as reviews and gifts). Valve may hope that this redesign will help stave off the competition (at least for a while).
Valve hasn't confirmed when this redesign will be available, but they noted the beta should be released in the next couple of months. There's also been no word regarding similar updates to the Steam store page. 
Matthew Byrd is a staff writer for Den of Geek. He spends most of his days trying to pitch deep-dive analytical pieces about Killer Klowns From Outer Space to an increasingly perturbed series of editors. You can read more of his work here or find him on Twitter at @SilverTuna014.