News
Starship Troopers Strategy Game Releasing in 2020
Starship Troopers - Terran Command looks to capture the greatness of the film, but will it be able to?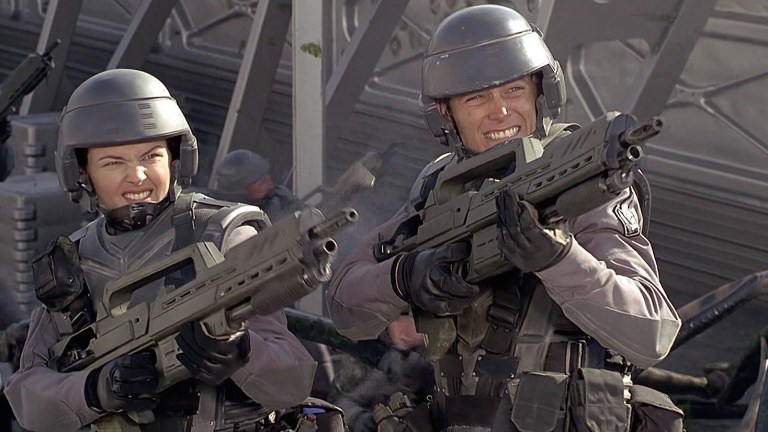 We're happy to deliver the surprising news that a new Starship Troopers game is set to be released in 2020. 
It's called Starship Troopers – Terran Command, and developer The Aristocrats promises that it will deliver a strategy gaming experience that combines "classic real-time mechanics, tower defense and tactical deployment of units." The basic premise sees you defend a colony of humans against attacking arachnid forces using a variety of tactics. While that famous "base invasion" scene from Starship Troopers combined with some of what Terran Command's developers are saying leads us to suspect that this game will play similarly to "defense" titles like They Are Billions, it sounds like the final product may afford you a bit more creative freedom in terms of how you deal with the game's numerous enemies. 
That's nice and all, but there's still the matter of Starship Troopers' social commentary which, in this instance, takes the form of the elephant in the room. How can a movie that was, essentially, a parody propaganda film about war and military-driven societies be turned into a video game? So far as that goes, the game's team promises that they intend to capture certain elements of the original movie. 
"When creating this game, we aimed to capture the essence of the original movie and its universe," said Iain McNeil of publisher Slitherine. "This is not only achieved by creating a coherent set of units and scenarios, but also by mimicking the language, visual elements, dialogues and the little details that made the film such an iconic, cult feature."
To be honest, we're still not convinced that a game would ever be able to capture what made Starship Trooper truly great and more than the entertaining sci-fi action romp that it appeared to be on the surface, but that doesn't mean that a Starship Troopers game can't be entertaining in its own right. At the very least this upcoming title should be more substantial and…well…better than some of the previous attempts at a Starship Troopers video game. 
Starship Troopers – Terran Command is expected to be released on Steam sometime in 2020.
Matthew Byrd is a staff writer for Den of Geek. He spends most of his days trying to pitch deep-dive analytical pieces about Killer Klowns From Outer Space to an increasingly perturbed series of editors. You can read more of his work here or find him on Twitter at @SilverTuna014.