News
Stardew Valley Coming to iOS and Android
There will soon be no escaping Stardew Valley's addictive gameplay.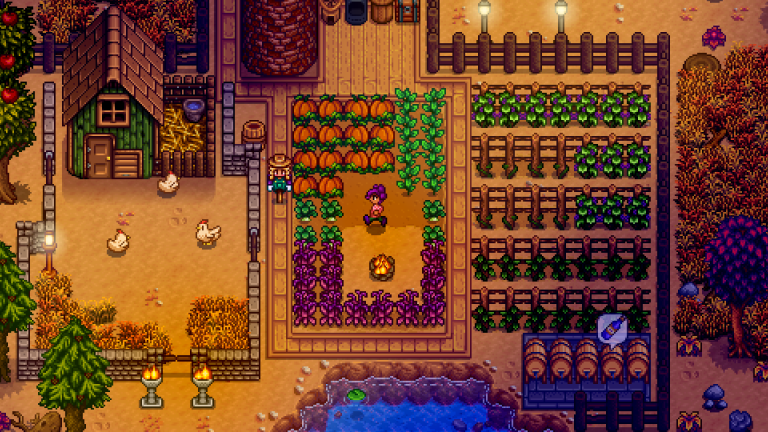 Stardew Valley is finally coming to mobile devices. 
"Today, I've got some exciting news to share with everyone," says Stardew Valley creator Eric Barone in a recent blog post. "Stardew Valley is coming to mobile, and it's actually releasing on the iOS App Store in just over 2 weeks time, on October 24th!" The game will also come to Android, but it's not clear when it will make its Android debut at this time. 
While many consoles and PC games that make the transition to mobile usually suffer from some kind of setbacks due to the downgrade in hardware power, Barone promises that the mobile version of Stardew Valley will be (mostly) the same game that we know, love, and are hopelessly addicted to. 
"It's the full game, not a cut down version, and plays almost identically to all other versions," says Barone. "The main difference is that it has been rebuilt for touch-screen gameplay on iOS (new UI, menu systems and controls)."
It gets better. Not only will the game cost a very reasonable $7.99, but it will include all of the version 1.3 single-player content. However, it will not feature the multiplayer mode available on the PC version. Fortunately, you will be able to transfer your PC save data to the iOS version of the game via iTunes. Those save transfers will not include any mod data and Barone warns that "any save data transferred containing mods may cause compatibility issues."
Barone also notes that the development of this mobile version of the title will in no way impact the progress of the game's development in any way because this mobile adaptation is being handled by a separate studio. That means that the previously announced multiplayer modes for the PS4, Switch, and Xbox One versions of the game will are still being worked on and will hopefully be released sometime in the near future. 
Read and download the Den of Geek NYCC 2018 Special Edition Magazine right here!
Matthew Byrd is a staff writer for Den of Geek. He spends most of his days trying to pitch deep-dive analytical pieces about Killer Klowns From Outer Space to an increasingly perturbed series of editors. You can read more of his work here or find him on Twitter at @SilverTuna014.