News
Star Wars: Vader Immortal VR Game Release Date, Trailer, and News
Everything you need to know about Star Wars: Vader Immortal, including latest news, release date, trailer, and much more!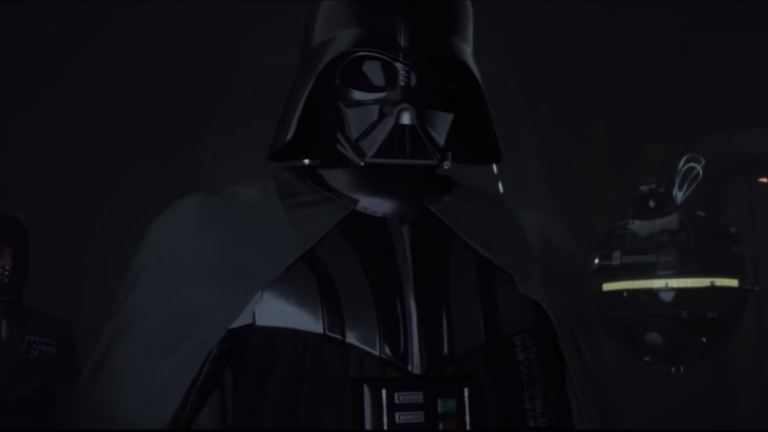 A long time ago in a press release far, far away, ILMxLAB revealed that they were working on a virtual reality adventure starring Darth Vader. Well, today we got our first look at Vader Immortal: A Star Wars VR Series in the last few years, and it's…something. 
Based on what we see in this trailer, it appears that the plot of this series – or at least this episode – will take place between Revenge of the Sith and A New Hope. It sees an unidentified individual being drawn to Vader's liquid hot magma evil lair on Mustafar. It seems that Vader has brought this individual to Dr. Evil's summer home for a specific purpose. Unfortunately, he does not reveal that purpose. 
That's about all we know in terms of concrete details, but there are other plot points implied by this trailer. The fact Vader is accompanied by an interrogation droid suggests that he believes this unidentified individual may know something valuable. The fact that we see a lightsaber duel at the end of the trailer also implies that either the individual – or a mysterious outside party – may be one of the Jedi who survived Order 66. 
Further Reading: Everything You Need to Know About Star Wars Episode IX
All of that is fascinating, but the most fascinating aspects of this project remain the things we don't know about it. Most importantly, what, exactly, is this project? It seems to be a narrative-driven VR adventure with interactive elements, but how interactive is Vader Immortal really going to be? Our best guess is that's it's going to be a mostly on-the-rails Star Wars story. 
Luckily, we'll get some answers at the Vader Immortal panel at Star Wars Celebration in April. For now, here's everything we know so far:
Star Wars: Vader Immortal Release Date
Vader Immortal: A Star Wars VR Series will release on May 21. The game is coming to the Oculus Quest.
Star Wars: Vader Immortal Trailer
Star Wars Celebration 2019 brings us a new trailer for Vader Immortal that is surprisingly action-packed and loaded with details. It also gives us our first look at droid companion ZOE3 (voiced by Maya Rudolph). This looks like a fascinating use of VR technology and the Star Wars mythos.
Check out the announcement trailer below:
We also got a very brief look at the game at the 1:00 mark in this Oculus Quest sizzle reel:
Listen to the latest Den of Geek Podcast:
Subscribe: Apple Podcasts | Spotify | Stitcher | Acast | RSS
Matthew Byrd is a staff writer for Den of Geek. He spends most of his days trying to pitch deep-dive analytical pieces about Killer Klowns From Outer Space to an increasingly perturbed series of editors. You can read more of his work here or find him on Twitter at @SilverTuna014.