News
Star Wars Powerbot Vacuums are Droids That Clean Your House
These ARE the droids you're looking for...if you want clean floors.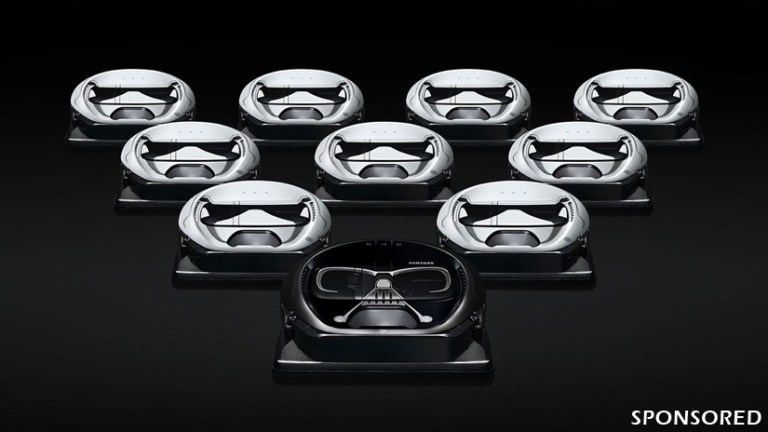 Out of all the Star Wars merchandise available this holiday season, there's one item whose midi-chlorian count is just a bit higher than all the rest. We introduce you to Samsung Powerbot Star Wars Limited Edition vacuums, which brings the Force to your house cleaning!
These robotic vacuums pay a unique homage to the galaxy far, far away and its beloved cast of characters, including Darth Vader and an Imperial Stormtrooper. In fact, these Star Wars Powerbot vaccums pack so much power that you might think they're the work of the dark side. 
Check out the video below to see how they work:
The Powerbot is a smart device capable of steering itself past any obstacles in your home, thanks to its FullViewSensor 2.0. In this case, there's no need for a targeting computer!
Or if you prefer, you can remotely control your vacuum with your smartphone. You can even use voice control through Amazon Alexa and Google Assistant and will the vacuum will respond back to you with some of the most iconic sounds and lines from the film saga. 
These vacuums are fully operational, too. With 20x the suction power, the POWERbot eliminates dirt and debris from even the most hard-to-reach places. Plus, it gives every surface a deep clean — from hardwood to Hoth.
Best of all, you can get your very own Samsung Powerbot Star Wars Edition vacuum at a reduced price, thanks to these incredible holiday deals:


Next time you're faced with a dirty floor, use the power of the Force to clean it with Samsung's Powerbot Star Wars Limited Edition robotic vacuums!