News
Star Wars Battlefront: Everything We Know
Here's everything you need to know about Star Wars: Battlefront before it arrives in December!
Latest News
No Iron Sights
EA DICE has revealed that Battlefront won't feature iron sights – an effort, the studio says, to distinguish its game from other shooters – not least the studio's own Battlefield series. 
"There are no iron sights in Star Wars, on the ordinary blasters," Battlefront's executive producer told Official Xbox Magazine. "You have scopes on some rifles, but there are no iron sights." 
We're still waiting for our first proper look at Battlefront's gameplay. With the game only months away, it can't be long – we hope – until we see something a little more concrete. 
Release Date
Although we've long known that it's scheduled for release late this year, it's only now – thanks to someone spotting it tucked away in the Battlefront website's source code – that we have a precise date:
"Available November 17 for PlayStation 4, Xbox One, and PC," the code reads.
DLC
The first DLC for the game has also been revealed: on Dec. 8, you'll be able to fight in the Battle of Jakku. Jakku, of course, is the desert planet seen in both trailers. If you pay close attention to The Force Awakens trailer, there are signs of a battle in the first few seconds. If you pre-order the game, you get the DLC on Dec. 1. Oh, and the DLC is FREE.
Trailer
The first full-length trailer for Star Wars: Battlefront has officially been released. Watch it below…
Gameplay
Single Player
There is no formal story-driven campaign mode. Instead, players will be able to complete special missions (inspired by the original trilogy) online or in local co-op. This mode is called "Battlefront Missions."
This isn't a new thing, either. The original Battlefront didn't include a campaign either. The mode was first introduced in the sequel. 
Multiplayer
Battlefront will pit Rebels against the Empire in 40-man land and air combat. The mode detailed in the Game Informer report is called "Walker Assault." The demo showcased the mode on Endor, but Hoth, Tatooine, and Sullust were also mentioned. The online mode will not support splitscreen co-op play.
The battles include jetpacks, speeders, walkers and AT-ATs. There are also Millennium Falcon, TIE Fighter, and X-Wing dogfights. The game will NOT feature space battles.
Producer Craig Mcleod told IGN: "It's all about the epic planetary battles and getting that right. Fighting with X-Wings and TIE Fighters, we have that. It's taken in the atmosphere. This is something we discussed with Lucasfilm and they were happy to be on board with that."
Vehicles
Millennium Falcon/Snowspeeder: 
Another brief update here, but possibly a significant one for those who are more excited about flying around in vehicles in Star Wars: Battlefront than marching about on foot.
Last week, we heard that the AT-ST will be one of the vehicles players can get their hands on in EA DICE's forthcoming multiplayer shooter. To those we can add Snowspeeders and, best of all, the Millennium Falcon.
The news was broken by the game's community manager Matthew Everett, who invited questions about Battlefront over on Reddit. He wrote that, as well as the AT-ST, Speeder Bikes, X-Wings, and TIE-Fighters already revealed, Snowspeeders, the Millennium Falcon "and more" will all be available to fly in the game.
Everett also stated that Battlefront's vehicles will be easier to fly or drive than those in EA DICE's Battlefield series, though he wouldn't elaborate as to how:
"[They're] a lot easier to fly. Very Padawan friendly. We will go into more details on what makes them Padawan friendly and Jedi master-able (is that even a word?)."
AT-ST:
Just a brief heads-up on some latest Star Wars: Battlefront news snippets. Developer EA DICE has been using the power of Twitter to drip-feed bits of information about its multiplayer shooter, and the latest juicy story involves one of the most recognisable vehicles from the Star Wars universe.
The AT-ST – short for All-Terrain Scout Transport – has been confirmed as one of the playable vehicles in Battlefront.
"Confirmed playable!" EA DICE's tweet read, with the words followed by a handsome picture of an in-game chicken walker:
They've chosen a bit of an odd angle for it, but that's clearly an AT-ST as we remember it from Return of the Jedi.
Setting
12 Maps
Publisher EA is banging the marketing drum for Star Wars: Battlefront, knowing full well that anticipation for this autumn'sThe Force Awakens, mixed with fan affection for the Battlefront name, is likely to make its forthcoming shooter one of the biggest games of the year.
In a recent blog post, EA DICE has revealed that Battlefront will feature 12 multiplayer maps, some of which, the studio says, will "support our epic modes like Walker Assault", while others will be "tailored to more intimate close quarters combat."
Alongside familiar locations like Endor and Hoth, the new Battlefront will also introduce a previously unseen planet – Sullust, perhaps best known as the home world of the familiar character, Nien Numb.
EA provides a new, detailed glimpse at Sullust in the same post. Imperial TIE Fighters swoop over the planet's surface – a contrasting vista of grey rock and spewing crimson lava.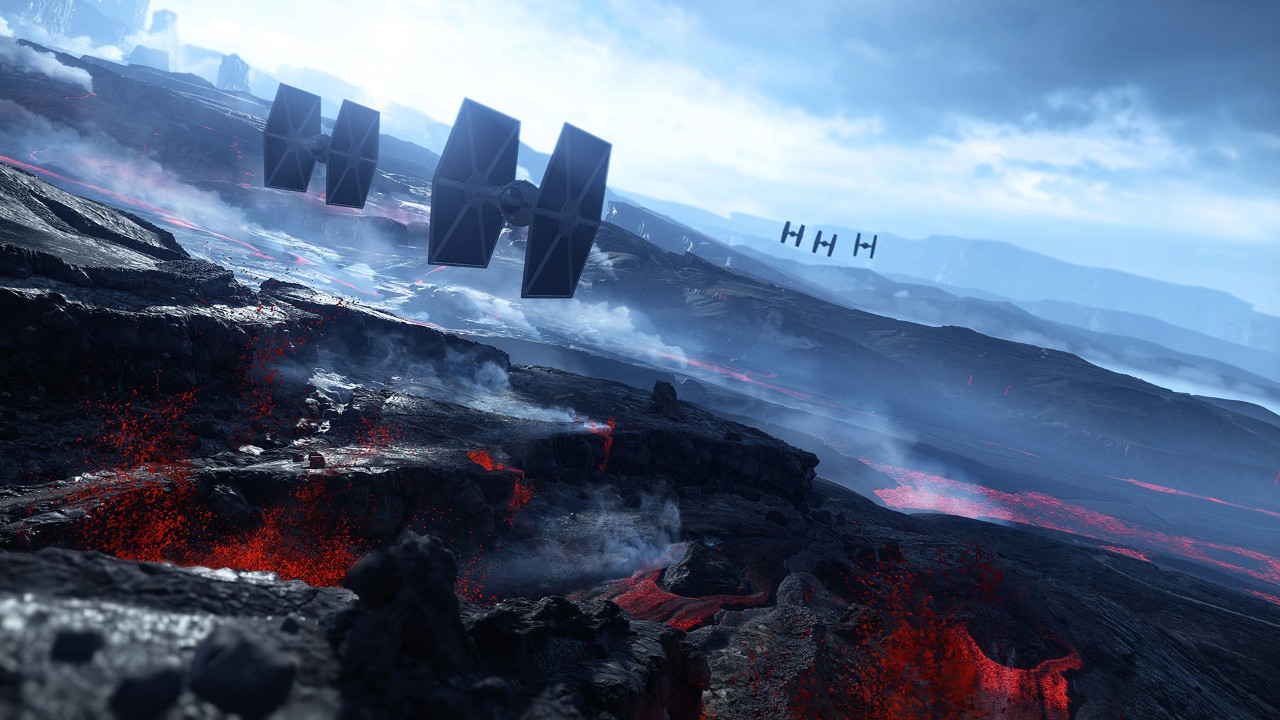 The setting, DICE reveals, is based on Iceland, a country the team visited in order to gather a bit of geological inspiration:
"It was in this moment that they knew this was what players need to feel when trudging through the cold, dark, and unstable terrain of a previously unexplored planet and bringing this to Star Wars Battlefront would be one of their biggest challenges yet."
Amid the rock and lava, we can expect to find the marks of the Empire's presence, too:
"We wanted to build on the existing lore that the planet Sullust had an Imperial presence. And this idea proved to become a major influence in the design of the planet for the game. We studied the Death Star's architecture and material to inspire ways in which we could incorporate the structures, almost as if the same architect who designed the Death Star left their mark on the structures that stand across the surface of Sullust in Star Wars Battlefront."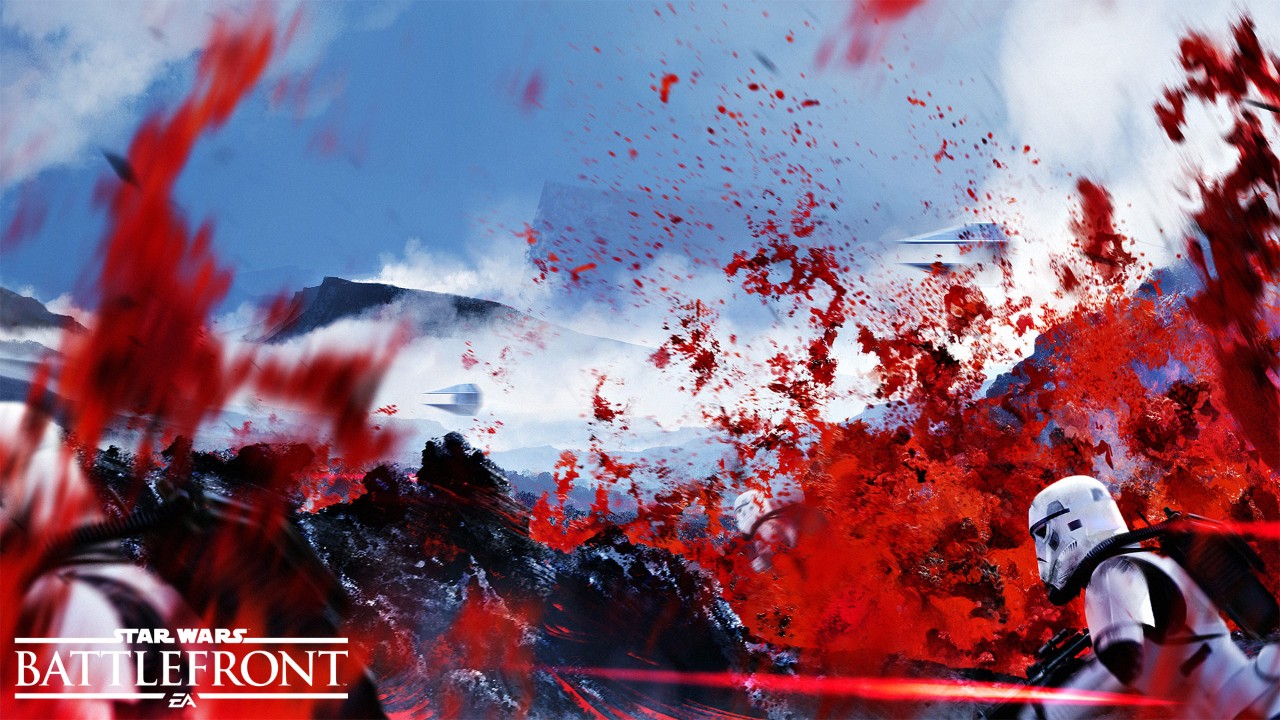 EA's concept art doesn't show off much of the imperial architecture, but the red of the lava against the blue sky and grey volcanic rock certainly looks dramatic. You can read a bit more about the creation of Sullust in EA's post, where you'll also find some high-res images to download, print out, and stick on your fridge.
Oh, and if you're reading this, EA DICE, we've come up with a nice little rhyme you might be able to use in the game:
Ashes to ashes, dust to dust, come shoot your friends on planet Sullust.
It's good, isn't it? Wait, come back.
Planets
The game will take place on four different confirmed planets:
Each planet will contain at least two maps.
Of course, the DLC will take us to that new, mysterious desert planet from The Force Awakens, Jakku. 
The game will not include any content from the Prequel Trilogy.
Special Guest Characters
Like the
Battlefront
games of yore, when you rack up enough in-game points, you will be able to play as iconic characters from the Original Trilogy. So far, the only confirmed characters are:
More on
Star Wars: Battlefront
as we learn it!