News
Star Wars Battlefront 2 Faces Ewok Invasion in New Mode
The Ewoks are coming to Star Wars Battlefront 2 as part of a new multiplayer event called Ewok Hunt.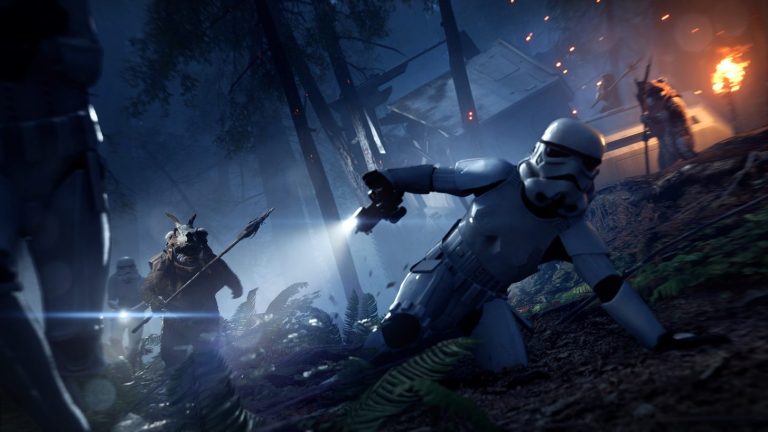 The dreaded Ewok army is about to attack Star Wars Battlefront 2. On April 18, as part of an update called Night on Endor, Star Wars fans can finally play as the little carnivorous teddy bears who defeated the Empire in Return of the Jedi. A new, limited-time mode called Ewok Hunt will allow you to relive the horror of the furry army as it ambushes the Imperial war machine on the moon of Endor. 
As EA explains in a new blog post, you start as an Ewok or in a group of stormtroopers. The single Ewok stalker attacks the unsuspecting stormtroopers, "using spears, Wisties, and other abilities" to take down the bad guys. When a Stormtrooper is defeated, he returns as an Ewok. The goal for the Ewok is to turn the entire Stormtrooper unit into one of them. This mechanic is very reminiscent of the Infection mode in the later Halo games.
Unlike the Halo mode, though, the Stormtroopers do have a chance to survive the onslaught. If the Imperials are able to hold off the Ewok assault long enough for an extraction team to show up, the Empire wins the day – or at least survives to face the horrors of the Ewok army once again. 
EA also noted in the blog post that microtransactions will return to the game with the update on April 18. You can read much more about the new system here.
The game's more hefty Season 2 update will arrive in May, according to EA. The update will have a specific theme, although the publisher didn't disclose what it is. It's safe to say that it probably has something to do with Solo: A Star Wars Story, which is due out on May 25.
Until then, fear the Ewoks because they're coming to get you…