News
Star Wars Battlefront 2: EA Reveals 2018 DLC Roadmap
The Clone Wars are coming to Star Wars Battlefront 2, as well as new heroes and villains, such as Obi-Wan Kenobi and Count Dooku!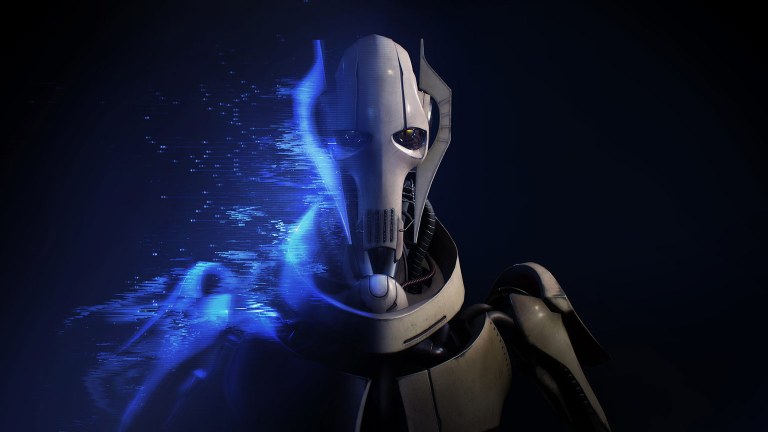 EA took the stage at E3 2018 to announce what's next for Star Wars Battlefront 2. The game will be getting quite a bit of new Clone Wars era content in the coming months as well as new heroes and villains from the movies. 
This fall, Hero characters Anakin Skywalker, Obi-Wan Kenobi, Sith Lord Count Dooku, and General Grievous will join the game, as well as a new location: Geonosis, the site of the first battle of the Clone Wars. EA did not reveal a specific release date for the new content drop.
The company also revealed a new game mode is in development for release later this year. It will be a linear, larger-scale mode in which players battle for control of objectives around the map. Hero Starfighters, a new Hero and Villains mode with Starfighters — i.e., dogfights! — lands in July.
Here's a bit of info on Star Wars Battlefront 2's upcoming DLC:
Star Wars Battlefront 2 September DLC
Battlefront II's September DLC will feature a series of minor improvements that include the ability to spawn on your squad members. The 91st Mobile Reconnaissance Corps and 104th Wolfpack Battalion are also being added to the game as optional character appearances. 
There's no confirmed release date for those updates at this time, but you can read more about it here. 
Star Wars Battlefront 2 General Grievous DLC
October will be all about everyone's favorite lightsaber-welding robot who tries to kill Jedi but is eventually defeated by Obi-Wan and Anakin, General Grievous. He will be added to Battlefront II as a playable villain. While the note of his addition references Grievous' desire to add to his Jedi lightsaber collection, there is no word on whether or not he will actually use lightsabers as part of his skillset.
Star Wars Battlefront 2 Obi-Wan DLC
Obi-Wan will be the focus of Battlefront II's November update as the legendary Jedi highlights a series of additions that focus on the Clone Wars. You'll be able to take Obi-Wan to the game's new November Galactic Assault map, Geonosis. We have no doubt that many of you will remember Geonosis as the site of the climactic scene from that Star Wars movie that you'd probably otherwise like to forget. 
The good news is that you'll be able to cruise around Geonosis – and other planets – with one of three new upcoming vehicles, the BARC speeder, the AT-TE, and the STAP. 
Star Wars Battlefront 2 Winter DLC
We're still waiting to hear more about Battlefront II's final DLC releases of 2018, but EA has confirmed that Count Dooku will be joining the game's rost of villains in December. Assisting him is the Coruscant Guard; an "elite division of clone troopers" that will be added to the game's cosmetic appearance options. 
Interestingly, EA is also teasing the addition of a sandbox mode for Battlefront II. It seems that this mode will expand the size of Battlefront II's conflicts by allowing opposing teams to do battle on a sizeable map in order to capture various strategic points and take out some capital ships. 
Anakin Skywalker will also be added to the game in December as a light side hero. He will be modeled after his character's look during the Clone Wars itself when Anakin led a troop of clones into battle. 
EA has promised to share more details about Battlefront II's DLC as the year progresses.
It's been a rocky road to recovery for Battlefront II. The game was plagued by a truly awful microtransaction system at launch that has since been reworked but arguably remains the game's most identifiable trait. However, the Battlefront II team is working to alter that association by releasing content updates that expand Battlefront II's actual content offerings by revisiting and re-imagining various aspects of the Star Wars universe.