News
Star Wars: Artist Reveals Concept Art From Cancelled Darth Maul Game
Just so Disney is aware, we would still absolutely buy this game.
Darth Maul remains the one piece of the Star Wars prequel trilogy that even the most adamant of series fans seem to be able to come to terms with. In fact, Darth Maul's popularity was so great at one point that he was even scheduled to receive his very own action game.  
Yes, a long, long time ago, developer Red Fly Studio was contracted to create a Darth Maul video game. Their plan was to make an Arkham Asylum-like action title that explored the character's origins.
Somewhere along the way, LucasArts decided to have them make a game about Darth Maul's brother – Savage Opress – in order to promote his appearance in The Clone Wars. Then, George Lucas decided to throw in his two cents and requested that they make a game that explored the story behind the villains of the Star Wars Dark Horse Comics series. 
Eventually, the entire project became incredibly convoluted and Red Fly was forced to cancel the game entirely when LucasArts decided not to acquire the developer or renew the license. 
Before all that happened, though, artist Thomas A. Szakolczay got to draw a few preliminary designs for what the game's reimagined version of Darth Maul might look like. He recently shared those designs and, in the process, made it that much more painful to accept the fact we're never going to play this game.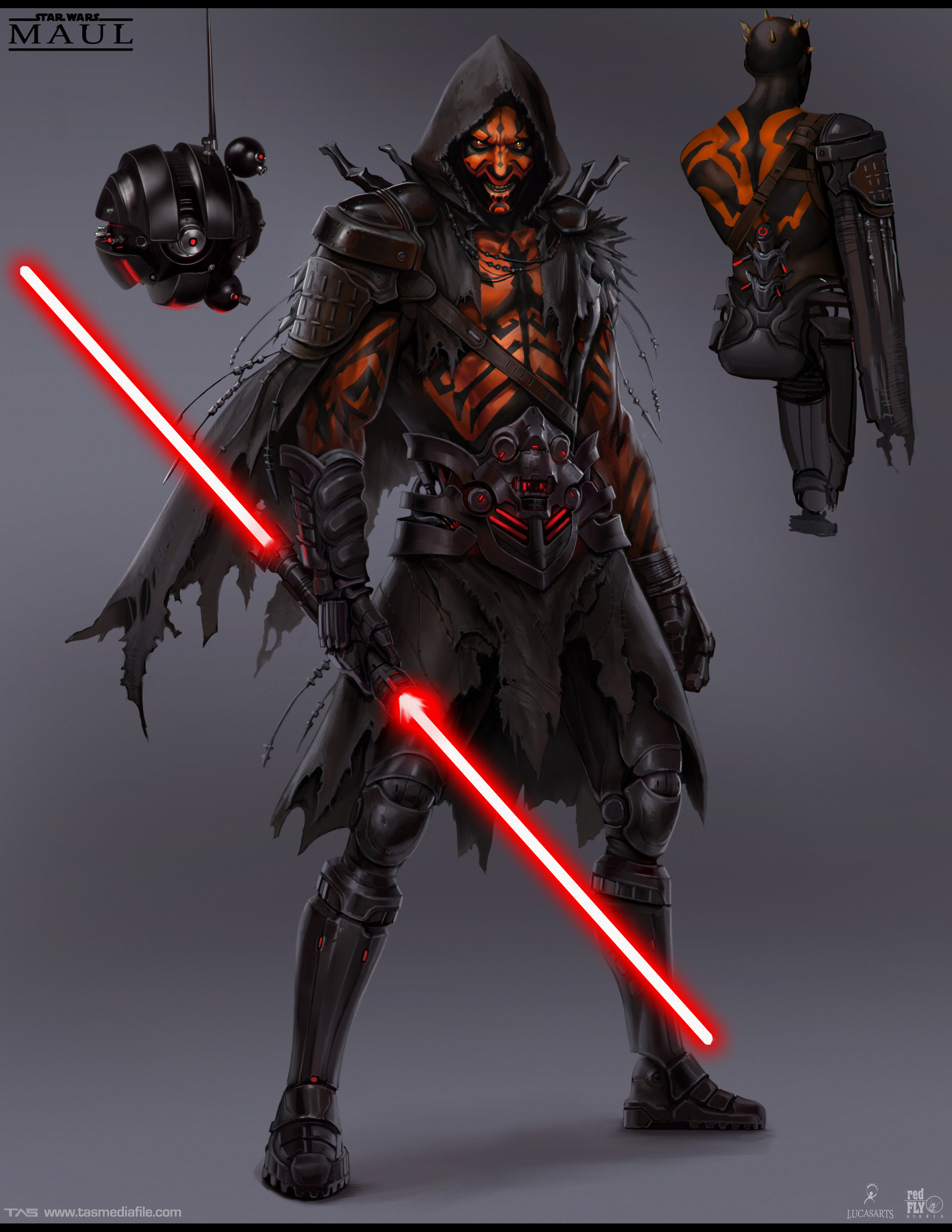 On his portfolio, Szakolczay states that his design was submitted at a time when the game's setting was going to be "a future time line sometime after Return of the Jedi and was meant to have a darker, grittier tone." According to the artist, the project was ultimately canceled due to Disney's acquisition of the license and the studio's subsequent desire to start fresh with Star Wars properties of their own. 
Along with sketches of Darth Maul, Szkolczay shared quite a few original character designs that all seem to support the dark tone the game was supposedly trying to achieve. If the quality of these designs are any indication of the developer's overall direction for the game, we may have missed out on a truly special Star Wars title.