News
Star Citizen: Release Date, Trailer, Gameplay, and News
Everything we know about Star Citizen, including latest news, release date, trailers, and much more!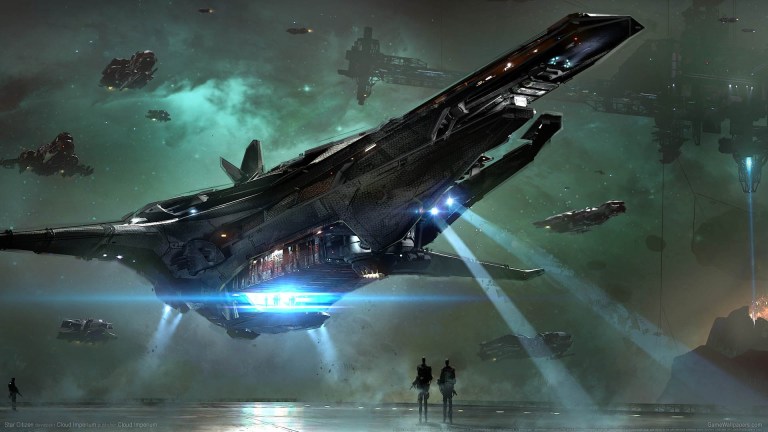 Star Citizen could very well be the space simulator to end all space simulators – if it ever actually comes out. The game has been in development at Cloud Imperium Games, founded by Wing Commander creator Chris Roberts, since it was successfully crowdfunded in 2012. Boasting an enormous massive multiplayer universe, elements of space trading, first-person shooter combat, Star Citizen is one of the most ambitious video games ever put into development. 
Several delays and an engine change later, the game is still in early Alpha state with no solid release date. Still, we've seen plenty of the game through trailers and gameplay videos.
Further Reading: The Games You Need to Play in 2019
There is still hope, though. Star Citizen continues to be developed by a large staff of talented creators who seem determined to produce the game that was promised at some point in the future. When, exactly, that future may come is just a matter of debate. 
Here's the latest from Star Citizen:
Star Citizen Release Date
While Star Citizen's roughly playable builds regularly receive some kind of update, there's no word on when the game will be released. It's quite possible that Star Citizen's development team will release an Early Access model for the game that will continuously be updated for the foreseeable future. In any case, we'll be sure to update you as information regarding the game's fully-playable builds becomes available.
Further Reading: 20 Most Disappointing Games Ever Made
Star Citizen Trailer
There's a new trailer for Star Citizen's Squadron 42 campaign that features the voice acting talents of Gary Oldman, Mark Hamill, Mark Strong, Andy Serkis, Gillian Anderson, and more. You know, we're starting to think the Star Citizen campaign was created so that the devs could meet some of their favorite actors. 
This next trailer showcases the game's Alpha 3.2 release. That doesn't bring the game any closer to its full release, but it does mean you get to watch yet another trailer for the timeshare of video games. 
This Squadron 42 trailer takes us to a dangerous gas cloud called "The Coil." Check out the video below:
Further Reading: 25 Best Japanese Games Not Available in the U.S.
And here are two more Squadron 42 trailers. This first one features Mark Hamill in the game:
And here's over an hour of gameplay:
During the CitizenCon 2947 live stream broadcast, Star Citizen designer Chris Roberts took the stage to present a video that shows off the massive size of the game's worlds. 
The footage specifically focuses on the ArcCorp planet which has been shown before, but never quite like this. Roberts described the planet's vast cityscape as "Blade Runner esque," which certainly does help capture the spirit suggested by the city's spewing flame towers and jam-packed structures. Impressively, Roberts also suggests that everything in the city can be interacted with by the player in some way. There aren't any instances of painted features designed to make the cities look larger than they are. 
Roberts described that particular planet as being similar to Star Wars' Coruscant, but also showcased another planet that seems to have been decimated at one point or at least hasn't been fully terraformed as of yet. 
Further Reading: 25 Underrated Video Game Soundtracks
The team certainly seems to be aiming for a shocking amount of variety in regards to the design of every major planet. That isn't to say that there won't be largely barren planets, but rather that they hope to make each new planet feel like a discovery. 
Thanks to this gameplay video update on Star Citizen's development, we do know that the game's first-person combat is coming along nicely. 
The purpose of this video, besides showing off the kind of stunning visuals millions and millions of crowdfunded dollars will buy you, is to showcase the progress that Star Citizen's Vision Stabilization engine has made. In short, this improved engine allows for developer Cloud Imperium Games to implement tighter and less visually jarring first-person combat. Previously, some of the game's early users had reported that the character motions dictated by these mechanics were far too loose and had a tendency to generate a floaty sensation. 
The 3.0 build of Star Citizen arguably stole the show at Gamescom 2017 with this nearly 52-minute long gameplay video that takes on the daunting task of trying to explain the almost incomprehensible scale of the game. 
Not to beat the No Man's Sky horse to death, but one of the most impressive things about this demo in comparison to other titles in this genre is how substantial the universe feels. While certain elements of the experience don't feel nearly as important as the presenter hopes they might come across as ("The elevators in this game really move! *clap, clap, clap*), Star Citizen's developers seem to understand that pretty environments and theoretically infinite content will not get you far if there is not a solid core of gameplay at the center of it all. Watching the demo players navigate a character to a new planet, accept a mission, and carry it out isn't mind-blowing on paper. But, in the context of the full scope of this creation, it does show that there's a promising traditional game at the heart of the title. 
We still eagerly await the day that all questions about Star Citizen will be answered by the retail release of the game itself, but, until then, it's nice to know that it's still capable of wowing people. 
Star Citizen Squadron 42
Star Citizen's ambitious scope includes both an online multiplayer experience as well as a single-player story-driven campaign called Squadron 42, which features performances by Mark Hamill, Gillian Anderson, and Gary Oldman. While it seems that the game as a whole is nowhere near completion, we may actually get to see more of Squadron 42 by Q2 2020, according to Cloud Imperium Games. You can check out the ongoing update roadmap here.
Matthew Byrd is a staff writer for Den of Geek. He spends most of his days trying to pitch deep-dive analytical pieces about Killer Klowns From Outer Space to an increasingly perturbed series of editors.
John Saavedra is Games Editor at Den of Geek. Read more of his work here. Follow him on Twitter @johnsjr9.