News
Sports Story: Debut Trailer and Release Date
Sports Story is poised to be an incredible sequel to the brilliant Golf Story.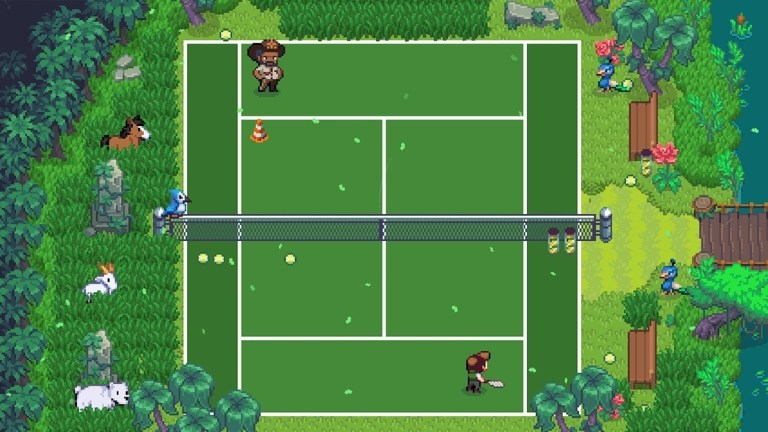 One of the Switch's most amusing games, Golf Story, is getting a well-deserved sequel called Sports Story.
Sports Story will utilize the same basic gameplay formula used in Golf Story. In case you're not familiar with that game, that means it will see you create a character who must work their way through a sports academy. Along with the usual array of sports minigames, tournaments, and challenges, you'll also be able to utilize some RPG-lite mechanics in order to build your character and play a role in a simple (yet satisfying) story. 
The big difference this time around is that golf will no longer be the only sport available. At the multi-sport academy in Sports Story, you'll be able to play golf, tennis, baseball, soccer, volleyball, and possibly other sports that haven't been confirmed quite yet. Naturally, each sport will utilize unique mechanics. If those mechanics are spiritually similar to the ones in Golf Story, you can expect them to be relatively straightforward while still offering you plenty of room to grow and improve. 
Making things even more interesting are a few moments in Sports Story's debut trailer where we see these sports bleed together. For instance, we see someone golf a ball to the player who then uses a tennis racket to knock it into a soccer goal. There's also a scene where the player uses a baseball bat to hit a toaster which…well, we're not sure what to make of that. 
In any case, the addition of these extra sports should lead to a welcome influx of variety into the solid (but sometimes thin) Golf Story blueprint. It also means that this series comes that much closer to being the true spiritual successor to handheld games like Mario Tennis and Mario Golf which also utilized RPG mechanics and relatively simple sports gameplay. 
We're can't wait to play Sports Story when it launches as a Nintendo Switch exclusive sometime in 2020. 
Matthew Byrd is a staff writer for Den of Geek. He spends most of his days trying to pitch deep-dive analytical pieces about Killer Klowns From Outer Space to an increasingly perturbed series of editors. You can read more of his work here or find him on Twitter at @SilverTuna014.