News
Marvel Calls Spider-Man PS4 the "Iron Man" of Marvel Games
Everyone, including Marvel, is thrilled with the success of Spider-Man PS4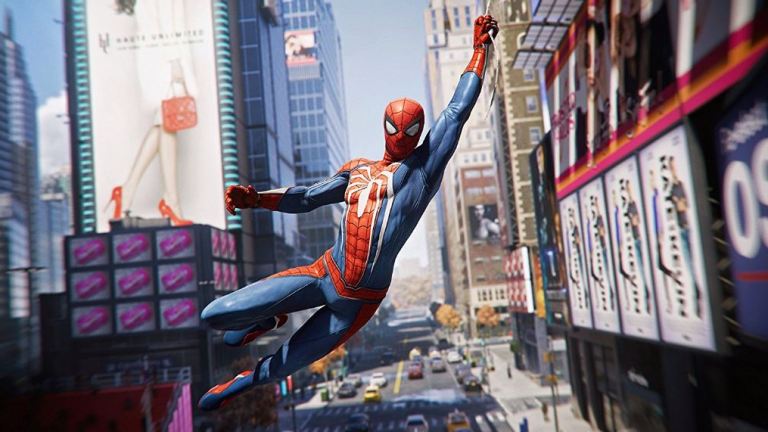 Marvel thinks so highly of Insomniac's recently released Spider-Man game for PS4 that they're willing to compare it to the revolutionary Iron Man film. 
"One of my fave parts of this video is when [Bryan] talks about how Marvel's Spider-Man is intended as 'the Iron Man of Marvel video games,'" said Bill Roseman, Marvel Games' executive director of Spider-Man, in regards to this GameSpot/Kinda Funny video. "[That] is exactly how we view it. As with that first MCU hit, [Marvel's Spider-Man] kicks off a new era for Marvel console games."
That statement is notable for a few reasons. First off, it's fascinating to hear Marvel refer to Spider-Man as the start of a new era for Marvel video games, even though Marvel has been involved with recent games – such as Marvel vs. Capcom: Infinite – that adhere to and acknowledge the contributions and changes of the MCU. The implication of this statement is that Marvel was perhaps not happy with those games or at least didn't really see them as the start of a new era. 
If you really want to dive into the implications of this statement, though, then you have to consider what this means for the future of Marvel games. The simplest takeaway from this statement is that Marvel is prepared to support more video games moving forward than they have perhaps done in recent years. That much seems obvious. 
The question now is whether or not Insomniac will be developing more of those titles. We assume that there will be a sequel to Spider-Man developed by Insomniac, but will Marvel stick by the studio as their primary developer of future Marvel games? That seems unlikely given the exclusivity of Spider-Man and the time/money it takes for a single studio to develop such games, but it's not entirely out of the question to imply that Insomniac might get the chance to develop a game featuring another Marvel character (especially since its a record-breaking title). 
On that note, you have to wonder whether or not Marvel is ready to approve a separate Marvel universe exclusive to gaming that uses Spider-Man as the foundation. Remember that Spider-Man not only ignores elements of the MCU but Spider-Man's established comic book history. If Marvel is referring to Spider-Man as the video game equivalent of the Iron Man film in the most literal way possible, that would seem to imply it might be the start of something big. 
Matthew Byrd is a staff writer for Den of Geek. He spends most of his days trying to pitch deep-dive analytical pieces about Killer Klowns From Outer Space to an increasingly perturbed series of editors. You can read more of his work here or find him on Twitter at @SilverTuna014.