News
Sony Reveals Line of Totaku PlayStation Figurines
Figurines feature all your favorite stars like Crash Bandicoot, PaRappa the Rapper, and...err...the ship from Wipeout.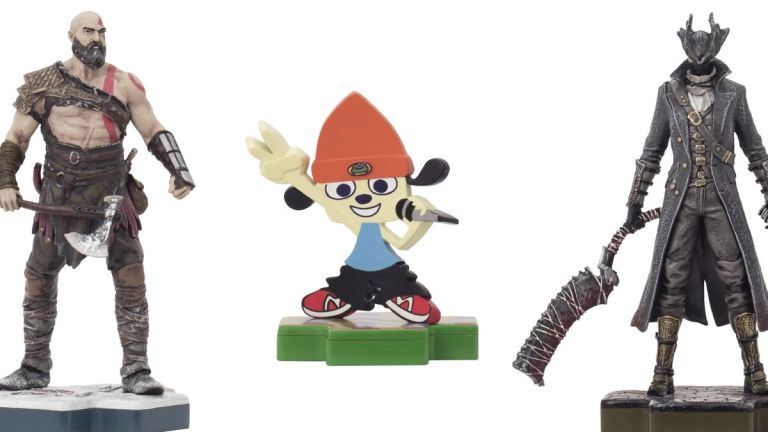 Sony has announced a new line of figures modeled after the stars of some famous PlayStation games. 
While these figures will no doubt have you crying "Sony Amiibos!" (assuming that you shout such things at screens) that's not exactly what we're dealing with. Despite their familiar looks, these figurines – which are officially referred to as Totakus – can't actually be used with your PlayStation 4 the same way that Amiibos can be used with the Switch and Wii U. Instead, they're just figurines modeled after familiar faces. 
Also, it seems that Sony is not the one manufacturing these figures. Instead, they are being made under ThinkGeek's banner. As ThinkGeek is a GameStop-owned brand, these figures will only be sold through GameStop stores associated retail brands. The first figures available will be the hunter from Bloodborne, Crash Bandicoot, PaRappa the Rapper, Kratos from God of War, Sackboy from LittleBig Planet, Heihachi from the Tekken series, and the Feisar FX350 racing ship from Wipeout (which is kind of the "Shoe" of this Chinpokomon lineup). 
Otherwise, these figures are very similar to Amiibos. The designs of the first few models revealed thus far is fairly impressive. They aren't quite as detailed as the most expensive figures out there, but they certainly look pretty good for their retail price range (a fair $9.99). They should be available starting on March 23, 2018. 
Interestingly, not all of the characters revealed thus far are actually owned by Sony. Crash Bandicoot, for instance, may have been developed by Naughty Dog, but he is technically owned by Activision. This seems to open the door for future figures that are only associated with this Sony brand. We've seen something similar with Nintendo's Amiibo line. 
We're a little surprised it's taken Sony this long to get onboard with this concept. All reports indicate that Nintendo is shipping millions of Amiibos. Of course, it remains to be seen whether or not these figures' lack of functionality and Sony's less iconic roster of characters will impact the sales of this particular line.