News
Sonic Mania Release Date, Trailer, & Latest News
Not all Sonic stages will be rings and speed. Some have UFOs too.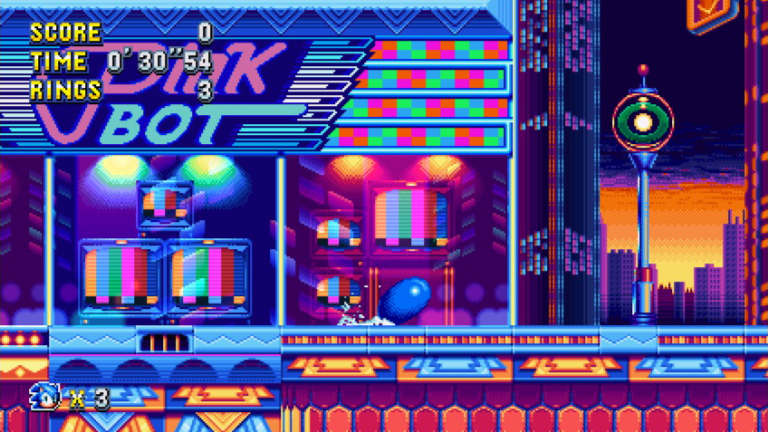 Sonic Mania takes the adventures of the lovable blue hedgehog back to basics with an-all new 2D race to defeat Dr. Eggman! This side-scrolling platformer looks a lot like the classic Sega Genesis titles, and even lets you play as three of the series most popular protagonists: Sonic, Tails, and Knuckles.
If that's not enough nostalgia for you, the game will feature remixes of classic levels, such as the first game's Green Hill Zone, alongside brand new levels to master. It might be a little too early to call, but it does look like the good old days of Sonic the Hedgehog are back!
Here's everything else we know about Sonic Mania:
Sonic Mania News
Sega has revealed two new stage types that will be included in Sonic Mania. 
The first level type is called Blue Spheres which will require players to guide Sonic, Knuckles, and Tails through a stage littered with blue spheres. Once a sphere is touched, it will turn red. If you touch a red sphere, the game is over. Players that manage to collect all blue spheres without touching a red will be awarded a gold medallion. 
Next up are Time Attack stages which work off an online leaderboard and allow players to compete for the quickest completion time. It's not clear if this mode will be limited to select stages or if all levels will be open for online competition. 
Finally, Special Stages will ask you to hunt enemy UFOs in order to snatch Chaos Emeralds. This level also includes blue spheres, but these will give you a speed boost that can be stacked to ensure that players reach otherwise unobtainable speeds. 
Here's some early footage of the stages in action:
Sonic Mania Release Date
Sonic Mania will arrive on August 15, 2017. The game is coming to PlayStation 4, Xbox One, Nintendo Switch, and PC.
Sonic Mania Trailer
A new bit of gameplay footage reveals a new area for Sonic Mania – the Chemical Plant Zone – which you can check out below:
Here's the pre-order trailer:
This next bit of Sonic Maniafootage shows Knuckles making his way through the dreaded Flying Battery Zone. This video snippet does an excellent job of emphasizing Sonic Mania's blend of retro and new as it showcases a lot of classic Sonic gameplay mixed with a few new mechanics and design surprises. 
Enjoy this other gameplay trailer for the game:
Here's more gameplay footage from Act 2 of Sonic Mania. This playthrough the classic Green Hill Zone stage clearly demonstrates the mix of classic, refined, and new mechanics that has old-school Sonic fans hoping Sonic Mania is the game that finally successfully bottles the nostalgia millions still feel towards one of gaming's most iconic characters. 
Here's another trailer:
Polygon dropped 12 minutes of gameplay footage. Check out the game below:
Even though he's never really left the gaming scene, it feels like it's been 20 years since we got a truly notable Sonic game. That time period hasn't been devoid of good Sonic games, but there hasn't been a Sonic title that's come close to matching the brilliance of the blue hedgehog's first few outings. 
Defeated by the ravages of time and technological progress, Sega and developer Sonic Team recently decided to simply get back where they once belonged and create Sonic Mania, a collection of the first three Sonic games that features enhanced and brand-new content. 
IGN recently got their hands on the game at PAX and were kind enough to post a seven-minute video filled to the brim with sweet Sonic gameplay.
Check it out:
This video is a rather compelling argument for the merits of revisiting the classic style of Sonic game design. While it's easy to appreciate all of the new things displayed in this video (the new levels look incredible, the new moves feel like they fit right into the original game, that new music is instantly classic, etc.), what really sets Sonic Mania apart from previous dips back into the characters golden age are the little things.
For instance, the sound design feels like it's trying to replicate what Sega CD technology was capable of achieving at its highest performance level rather than what modern technology can produce. The animations are certainly better across the board, but not so much better that they detract from your ability to believe that this is old-school Sonic. Every little thing in the game feels like it was designed with real purpose. It's becoming increasingly clear that the purpose of Sonic Mania may just be to help Sega determine if there is a viable market for new Sonic games in the old-school style, similar to what Capcom did with Mega Man 9. 
Here is the announcement trailer for the game:
Sonic Mania Bosses
Sega has also revealed a new series of bosses being added to the classic games called "Hard-Boiled Heavies." The first of these revealed bosses is a lovely young grunt named Heavy Gunner who will terrorize players at the end of Hollywood-inspired Studiopolis Act 1. This character utilizes his flight abilities and a sizeable rocket launcher to keep Sonic at bay.