News
Someone's Created a Working Pokemon Game in Minecraft
Blocky pocket monsters collide as a full, working Pokemon game emerges for vanilla Minecraft...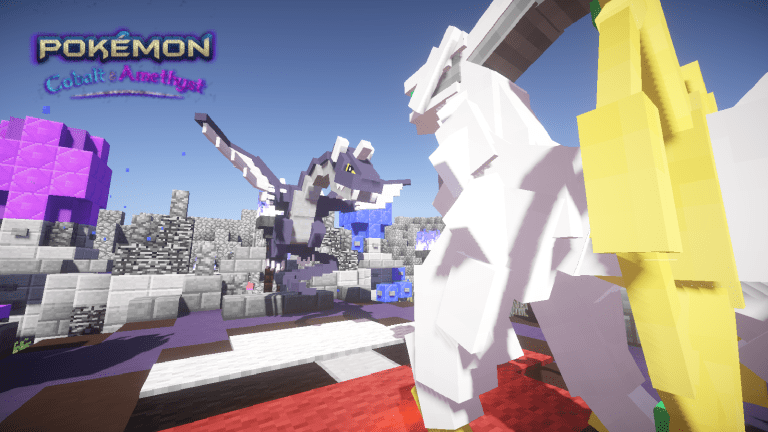 We've seen all kinds of imaginative and mind-boggling things appear in Minecraft over the years, from working computers and calculators to full-scale models of the USS Enterprise. If you're into both Minecraft and Pokemon, though, this could be the most impressive build to emerge so far: a full, working Pokemon RPG, complete with monster battles and villages.
Now, as is often the way with these things, the game comes with a few caveats. First, it's all viewed from the usual first- or third-person mode you're used to in Minecraft, so don't go expecting that top-down, forced perspective viewpoint from the classic Pokemon RPGs. Second, the game looks quite easy to break or simply confuse – largely because it uses a few workarounds to create the familiar pop-up menus and conversation boxes from the proper Pokemon games.
With all that being said, Pokemon Cobalt and Amethyst, to give the game its proper name, looks like a remarkable piece of work. Its creators have gone to the effort of designing and building 136 unique Pokemon species for you to catch, and according to Eurogamer, the whole campaign takes in between 60 to 80 hours of exploring, training and battling. Here's a blurb from the creators themselves:
Pokémon Cobalt and Amethyst is a 1.8.8 single player vanilla Minecraft map that recreates the original Pokémon role-playing game in Minecraft. This includes battling, capturing, and training Pokémon, fighting trainers, and challenging Gym Leaders and, ultimately, the Pokémon League. Everything you love in Pokémon is now here as a vanilla adventure map, ready to play! Experience the open world and 3D sensation Minecraft offers!

The map places itself in a never-before-seen region, featuring a new set of 136 Pokémon and a new story dominated by an antagonist threatening to release a Legendary darkness that demands tribute. It is your task to seek the truth with the help of the region's Professor and your rival – either capture it before it's too late, or take Team Tempest down while saving the lives of those closest to you.
The full map's available to download from Minecraft Forum, while the videos below provide a taste of how Pokemon Cobalt and Amethyst plays, and also how to install it and get it all set up. Our advice? Get in quick before Pokemon's lawyers descend in their special Meowth hot air balloon.